Before we started planning our trip to Africa, I couldn't have pointed to Swaziland on a map.1 I certainly couldn't have told you that the country is Africa's last remaining absolute monarchy, or that it would turn out to be one of the most physically beautiful countries I have ever seen. (But for New Zealand, Swaziland would be the most physically beautiful country I have ever seen.) We spent four days and nights in Swaziland, transiting through from the country from one part of South Africa (Mpumalanga) to another (KwaZulu-Natal).
Random tidbit: The welcome information we received when we crossed the border told us that cattle are so common alongside, and often directly on, the Swazi roadside that they are affectionately referred to as "Swazi traffic lights." (Having just come from South Africa, where traffic lights are called "robots," we greatly amused ourselves by referring to the many cattle we encountered as "Swazi robots.")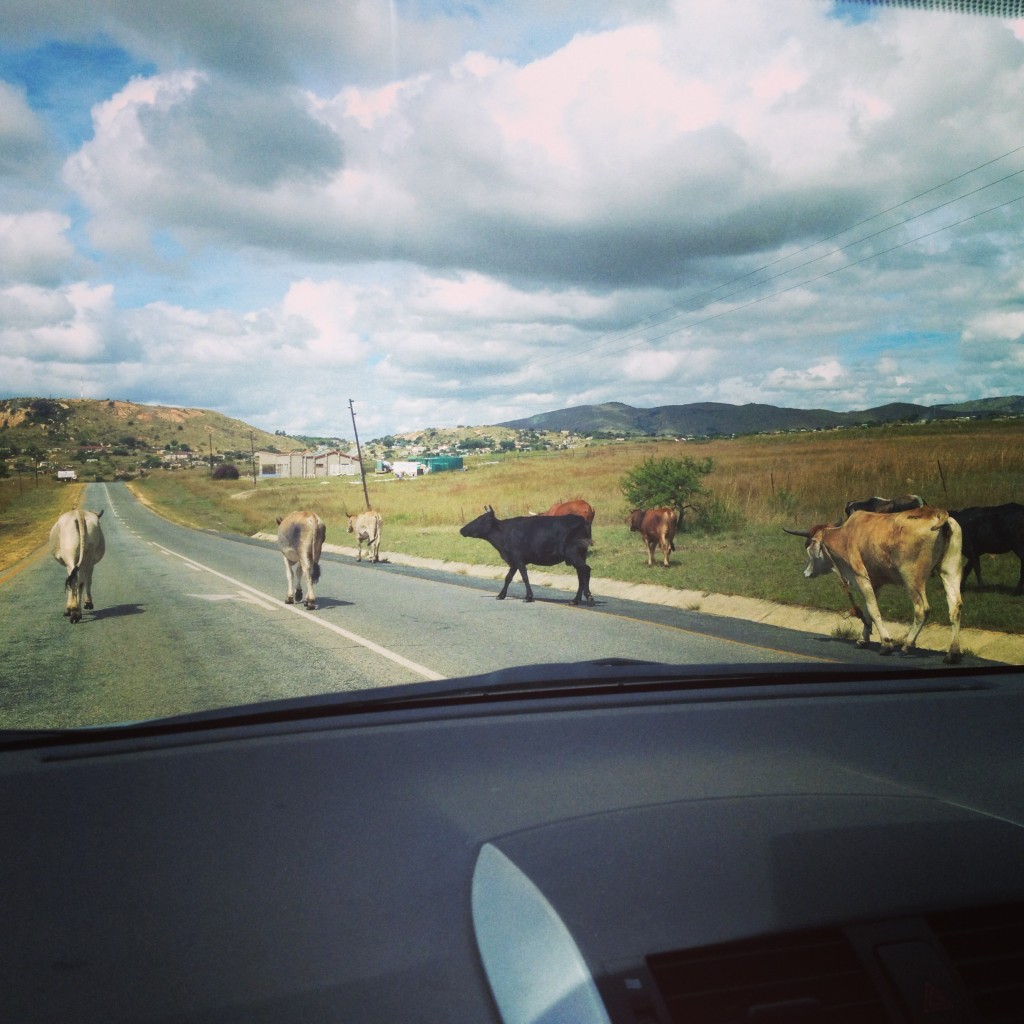 Malkerns Valley
Arriving in the late afternoon, after a few hour drive from Nelspruit and some quick border crossing formalities, we spent our first night in Swaziland at Malandela's B&B, which is located in a complex including a buzzing restaurant and bar, stores vending amazing local goods (more than once I wished we had room to bring these things home), an art gallery (featuring these awesome lamps designed to look like Lego men and a sculpture of can-canning robots), lush gardens, and a popular concert venue called House on Fire. The night that we visited, Joss Stone was performing at House on Fire. We tried to get tickets, but they were sold out. Instead, we lounged outside, enjoying drinks and reading while we waited for the concert rush to clear out of the restaurant, and then we dined while listening to the concert. Even when we retired to our rooms, we could hear the end of the concert from our beds. As tired travelers, that was perhaps an even nicer way to enjoy the Joss Stone concert.
Mlilwane Wildlife Sanctuary
The Mlilwane Wildlife Sanctuary, Swaziland's first protected area, is teeming with various types of antelope, zebras, and warthogs, but doesn't have large predators. As a result, and unlike South Africa's Kruger National Park, you can walk or bike through the park.2 Our first order of business in the park was to have lunch. We assembled sandwiches from things we had purchased at the Shoprite grocery store, and found that we had attracted the attention of a curious nyala. The nyala came right up to us, putting her face on the table, and we eventually had to move tables to escape her begging eyes.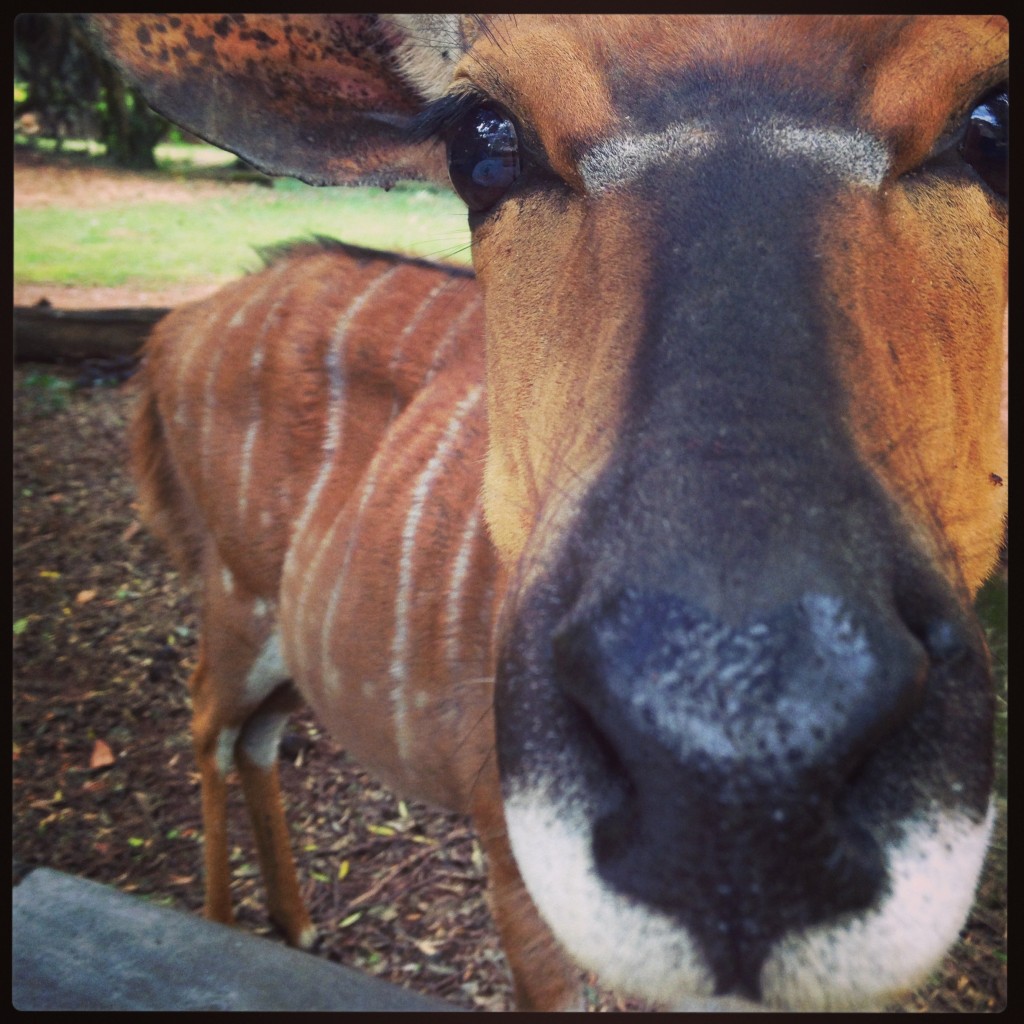 We entered the park with the intention of renting bicycles, but learned that the bikes were supposed to be used on the roads, whereas the walking trails go through vegetation. We chose one of the trails – the "hippo trail" – and spent three hours walking through the varying landscapes: open grassy fields, tree-filled forests, hills, and ravines. We saw impala, nyala, zebra, monkeys, warthogs, and even a crocodile. (We also encountered plenty of spider webs!)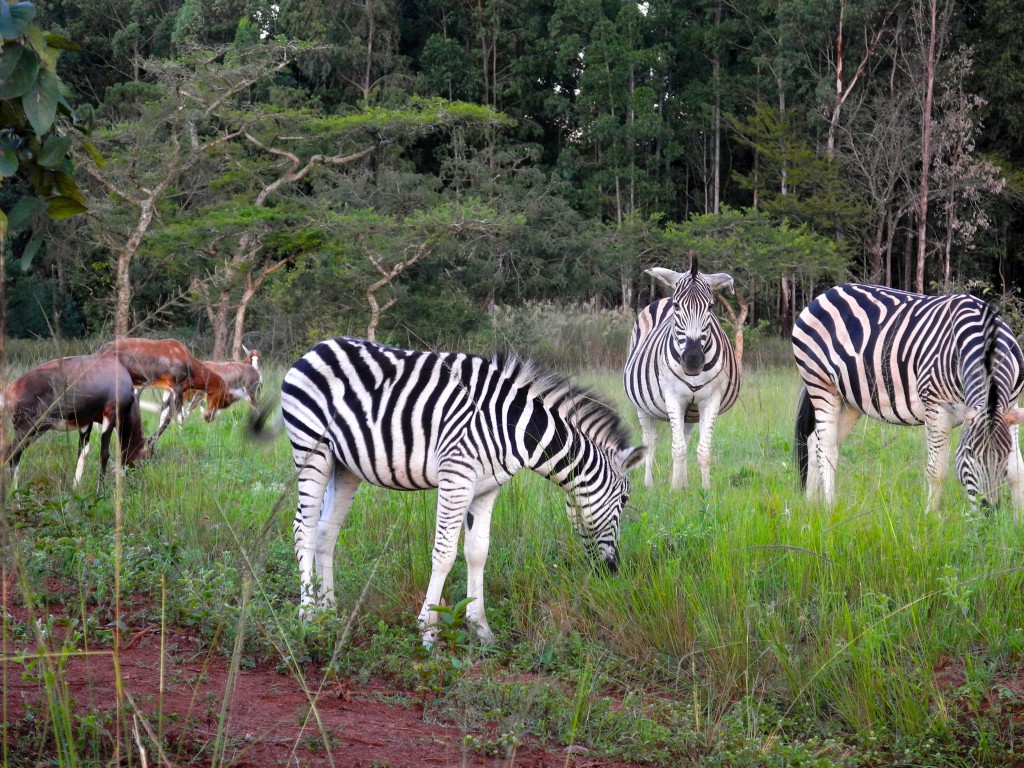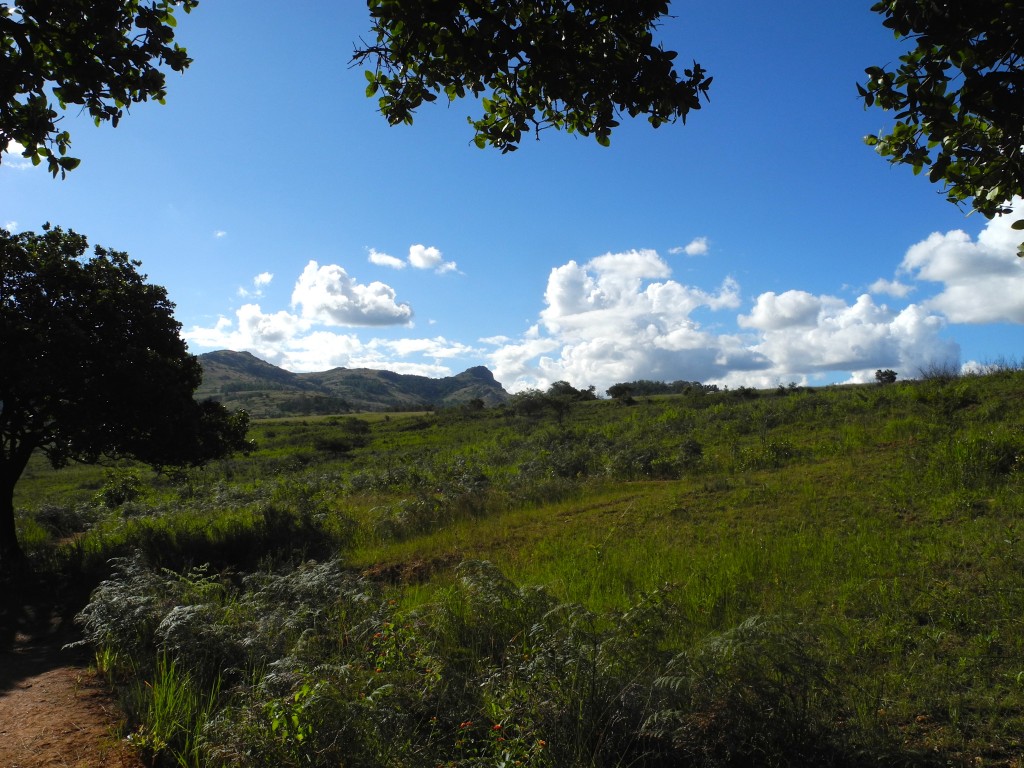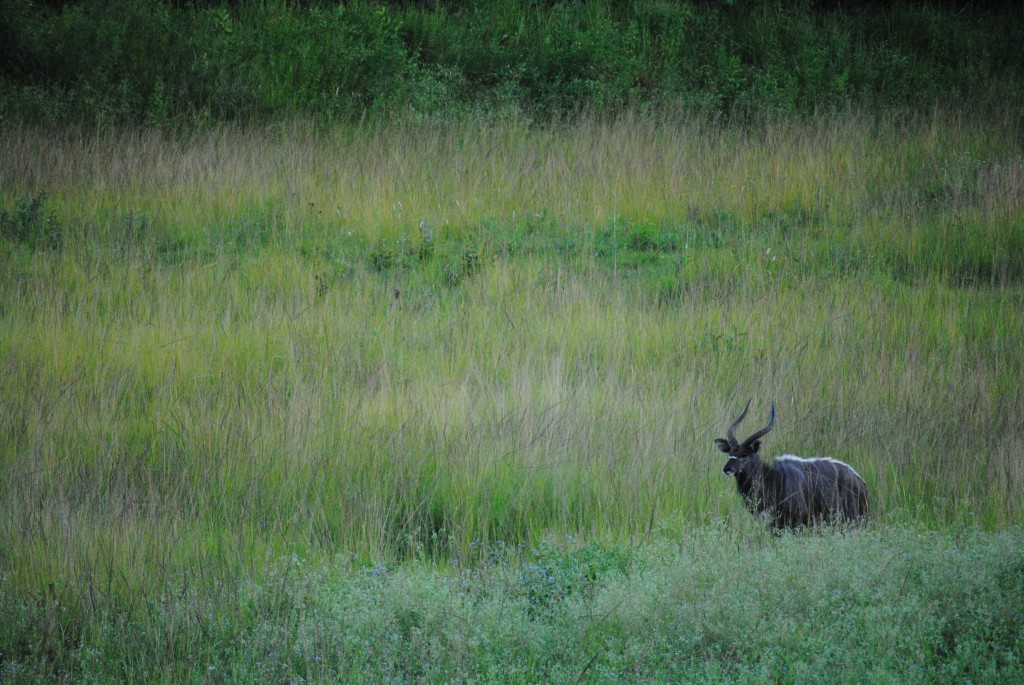 White-Water Rafting on the Great Usutu River
Our guidebook informed us that white-water rafting on the Great Usutu River was "[o]ne of Swaziland's highlights," so we visited Swazi Trails to learn about the options.
To my recollection, I have only been white-water rafting once, and I think it was about twenty years ago. (I'm fairly certain that I'm wearing braces in the picture.) Marc had been rafting more recently than I, but he is still no expert. Consequently, when we learned that the rafting on the Great Usutu was typically done in two-person rafts – not the six- or eight-person rafts that we were used to – we were a little nervous.
I was even more nervous the next morning, after we had taken an hour-long van ride upriver with our Swazi Trails guides and a pair of Belgian girls, and I was wearing a lifejacket and helmet, watching one of our guides demonstrate how to flip an overturned boat right-side up and then fling/propel yourself back into it. We had to practice this skill in the water, which the guides thought should take only five seconds. It took much longer than that, but, working together, we were able to get back into our boat.
Once we were on the water, manning the two-person raft was fun. We made our way through rapids of varying sizes and even over a chute in the middle of a dam spillway, all while bewildered cows watched from the sides of the river.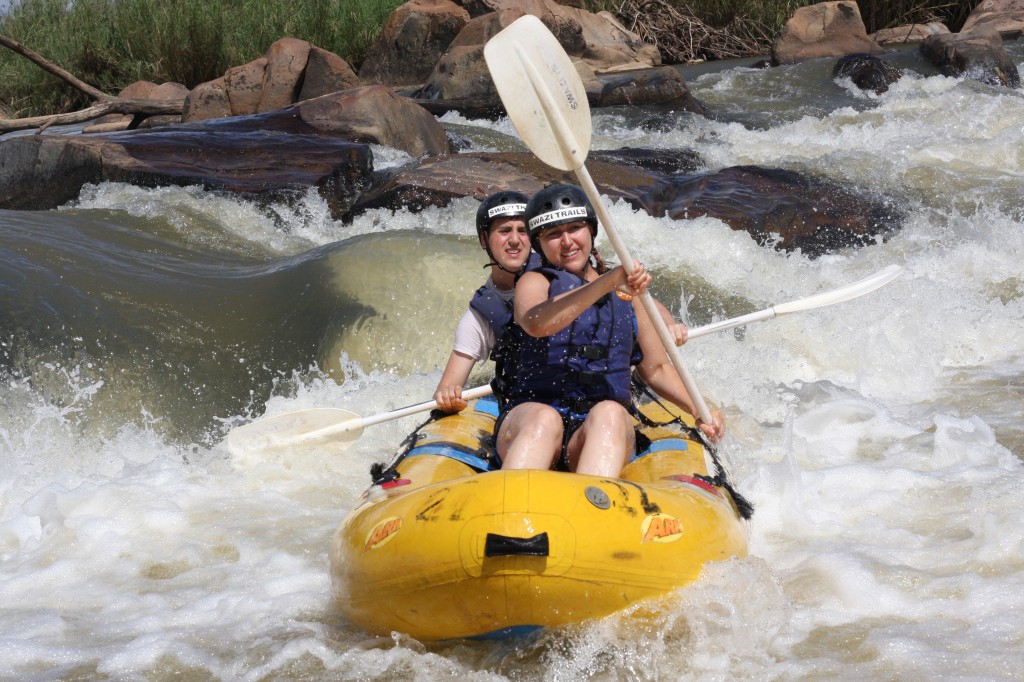 We did very well until the last possible second, when we were navigating the last and most intense rapid on our trip. We had made it through the worst of it when we came up against a rock and our raft overturned. Unquestionably, the worst part of flipping a boat is that moment when you find yourself underneath the boat underwater – something that is only worsened when, as in this particular situation, your feet are tucked into straps on the floor of the boat.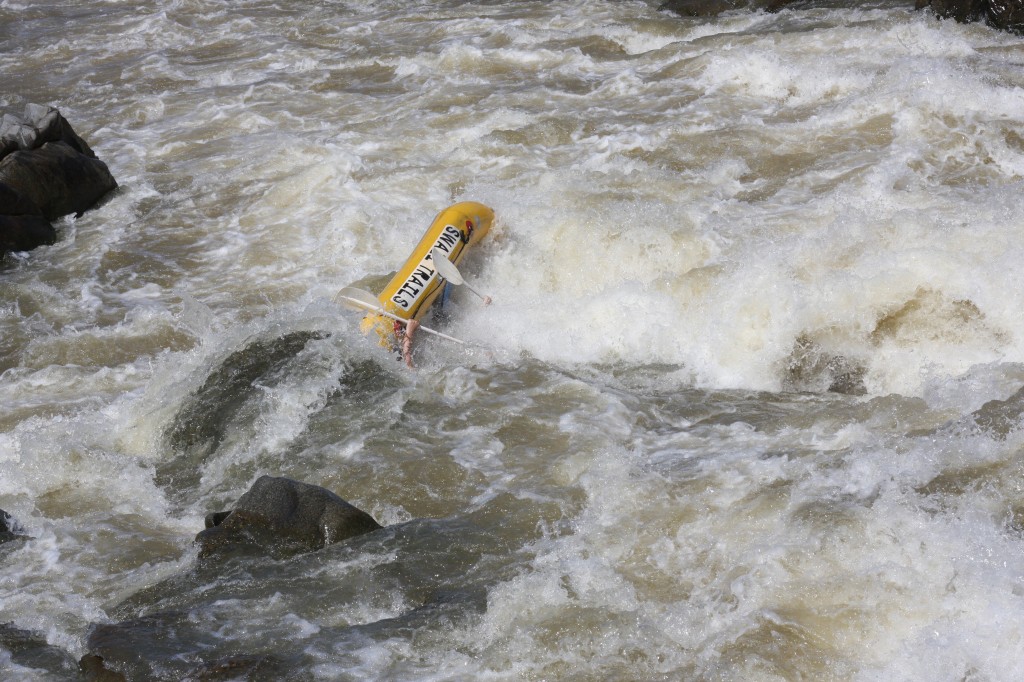 But we emerged from under the boat without too much fanfare, and the guide helped me back into the boat and then helped me collect Marc. Shortly thereafter, our rafting trip reached its end, and we received sack lunches before taking a short walk to see an amazing waterfall created by the rocks.
Shuwela Mountain Camp
On the morning of our fourth day in Swaziland, we set out for Shuwela Mountain Camp set in a remote village in the northeastern section of the country. We had been tipped off to this community-run camp by none other than the NYT. The camp features rustic accommodations – six rondavels with beds and little else (and no electricity), a communal bathroom, and a communal dining room.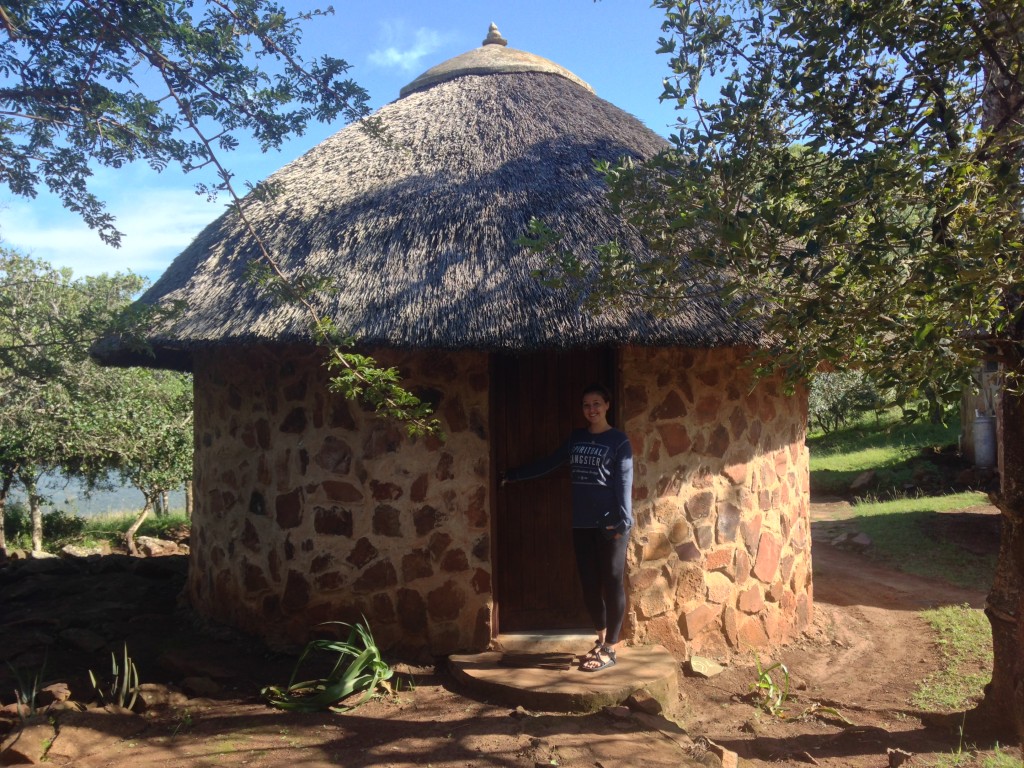 The camp was full on the night that we stayed there, and we were glad that we had called ahead to make reservations. We arrived mid-afternoon, and shortly joined a guided walk being led by the woman running the camp. She led us through the sugarcane fields, encouraging us to shout greetings – sawubona (hello-singular) and sanibonani (hello-plural) – to everyone we passed, until we reached a small collection of huts. Inside one of the huts, a woman showed us her beer brewing operation. Our guide explained that this woman brews local beer from maize and sorghum, and that people come to purchase it from her. Her grandchildren acted as the unofficial welcoming committee, greeting us when we arrived and running alongside us when we left, showing off as they ran alongside pushing with old bicycle wheels with sticks.
Back at camp, we relaxed while admiring the breathtaking view, sure that we could see half of Swaziland from our perch, until some local teenagers performed a traditional dance for us. It involved drums and stomping and high kicks, and I wish that I understood more about what the dance signified.

Later, we and the other guests shared a feast of various traditional Swazi dishes, including chicken prepared in a peanut sauce, samp (a thick, delicious mixture of hominy and beans), pap, a creamy spinach dish, slices of pumpkin, chunks of white sweet potato, and a light coleslaw.
In the morning, we found ourselves high above the layer of clouds that had settled in the valley. We enjoyed breakfast at camp, including toast cooked over a campfire (leading me to declare that I am now only eating toast if it is cooked over a campfire), and then we packed up our things to leave Swaziland.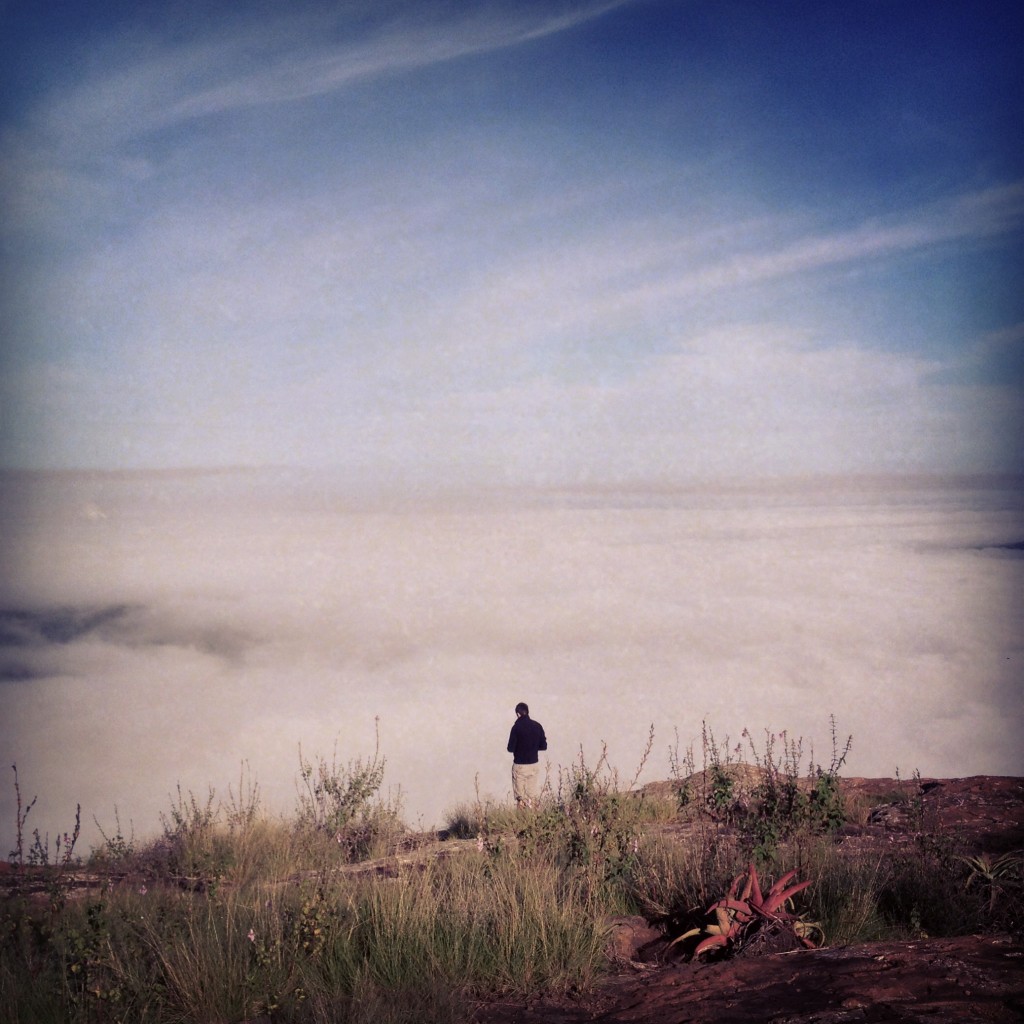 Where We Stayed
☆ Malandela's B&B (Malkerns Valley). Four goats. Cool décor, vibrant location, tasty included breakfast featuring house-made muesli.
☆ Mantenga Lodge (Ezulwini Valley). Four goats. Spacious rooms, swimming pool, attached restaurant with great deck and included breakfast. Free wifi in our room!
☆ Shuwela Mountain Camp. Five goats. Rustic accommodation, but an amazing experience. All it needs are a few chairs for sitting out on the edge of the escarpment overlooking the valley – we just sat on the rocks though.
Swaziland Practicalities
* American citizens are granted a visa upon arrival.
* If, like us, you drive a South African rental car into Swaziland, you are supposed to obtain a letter from the car rental company giving your written permission to cross the border. When we picked up the rental car from Avis in Johannesburg, we were told that we needed to know the exact dates we would be in Swaziland before they could issue us the letter. When we stopped by the Avis location in Nelspruit to pick up the letter, however, they did not ask us what dates we intended to be in Swaziland, and just issued us a letter allowing us to cross the border on that day or any thereafter for the remainder of our rental period. When entered Swaziland at the Oshoek border crossing, no one even looked at the letter. Note that, unrelated to the rental car company permission letter, you will need to pay a vehicle tax (which, at the time of writing, was R50) at the border crossing.
* The official currency of Swaziland is the lilangeni, which value is fixed to the South African rand. Rand are accepted as legal tender throughout Swaziland (although we learned that Swazi merchants are reticent to accept South African coins), and you might get change in a mixture of rand and emalangeni (the plural form of lilangeni).
---
1 Marc, however, had always wanted to go to Swaziland, partially because it is surrounded by South Africa on three sides, as well as Lesotho, which is completely surrounded by South Africa.
2 There are, however, crocodiles and hippopotamuses, so you do need to exercise some caution while in the park.