After spending a month driving ourselves around South Africa, Swaziland, and Lesotho, we decided to hand the trip-planning reins over to Wild Dog Safaris and booked ourselves on their 23-day "African Odyssey" camping trip. The trip was essentially comprised of three smaller trips: (i) a 7-day circuit through Southern Namibia, (ii) a 7-day loop through Northern Namibia, and (iii) a 9-day journey through Namibia's Caprivi Strip and Botswana, ending at the Zambian side of Victoria Falls in Livingstone. Our trip began in Windhoek, and also returned to Windhoek for one night after each of our weeks in Southern and Northern Namibia.
To reach Windhoek, we took an Intercape bus from Cape Town. The journey, which began at 10:00 a.m. on a Tuesday morning, was projected to take 18 hours. In fact, due to road construction and the general shenanigans associated with international border crossings, the bus took more than 24 hours to reach Windhoek.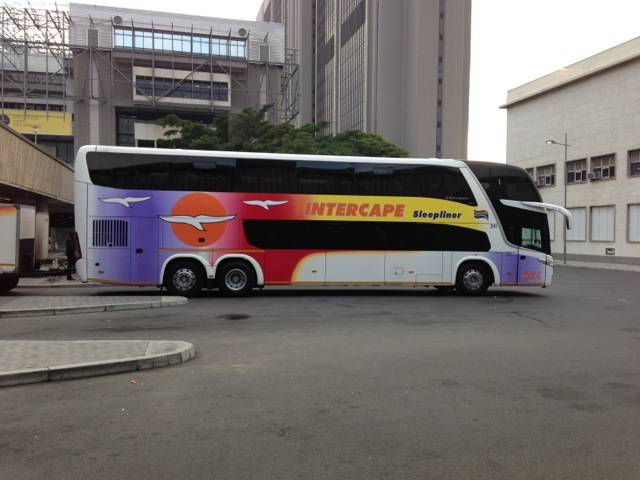 Despite the protracted journey, the bus ride was actually quite comfortable. The seats were spacious and reclined 150 degrees (something the guy in front of me took advantage of the entire time, even during the 100 meter drive from the South African border post to the Namibian border post), and we were both able to get some sleep. The bus made frequent (but not too frequent) bathroom and snack stops, which gave us plenty of opportunities to stretch our legs.
We arrived in Windhoek surprisingly refreshed after the long journey, and had almost two full days in the city before our camping trip began. We spent some time at tourist sights, like the National Museum of Namibia and the Independence Museum. The Independence Museum in particular is interesting: not only is it in the process of moving into a shiny, spaceship-esque structure, but, as Namibia gained independence in 1990, it is fascinating to learn about this relatively recent history and the key figures, many of whom are still living.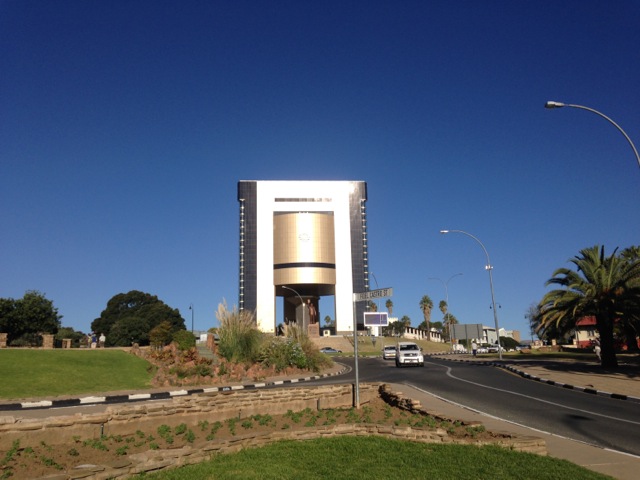 We spent the rest of our time just strolling around Windhoek, admiring the iconic Christuskirche (which lies in the middle of a traffic circle at the amusing intersection of Fidel Castro Street and Robert Mugabe Avenue), enjoying the dry heat and sun after a week of occasional drizzle in Cape Town, and picking up supplies for our upcoming adventure.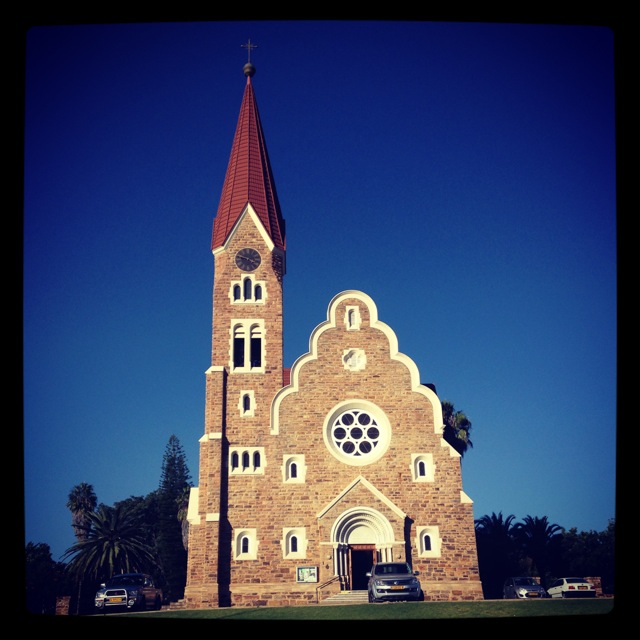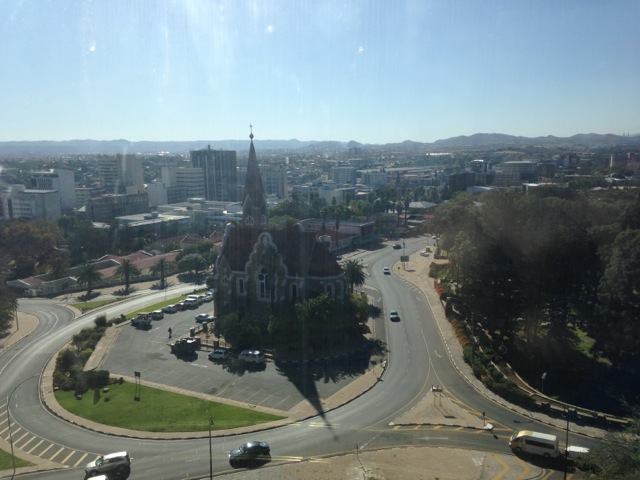 Where We Stayed:
☆ Chameleon Backpackers Lodge & Guesthouse. Four goats. For the two nights before our camping trip, we booked rooms at the most highly reviewed backpacker place in town. With a pool, communal kitchen, and small bar, it was a comfortable, fun place to stay. A basic breakfast (yogurt, cereal, toast & toppings) and two free hours of wifi are included. Pro tip: Book ahead, as it is understandably popular. When we tried to book less than a week in advance, we were only able to secure a "luxury" room (our particular luxury room, the leopard room, had no less than 5 beds) for the first night and then had to downgrade to dorm beds for the second night. One girl we met on the Intercape bus had only booked one night there, and, upon arrival, found that her only option for a second night was to pitch a tent on the lawn.
☆ Guesthouse Tamboti. Four goats. When we returned to Windhoek after our weeks through Southern and Northern Nambia, Wild Dog booked us rooms here. It's a great place to stay: the rooms are comfortable, the included breakfast is delicious (that yogurt holds a special place in my heart), and there is (somewhat spotty) wifi available for a nominal fee. Most importantly, the owner couldn't be nicer and will gladly arrange a taxi or dinner reservations (or both) – or point you to the best pizza place in town. Bonus: Adorable dogs on site.
Where We Ate:
☆ Namibia Crafts Cafe. We enjoyed sitting outdoors overlooking the street, and the open-faced sandwiches were delicious (albeit pricey). I might have screamed with delight when I saw fresh vegetable juice on the menu. There purported to be free wifi, but we couldn't make it work.
☆ The Gourmet. We popped into this conveniently located, open-aired restaurant in downtown Windhoek for lunch. Marc had the "budget lunch," which included a kebab, and I had a nicoise salad. (I can't tell you for how long I had been craving a nicoise salad.)
☆ Garnish. This Indian restaurant is located just around the corner from Chameleon, and we walked there one night for dinner. The food was good, and we happily took home the leftovers to eat the next night.
☆ The Little Italian. After the first week of our camping trip, we arrived in Windhoek so tired that the only thing we wanted to do for dinner was order in pizza. We settled for take-away pizza instead, which we ate in our room like hermits.
☆ Joe's Beer House. Everyone we met in Namibia raved about Joe's Beer House, and we finally made it there after our week in Northern Namibia with some of our travel companions. It's a sprawling place (I got lost looking for the bathroom) with an equally sprawling menu. One of the more interesting items on offer is a skewer of various game, including, among others, ostrich, kudu, and zebra. While one member of our party ordered that, we opted for the more sedate veggie wrap and beef stew. (I'll give you one guess as to who ordered what.)