From the early days of our planning for this adventure across Southern Africa, we had intended to first travel through Mozambique, Swaziland, Lesotho, and South Africa, before going north to explore Namibia, and then heading east, through Botswana, on our way to Victoria Falls. One of the hurdles in this aspirational routing, however, was the lack of public transportation between Windhoek (where we would be wrapping up our two weeks of travels through Namibia) and Maun (the principal jumping-off point for travels in the Okavango Delta, and one of the only towns of any size in Northern Botswana). After considering a couple of expensive/unappealing options for independent overland travel – renting a car to make the one-way journey or hitchhiking through a sparsely populated stretch of the Kalahari Desert – we decided to go all in with Wild Dog Safaris and tack a nine-day, one way trip from Windhoek, through Botswana and Namibia's Caprivi Strip, to Victoria Falls onto the end of our Namibian travels.1
Traveling through Botswana presented a couple of further complications: (i) Botswana's tourism industry tends to skew rather upscale, with many of its visitors opting for fly-in safaris and lodges that charge upwards of $1,000 per person per night; and (ii) I did not want to retrace the same route taken on my family's 2012 trip to Botswana.2 Wild Dog Safaris' itinerary serendipitously overcame both: it was a relatively inexpensive way to see a couple of places that I had not yet been, the panhandle of the Okavango Delta in Western Botswana and Chobe National Park in Northeastern Botswana.3
As with the first days of our weeklong tours through Southern and Northern Namibia, our trip to Botswana began with an early start from the Wild Dog Safaris office in Windhoek. Heading east from Windhoek, we drove for several hours on the B6 highway, stopping only for a couple of quick breaks and to pick up lunch and supplies at a grocery store in Gobabis. As we progressed deeper into the Kalahari Desert, I was struck by how thinly the area was populated and lightly the road was trafficked.4 Eventually we reached the border and completed our exit/entry formalities to cross over from Namibia into Botswana, losing an hour from the time change along the way.
After over 500 kilometers of driving, we finally arrived at our campsite for the evening, Ghanzi Trail Blazers, just after sunset. We spent that night huddled around the campfire, trying to warm ourselves as the temperature of the desert quickly plummeted.
The next morning, we woke up early to take a walk through the surrounding desert with a group of San people5 that lived in the area.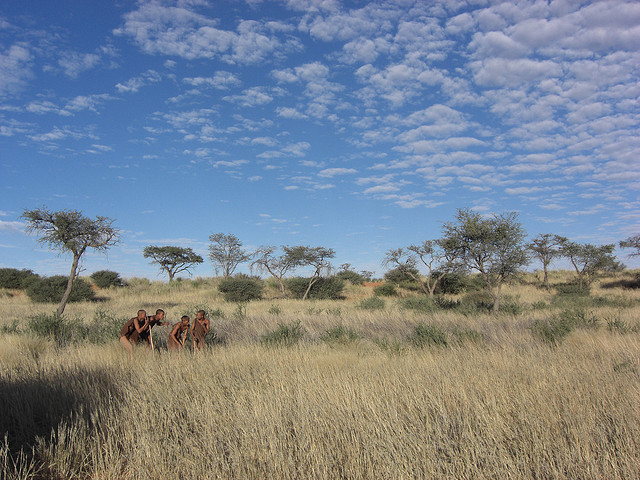 With the help of an interpreter, who could translate between English and the San people's distinctive click language, we headed off into the bush just after sunrise. At various points along the way – which appeared to us to otherwise be indistinguishable – we would stop and one of the San people would begin digging in the ground. He or she would then pull out, sometimes with our assistance,6 one of the area's various roots and tubers and explain its medicinal or other unique qualities.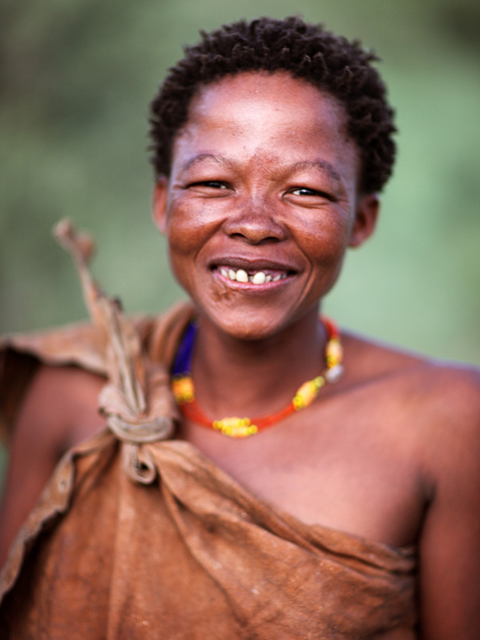 Our walk ended with a couple of the San people using a wood bow to start a fire – a truly impressive thing to witness – which was then used to roast a few large crickets that we had gathered along the way.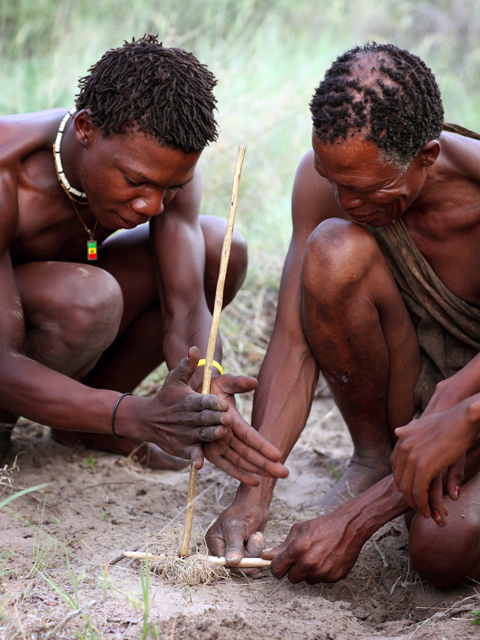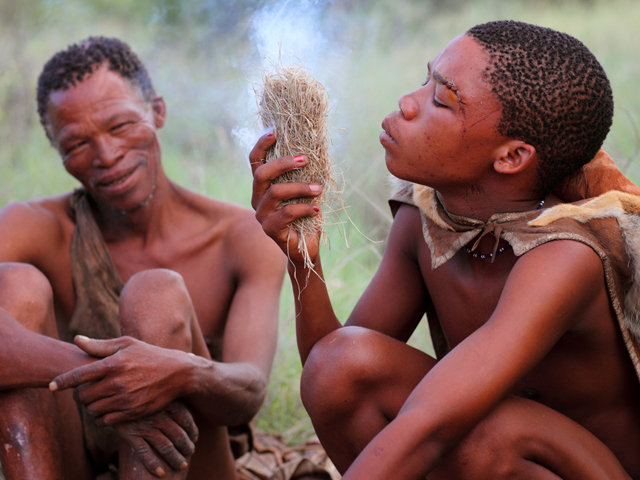 As we have noted in earlier posts, we have mixed feelings about visits with indigenous peoples or local tribes.7 At best, they can be an interesting chance to interact with and learn more about peoples with lifestyles that are vastly different from our own. At worst, they can be awkward, stilted affairs that feel like exploitive human safaris. Although we enjoyed our time with both, I found our walk with the San people to have a more authentic feel than our visit to the Himbas – perhaps this was because the San people, unlike the Himbas, were not working on handicrafts to sell us at the end of our visit.8
Where We Stayed:
☆ Ghanzi Trail Blazers. Two goats. The lack of lighting, toilet paper, and hot water in the bathrooms was demoralizing, but the fire pit was quite nice.
---
1 As mentioned, we thus ended up booking Wild Dog Safari's 23-day "African Odyssey" trip, which encompassed a consecutive offering of three tours through the region. Viewing myself as an otherwise fiercely independent traveler, signing up for such a long period of group travel was not something I took lightly. (We are planning a future post on the pros and cons of independent versus group travel.)
2 My family had gone hilariously big, traveling halfway around the world to the African bush for our first ever international family vacation. We went on a mobile camping safari though the Central Kalahari and Moremi Game Reserves with Masson Safaris that had been so amazing that recreating the experience on our own would have been impossible. Instead, I was hoping to see some of the areas of Botswana that we had missed on our family trip.
3 It also transited through Namibia's Caprivi Strip in the middle of the trip, before eventually dropping us off in Livingstone, Zambia at Victoria Falls.
4 Although many of the areas we had driven through in Southern Namibia were perhaps even more sparsely populated, the number of cargo trucks plying the B1 highway to/from South Africa made it feel somewhat less remote.
5 The San people – also widely referred to as bushmen (although this term contains some pejorative connotations) – descend from some of the earliest inhabitants of Southern Africa. San rock art dating back thousands of years can be found scattered across the region. Unfortunately, within the socioeconomic structures of modern Africa, the San have largely become marginalized people. Although many have been forced off their ancestral lands to resettle in new areas, many still strive to maintain their indigenous traditions, living nomadic, hunter-gatherer lives.
6 I had brought a couple of old pairs of jeans with me to Africa, with the intention of leaving them behind after exhausting their use. In a sad but ultimately inevitable way, the seat of my favorite pair succumbed that morning as I crouched down to help yank one of the roots out of the ground.
7 Like the post on our visit with the Himbas, this post is currently illustrated with images culled from the Flickr Creative Commons. We may, however, replace these pictures with shots that were taken by other members of our group.
8 Handicrafts which we, further complicating my feelings on the matter, ultimately bought.