One of the nicest parts of our adventure across Africa is that it largely lacks any scheduled itinerary, providing us with the luxury of making many of our travel decisions on a rolling basis. Although our journey is only loosely mapped out, we have generally already determined how, and approximately when, we will leave a given location before we arrive. More than anything else, this is simply an effort to keep from inadvertently marooning ourselves anywhere longer than desired.
Consequently, I had been trying to determine the best method for continuing our travels into Zimbabwe well before we arrived in Victoria Falls. Unless you have your own wheels, overland travel in most parts of Africa generally means long bus rides. Because of this, I was especially intrigued to read in our guidebook that Zimbabwe had a functioning passenger rail system that called upon destinations we wanted to visit. That such large-scale, state infrastructure would still be in operation, however, seemed implausible given the economic collapse that had befallen the country just a few years prior. Nonetheless, a quick check of Seat 611 confirmed that Zimbabwean trains were still running – or, at least they were as of June 2013, the date of the site's most recently posted travel report. In a manner that would be frustratingly rare for the rest of our travels across Zimbabwe, the information we found on online was accurate, detailed, and current.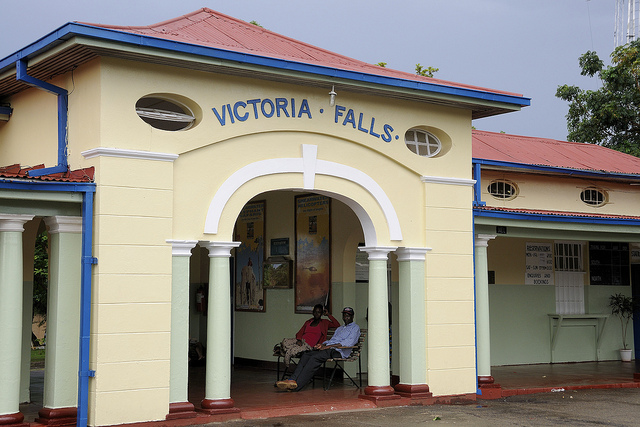 According to Seat 61, a train left Victoria Falls each evening at 7:00 p.m. and made an overnight journey to Bulawayo, Zimbabwe's second largest city. Although our guidebook claimed that this route took only six hours by bus,2 the train was scheduled to take a leisurely ten hours to complete the journey, with delays apparently often further pushing back the train's arrival in Bulawayo.3 The train had first, second, and economy class seating, with tickets for the first class sleeper car going for the bargain rate of $12 each. For an extra $4 per person, you could arrange for your first class berth to be outfitted with bedding. Tickets only went on sale on the day of travel, so it was advised to just turn up at the station in the morning to purchase them.
Even though we accidentally missed the morning window to buy tickets (on weekdays, ticket window at the Victoria Falls station is only open from 7:00 a.m. to 10:00 a.m. and from 2:30 p.m. to 6:45 p.m.), we had no problems securing seats in the first class sleeper car when we showed up to purchase them in the afternoon, before going to high tea at the Victoria Falls Hotel. More importantly, we got berths in one of the first class car's two-person compartments, which was especially nice as it provided us with our own private room for the entire journey.
Having stocked up on fruits and other snacks for the trip, we boarded the train about a half hour before it was scheduled to depart. Seat 61 had already prepared us for the rather basic conditions we found onboard, including a toilet that was little more than a hole positioned over the rail ties. We had expected the train to be without electricity, but were pleasantly surprised to discover that our compartment had a functioning light.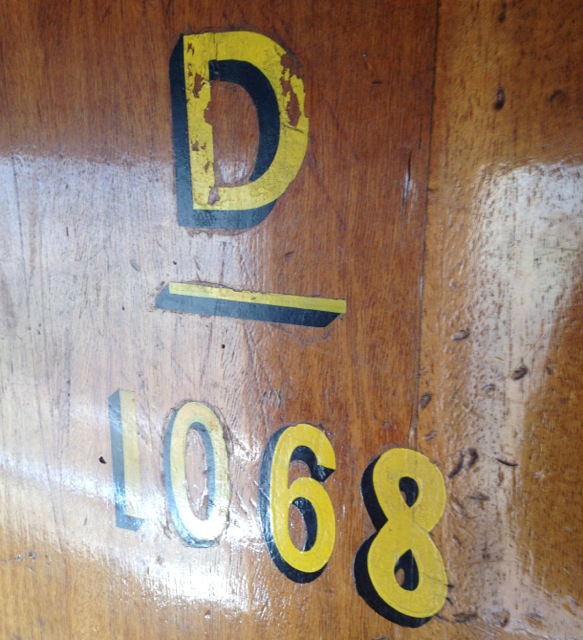 Although the outside of the train carriages bore the somewhat mundane NRZ insignia of the National Railways of Zimbabwe, the interlocking RR logo of the Rhodesian Railways dominated the train's interior.4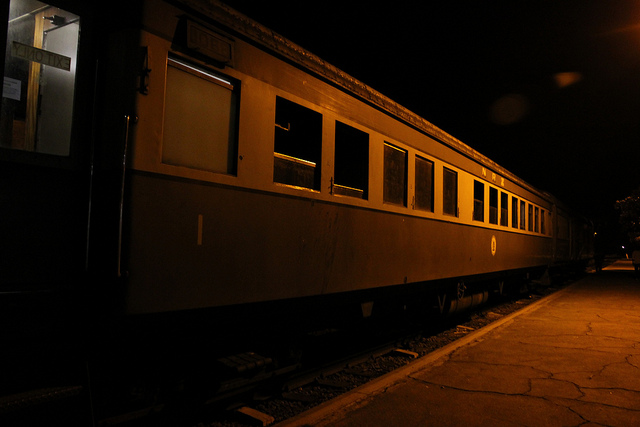 The train left on schedule and was soon chugging through the cool, Zimbabwean night. I watched out the window as the smoke-like spray from the falls, which can be seen from miles away, faded from view. Not long after we departed, the conductor came by to quickly inspect our tickets and inquire as to whether we wanted any bedding. Eight dollars and just a few minutes later, our bunks were each made up with crisp white sheets, pillows, and thick blankets. Once our beds were ready, all that lay between Bulawayo and us was several hundred kilometers of rail and a countless number of stops in tiny villages along the way. We read for a while and then went to sleep – or in my case tried to sleep. Although Katie passed out quickly, I laid there for what seemed like an eternity, only drifting off to sleep in the not-so-early hours of the morning.
My inability to sleep was not strictly the train's fault: I am unfailingly horrible at sleeping on any form of transportation. While some people (e.g., Katie) seem to involuntary fall asleep as soon as the car/plane/ferry/train in which they are riding starts moving – mysteriously suffering from summoning some sort of transportation-induced narcolepsy – I have never been able to get any decent sleep in these situations, however comfortably I happen to be seated.5 There were, however, two train-related issues that kept me awake. First, although our compartment had been fairly hot and stuffy when we left Victoria Falls, it quickly became rather cold and drafty as the train lurched along through the night. Second, the train repeatedly, but not smoothly, transitioned between complete stops – during which I would begin to nod off – and full-speed travel – during which I would be jolted back awake by our car's disconcertingly acute swaying and rolling.6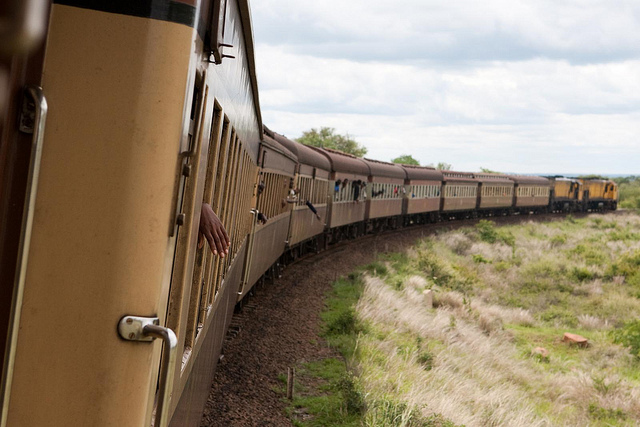 Despite all of this, we both felt fairly well rested by the time that the train pulled into Bulawayo around 9:00 a.m., only about four hours later than aspirationally scheduled.7
---
1 For who are not familiar with it, Seat 61 is a great travel resource. Its reports on exotic train journeys were the fuel for some of my best internet procrastination during my desk job days.
2 We would later learn that you could only really count on one thing when it came to bus travel in Zimbabwe: that a given journey would always take at least 25% longer than the estimated duration listed in our guidebook.
3 The train's slower pace seemed like a good trade off to us, as the travel would be done at night, saving us the cost of a night's accommodation, which was not necessary cheap in Zimbabwe. More importantly, it also spared us from spending an entire day uncomfortably crammed into an overcrowded bus.
4 I am not quite sure why, but I was really tickled by this vestige. Although the end of Rhodesia's statehood preceded the beginning of both of our lives, it was fun to have the chance to travel in a piece of colonial history.
5 I distinctly recall being unable to sleep on the 14-hour flights between New York and Tokyo that I regularly took during one of my years as a large law firm attorney. Despite flying in business and first class with lie-flat seats (traveling for work definitely had some perks), I would lie awake nearly the entire journey – an issue made all the more problematic as I was typically expected to be fresh and ready for meetings upon arrival the next day.
6 I kept reminding myself that the train's decrepit condition was a testament to its age, and that it appeared to have not suffered from any sort of derailment despite having likely plied this route on a nightly basis for decades,
7 As most of my sleep had taken place in the final hours of the journey, I was happy for the opportunity to get more rest – had the train actually arrived at 5:00 a.m., I would have been a mess. Moreover, it is much nicer to arrive in new place after the sun has already risen.