After Bulawayo and Masvingo, we were pretty discouraged. Great Zimbabwe had been a nice respite, but it wasn't enough to completely reenergize us. We set our sights on Lake Malawi and proceeded to bus ourselves across three African capitals in three days.
I'm sure that each of the three capitals (Harare, Lusaka, and Lilongwe) has its own unique character and gems that we didn't discover during our abbreviated visits; alas, our spirits were so trampled from the rugged travel and the cold that we used the cities as merely convenient stopping points along our route to Lake Malawi. Our journey toward the lake was long and frequently frustrating, but, as a wise man told us at the start of our African adventure, you just have to see the humor in such things – and then laugh out loud at them.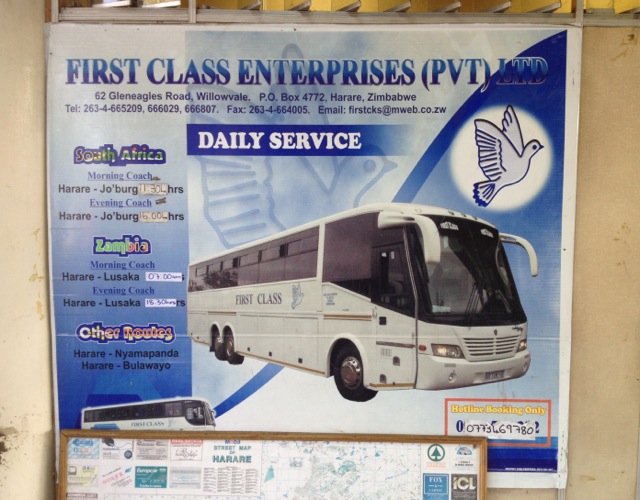 Harare, Zimbabwe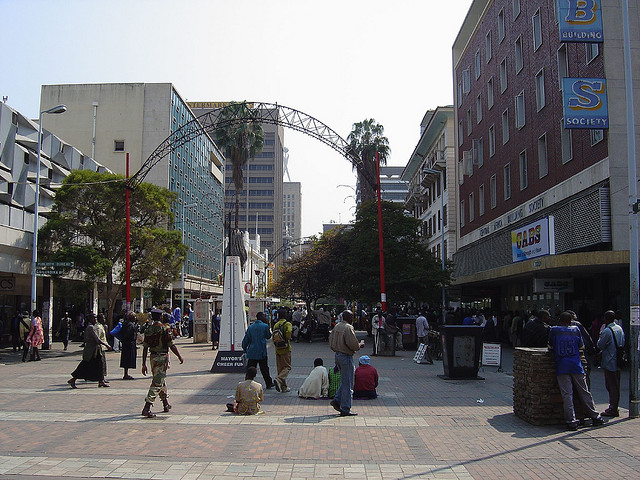 After returning from Great Zimbabwe, we retrieved our bags from the Worst Hotel Ever and rushed the two blocks to the bus stop to try to catch a bus to Harare. Showing up at a bus station with our backpacks and no tickets is usually a surefire way to get swarmed by touts, all trying to cajole us into their own transportation. It's an exhausting ordeal to figure out which of them are telling the truth about departure times, available seats, and prices.
The Masvingo bus stop was, refreshingly, another story. Many people approached us to ask where we were going, but, instead of trying to sell us tickets on an overstuffed minibus that would only get us partway or some other similar shenanigans, they began helping us look for a proper bus headed to Harare. One guy spotted a large Harare-bound bus stopped at a gas station across the street – it was just passing through town on its way from South Africa. He ran across the street and had the bus driver wait while we picked our own way across the street, loaded with our bags. In other places, that guy might have expected payment for his troubles, but he just waved at us and ran back across the street.
Alas, that bus was fated go down in this trip's history as one of the more miserable travel experiences. It was completely packed. The luggage compartments under the bus and the trailer behind the bus were full, and the spillage of stuff was piled in the aisle. We had to literally climb over huge bags to reach the pair of empty seats, and then we had to throw our own large backpacks on top of the pile of baggage in the aisle. Whenever anyone wanted to disembark or board, Marc had to heave his backpack out of the aisle to allow them to pass. It was a long, long five hours to Harare – including one maddeningly long food stop at a Chicken Inn an hour outside of Harare.
Our excitement at finally reaching the outskirts of Harare was quickly dissipated when the bus came to full stop in a random, unlit dirt lot about ten kilometers short of the main international bus station in the city center. We watched, confused, as everyone began to disembark and then a gentleman across the aisle explained that it might be another hour before all of the cargo that the bus had been hauling in from South Africa was unloaded here and the bus could continue to the city center. Since it was already dark and we didn't yet have anywhere to stay, we decided to get off and take a taxi into town.
If you're not familiar with disembarking from a bus in Africa, let me explain what often happens: you are immediately surrounded by a crowd of people, shouting "where are you going, my friend?" and grabbing at you and/or your luggage, insisting "taxi, taxi." It's disconcerting enough without also having to navigate in the dark, ten kilometers from where you thought you would end up.
Luckily, we found one of the nicest, most helpful cab drivers ever. He commiserated with us over the swarm of taxi drivers, telling us he understood what it was like to be a foreign tourist and arriving in a strange destination, and helped us locate It's a Small World, our guesthouse of choice, which was hard to find on the map. He even helped us carry our belongings inside and waited to make sure that we could get a room, as we were just turning up without a reservation.
We spent two nights and one day in Harare, during which we went out for brunch, wandered around downtown, purchased our tickets for onward transport to Lusaka, attempted to visit the National Art Gallery (which turned out to be closed for renovation), and stopped by the grocery store to stock up on supplies for making dinner and surviving our further bus journeys.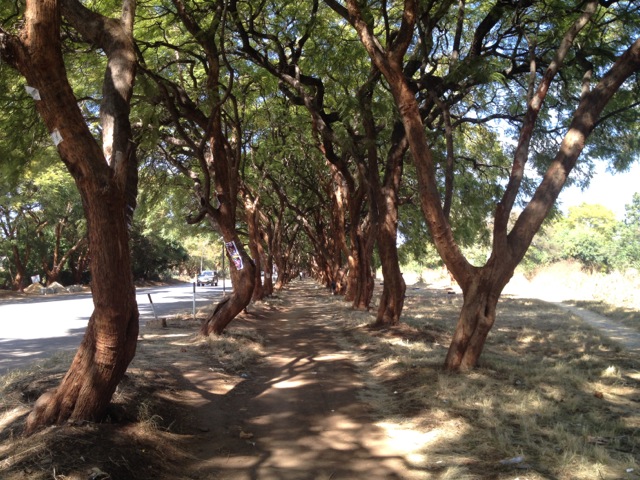 Where We Stayed:
☆ It's a Small World. Four goats. Friendly place, with a nice outdoor sitting area and common area with fireplace (which proved key since it was so cold in Zimbabwe). There's a shared kitchen with a shelf of communal goods (nice so that we didn't have to buy a full bottle of cooking oil just for one dinner) and allegedly wifi, although it was down during our visit.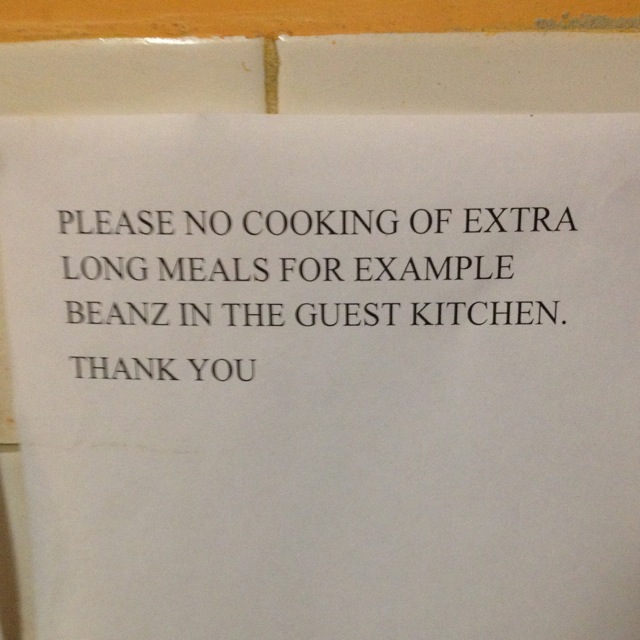 Where We Ate:
☆ 40 Cork Road. Cute cafe with tables set up around a well-kept garden. Breakfast was phenomenal: real coffee and sumptuous egg dishes. My vegetarian Eggs Benedict/Eggs Florentine had delicious potato cakes and Marc's breakfast came with addicting creamed mushrooms.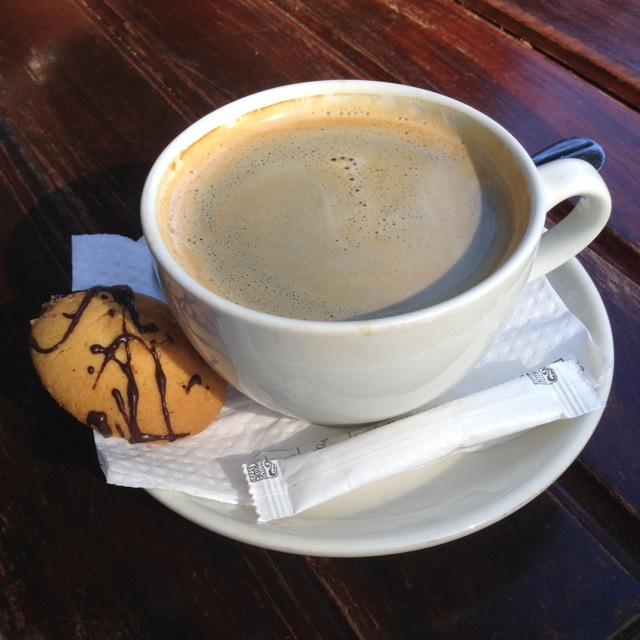 Lusaka, Zambia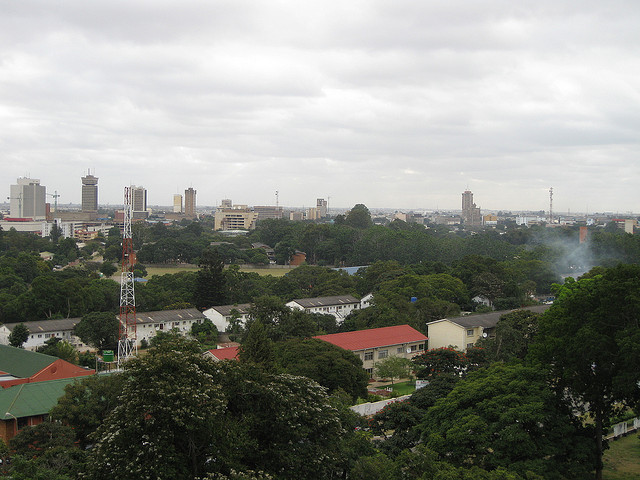 The journey from Harare to Lusaka was a long one, taking about eleven hours. We traveled on the First Class bus line (which generated a lot of who's-on-first-esque confusion at the bus station as we attempted to explain that we didn't need a first-class bus, we just needed a bus that would go to Lusaka), and it was more comfortable than the bus was had taken to Harare. It was also not nearly as full of luggage, but it still bore many of the hallmarks we have since come to expect from African bus journeys: 2×3 seating, delayed departures, frequent stops, high speeds along bumpy roads, and loud videos.
At the border crossing, we were startled when the bus barreled right over the bridge spanning the Zambezi River and entered Zambia without first stopping to complete exit formalities in Zimbabwe. Marc and I exchanged an uneasy look, wondering if perhaps Zimbabweans and Zambians didn't need to have their passports stamped exiting and entering the country and we had just entered Zambia illegally. Was our first stop in Lusaka going to have to be the American Embassy to explain what had happened? Thankfully, when the bus stopped on the Zambian side, we discovered that this border is a one-stop crossing. It was a seamless arrangement: we filed in on one side of the immigration building, obtained our Zimbabwean exit stamps, and then filed over to the other side, where we received our Zambian entrance stamps.1
One of the highlights of the journey was the scenery, which progressed from Zimbabwe's dry savannah to lusher, tropical greenery in Zambia.
After arriving at the bus station in Lusaka just after dark, our first order of business was to check the bus schedule for our onward travel. Our guidebook had indicated that direct buses left Lusaka for Lilongwe only a couple of times a week – and then only in the very early morning – and so we wanted to plan our trip accordingly.
With the help of a persistent cab driver, we navigated the open-air maze that is the Lusaka bus station and found the office of the proper bus line, Kob's, which apparently also operates as the Zambia-Malawi bus. (Remember this, it will be important later!) Unfortunately, upon learning about the schedule, we were left with a somewhat unappealing choice: a 2:00 p.m. bus the next day – which would not give us much time to recover from the prior bus we had just exited and would arrive in Lilongwe way later in the evening than ideal – or a 5:00 a.m. bus three days later. Desperately wanting to be on the shores of Lake Malawi, we opted for the next day's afternoon departure.
Where We Stayed:
☆ Lusaka Backpackers. Three goats. We had heard this place is popular and often full, so we were nervous when we arrived without a reservation. Luckily, there was a double room – an A-frame reed chalet – available. Although rather pricey for the very basic setup, it was comfortable, if a bit chilly. There was a bar full of people watching the World Cup games, and plenty of places to sit outside. The food was tasty. There purported to be wifi, but it wasn't working. Our night at Lusaka Backpackers really improved my disposition. As I remarked to Marc after dinner and a shower, my threshold for happiness is much lower these days – all I need is a warm shower and an imitation chicken patty.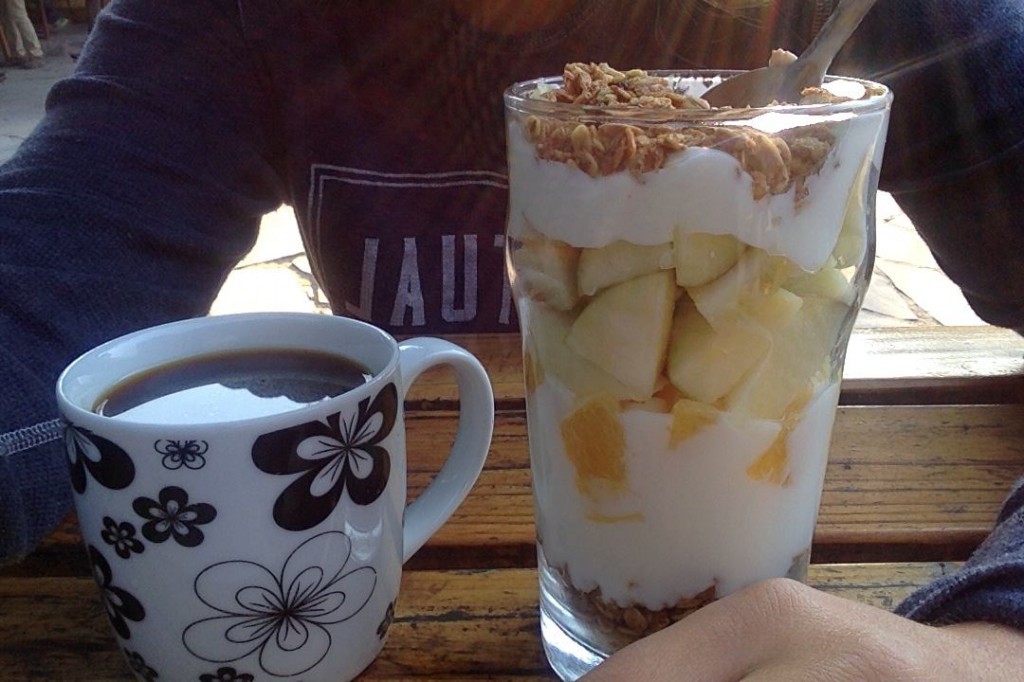 Where We Ate:
☆ Mugg & Bean. We spent our morning in Lusaka in the mall, running errands like changing money and picking up snacks for the bus ride. (Strangely, the wifi was down in the entire mall as well.) I was delighted to see a Mugg & Bean, my favorite Panera-esque South African dining chain, and we ate lunch there. Alas, it seemed the numerical value of the prices hadn't been adjusted from South African Rand to Zambian Kwacha, making it a very expensive meal.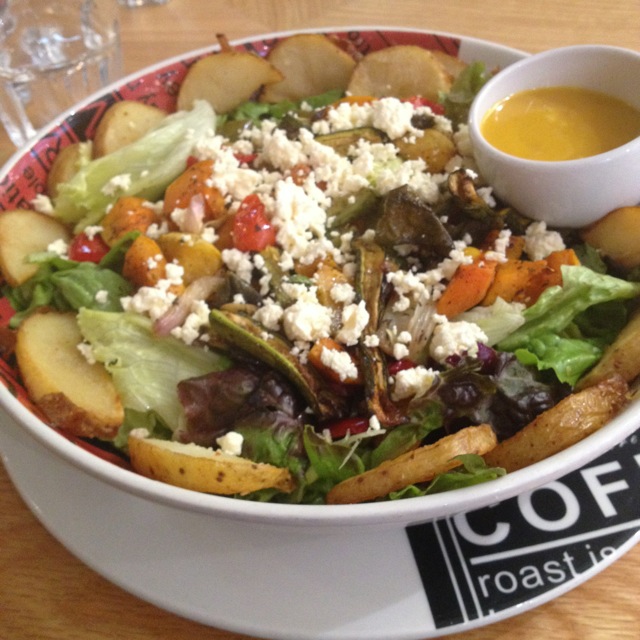 Lilongwe, Malawi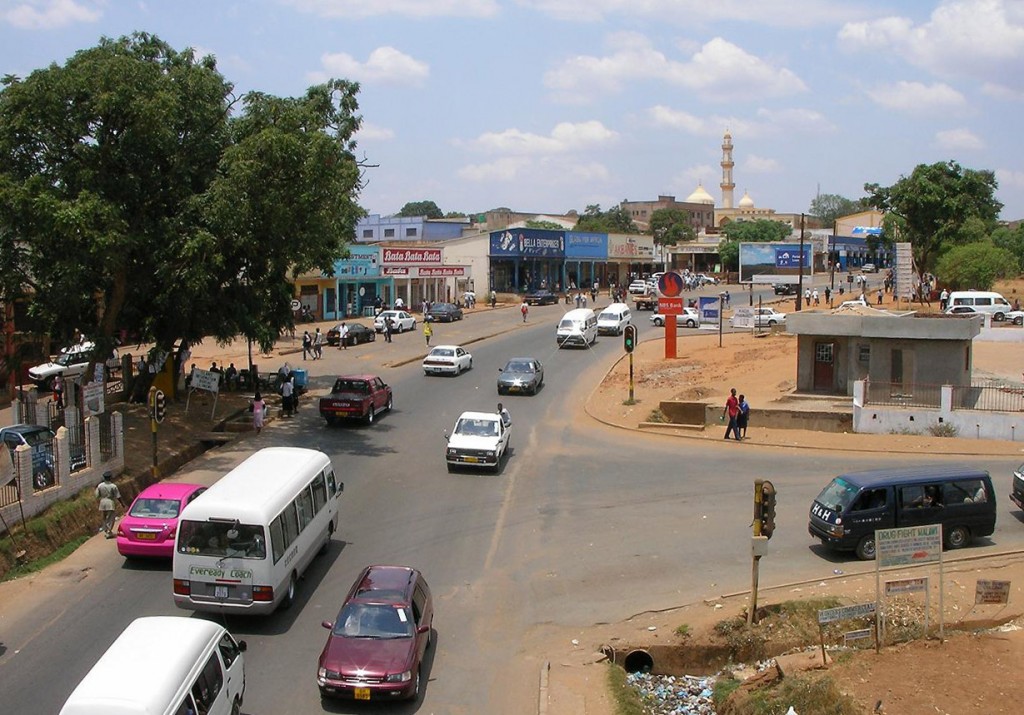 Over breakfast at Lusaka Backpackers, we heard three other travelers discussing their intentions to travel from Lusaka to Lilongwe. We told them we were on a bus leaving that afternoon, and they joined us for the trip. The Zambia-Malawi bus was crowded with an absurd amount of luggage and cargo that eventually took over the back two rows of seats, but, other than the fancy Intercape bus we had taken from Windhoek, it was the most comfortable bus we had been on thus far.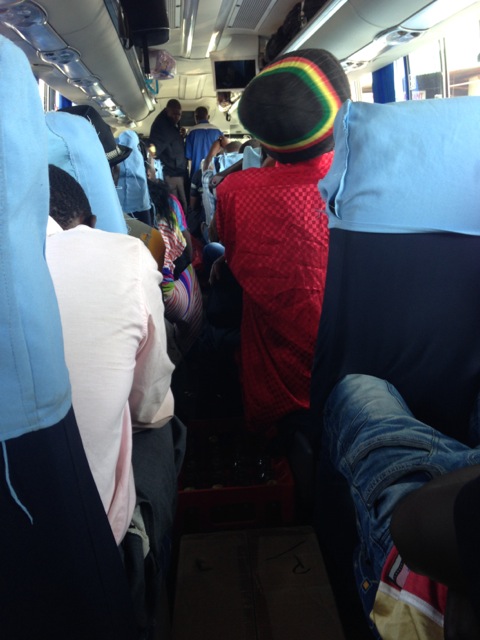 Highlights of the bus ride included complimentary cookies and soda, as well as the unintentionally hilarious "documentaries." These documentaries were actually commercials for the bus company (which included a theme song incorporating a reference to the fact that they handed out refreshments and the catchy chant of "Bus! Bus! Bus!"2) mixed with music videos (some being dancing church ladies, others being more risque dancers). Each documentary (of which there were several) included a screen advising us in an existentially questioning manner that: "YOU ARE ZAMBIA-MALAWI BUS DOCUMENTARY!"
The bus had been projected to arrive in Lilongwe at midnight, but, by midnight, we had only reached the Malawi border. By the time we pulled into Lilongwe's bus depot at 2:00 a.m., the area was completed deserted, save for some unsavory characters milling around errant piles of burning debris.3 Taking stock of the lack of immediate onward transport options, and advising us that it was generally not safe to travel around Lilongwe at this time of night, the bus driver offered to let everyone sleep on the bus until morning – the bus would be taking off again at 6:00 a.m. and new passengers would start arriving at 5:00 a.m., but at least it would be light out by then.
After a few minutes, however, a small car pulled up to the bus and the driver offered his services in acting as a taxi. After extended discussion between the putative taxi driver, our new friends we had met in Lusaka (one of whom, a South African, was experienced in traveling around Africa), and the bus driver (who had taken a paternalistic interest in the five of us during the trip), it was decided that the taxi would take Marc and me to Mabuya Camp, the backpacker place that we all wanted to stay at, and then return to make another trip to pick up the remaining three.
Because the internet had seemed to be down over the whole of Lusaka, however, none of us had alerted Mabuya Camp that we would potentially be arriving well after midnight, much less made reservations. Our new friends were unconcerned because they were planning to camp, and we figured that, since we also travel with a tent, we could likewise camp. Happily, the night guard found Marc and me beds in the dorms, and, after we had confirmed the others had arrived as well, we crawled into them, exhausted.
Where We Stayed:
☆ Mabuya Camp. Three goats. We spent two nights here: the first night in the dorms, and the second night in a double room. The dorm beds were fairly uncomfortable, but the beds in the double room were much better, albeit still cold at night. Accommodation was simple but clean. The restaurant serves one meal per night (with an option of meat or vegetarian), and, the night that we dined there, it was a tasty curry.
Where We Ate:
☆ The Bohemian Cafe/Land & Lakes Cafe. I'm not quite sure the name of this place: our guidebook called it The Bohemian Cafe, but I swear the menu referred to itself as the Land & Lakes Cafe. Either way, it was good. We had small French presses of real coffee and warm wraps topped with guacamole.
---
1 Because we had purchased double-entry visas when we entered Zambia from Botswana, we didn't need to obtain new visas at this Zambian border. While we waited in line, one official pointed at us and asked if we needed to buy a visa, which leads me to believe that we could have purchased a visa rather seamlessly there as well, had we needed to do so.
2 It's been over a month since we rode the Zambia-Malawi bus, and we are still chanting "Bus! Bus! Bus!" In fact, the Word document in which I've been drafting this post is entitled "bus bus bus.docx."
3 Having traveled over 1,200 km in two days to reach Malawi, it was dispiriting to find Lilongwe not appearing as we had imagined – the sleepy capital of a country nicknamed the "Warm Heart of Africa" – and instead looking more like John Carpenter's post-apocalyptic Manhattan in Escape from New York. Thankfully, Lilongwe proved to be much more inviting after sunrise.