Although some Peace Corps volunteers we would later meet sung the praises of Mbeya, we saw no reason to linger there and headed out the morning after our arrival. One knee-breaking ride on a beer-soaked bus later, we arrived in Iringa, a Tanzanian district capital perched on a bluff.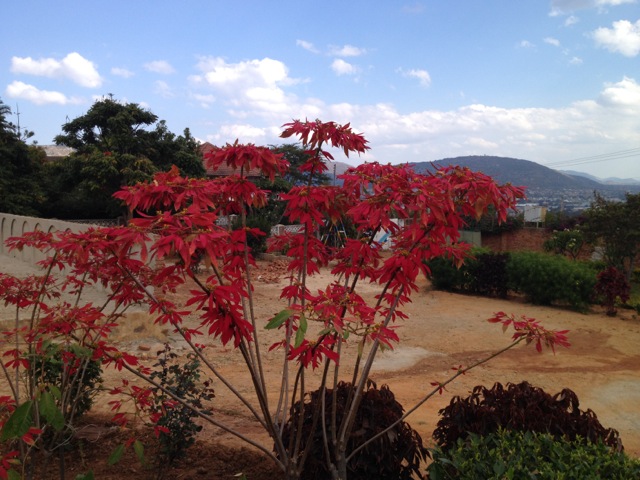 The most popular budget accommodation in town, the Neema Crafts Guest House, recommends that you make a reservation in advance. As with so much of this trip, we weren't sure exactly when we would be arriving in Iringa (moreover, not yet having sorted a Tanzanian SIM card, we had no means of contact), and so we hadn't done this. Tired and still a little sick, we approached the reception desk with trepidation. Our luck held, and we got the last room in the place. The room was simple, but bright and clean, and, after months of sleeping basically outdoors1 and/or in dire circumstances, it felt like a palace. Once we discovered that not only did our room have a television, but that The Muppets was just starting on one of the various satellite channels, we didn't leave our room for the next few hours.
We hadn't completely recovered from whatever we had in Malawi, and so we took it easy in Iringa: going on short walks and hanging around in the common area of the guesthouse using the wifi. Unfortunately, we had only been able to secure a room at Neema for two nights. Since we were tackling the city at such a slow pace, we wanted to stay longer and asked the patient folks at reception at least once an hour whether anyone had canceled their booking. Alas, no rooms freed up.
But, on the morning that we were supposed to check out, we were chatting over breakfast with another American woman and mentioned that we needed to find alternate accommodation. She told us she was going on a short trip with a friend but hadn't surrendered her room (for which she had already prepaid for several nights that were otherwise going to go unused), and that if we didn't mind sharing the room with her luggage, we could stay in it. I could have hugged her. (Given my lingering illness, I refrained out of respect for her health.)
With our extra time in Iringa, we buddied up with a couple from New Zealand we met at Neema and headed out to see the Isimila Stone Age Site. The site is about a thirty minute drive from Iringa, and the only practical way to reach it is by taxi (unless you have your own wheels, of course). The ride cost us 35,000 Tanzanian shillings (or $21) total, so splitting the cost with the Kiwis made it much more manageable.2
Once we arrived, we discovered that the 5,000 Tanzanian shilling admission fee quoted in our guidebook was horribly out-of-date.3 The posted rate sheet informed us that admission was now 20,000 shillings for foreigners. (Tanzanians were required to pay a mere 1,000 shillings.) Once we expressed our shock and disappointment,4 the guy manning the desk decided to let us in for 10,000 shillings each.
We were assigned a young guide dressed in what seemed to me an impractically frilly dress and sandals, who led us through the small museum and then down into the stone age site. The stone age part was underwhelming. It was just some piles of rocks underneath protective roofs.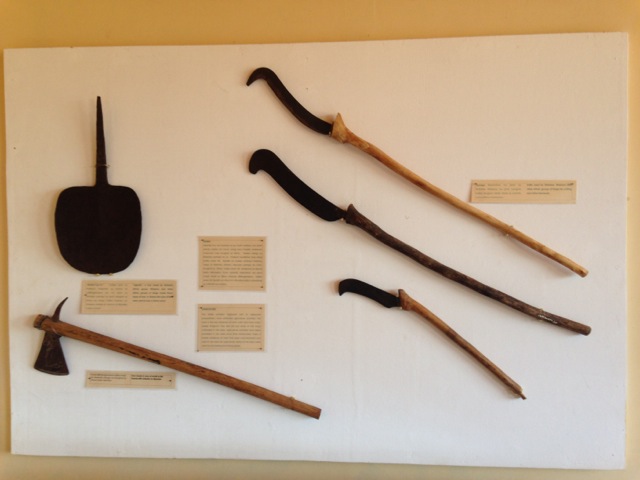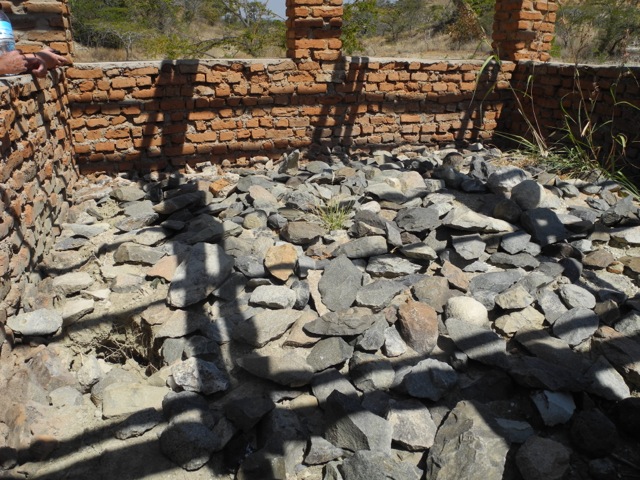 The natural pillars, though, those were something else and definitely worth seeing.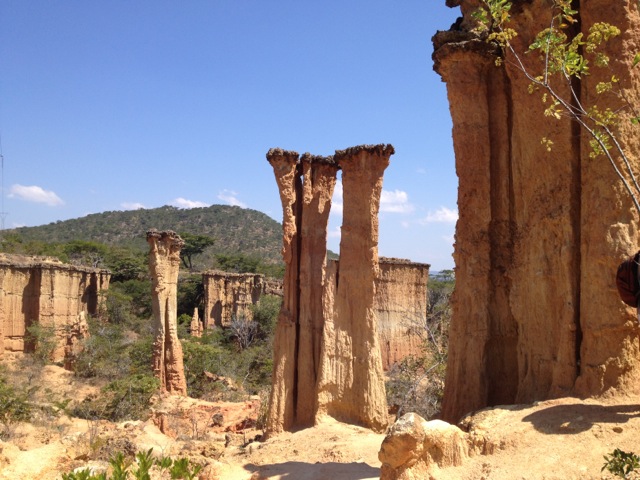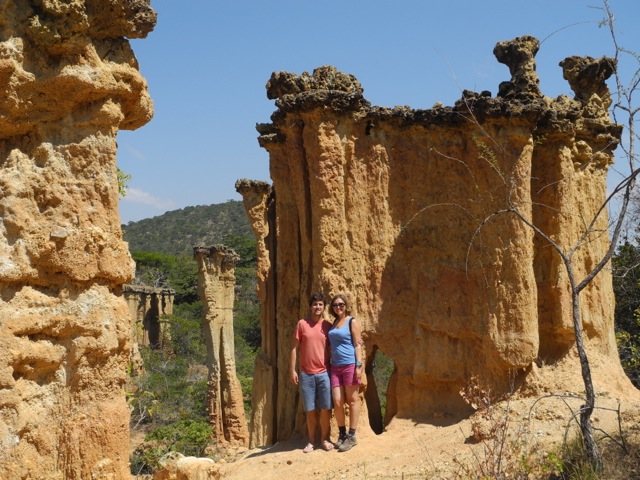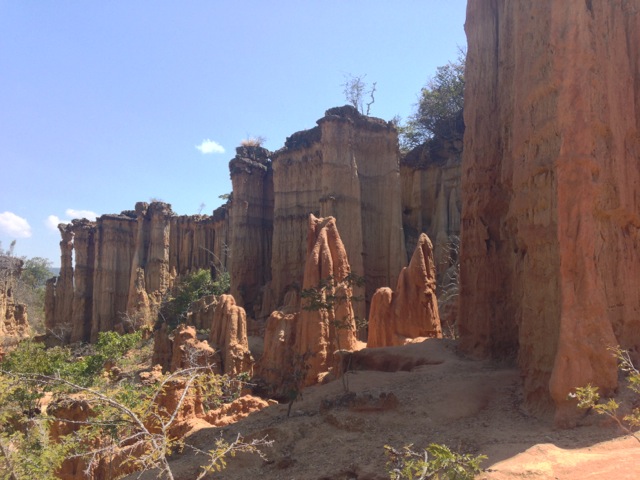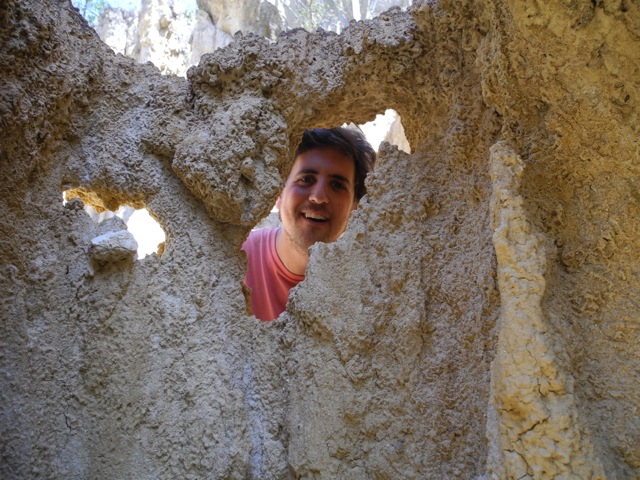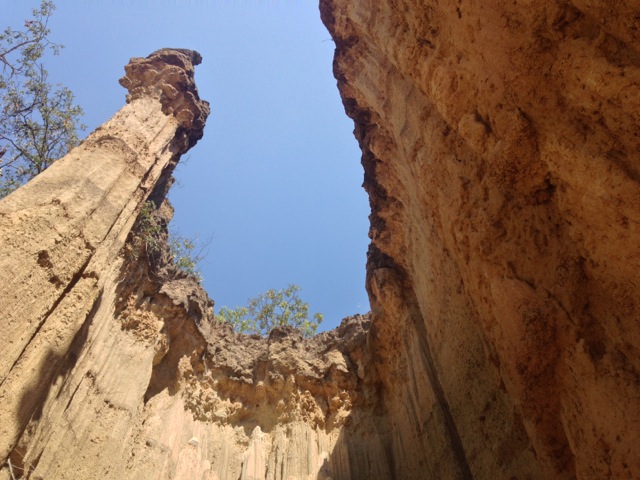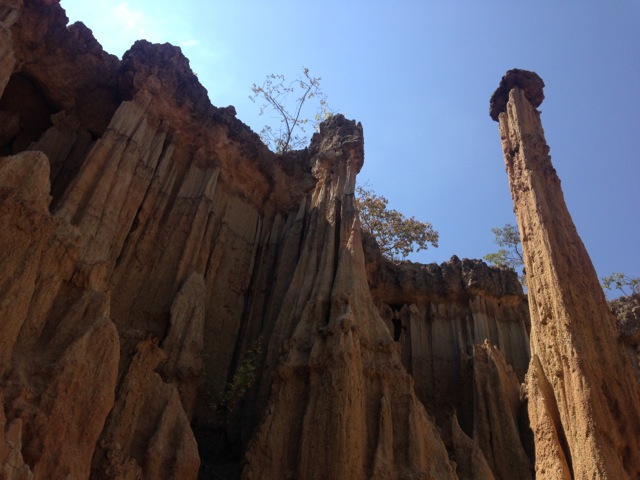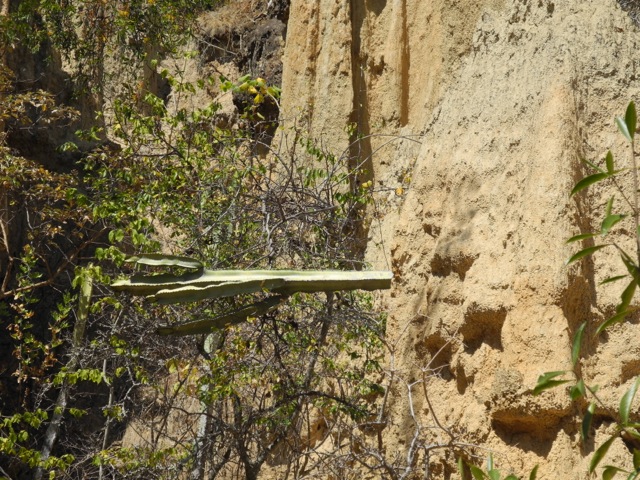 It was a nice way to cap off our trip to Iringa before we headed to the hustle of Dar es Salaam.
Where We Stayed:
☆ Neema Crafts Guest House. Four goats. The guesthouse is located at Neema Crafts, which provides vocational training for, and is entirely staffed by, young deaf and disabled people. The rooms are simple but comfortable, and, with abundant hot water and satellite television, they are an extremely great value. Breakfast is included, and there is a common area with wifi available. It was a nice place to relax for a few days.
Where We Ate:
☆ Neema Crafts Cafe. Operated by Neema Crafts, its employees are also deaf and disabled. The menus list some basic sign language to help you communicate. We had the smoothies and sandwiches for lunch, and also enjoyed the Friday night Indian buffet (which, at 10,000 Tanzanian shillings – or about $5 – was a great deal).
☆ Hasty Tasty Too. This is a simple place in town, where we had a quick lunch of toasted sandwiches.
☆ Iringa Cafe. We heard the lamb was great, but the day that we ate here we had had a late lunch so we weren't very hungry. Everything was tasty, though, especially my vegetable quiche.
☆ Sai Villa. After our excursion to the Isimila Stone Age Site, we had lunch here with the Kiwis. It serves Indian food that's pretty good. We really liked the paneer tikka masala.
---
1 We had camped throughout Namibia, Botswana, and Zambia, and the vast majority of the chalets we had stayed in since then could hardly be called "indoors." Sure, they had walls and ceilings, but those walls and ceilings had gaps that allowed in the outdoors and once, at Mango Drift, a bat. (Said bat flew obediently out the door once I opened it; I don't think the bat wanted to be in our room any more than I wanted it in there.)
2 We had to rely on a woman from the guesthouse to help negotiate the fare. With the exception of Mozambique, English is widely spoken across most of Southern Africa. We had become somewhat complacent in our travels up to this point with the minimal language barriers we faced as result of this. In Tanzania, however, Swahili supersedes English as the lingua franca. For the first time on our trip, we found ourselves truly struggling to communicate with people.
3 Our guidebook was published two years ago (and ostensibly researched before that), so we expect the prices of some things to have risen a bit. I've got some other problems with the guidebook (namely the I-was-there-before-it-was-cool-and-got-ruined tone to the section on Zanzibar), but I'm not going to get into those here because it would take all day.
4 Across much of Africa, is frustratingly common for foreigners to be charged more (often double or triple) to visit national parks and other important sites. Although we can understand the rationale behind such policies – foreign visitors are typically exponentially wealthier than locals – it would be nice to receive some assurances that those additional fees were going to conversation efforts for their respective sites. Nonetheless, Tanzania was the first country that had the audacity to try to charge us 20 times the local rate for visiting a historical site. I guess we should not have been surprised, as Tanzania was the first country we encountered that had institutionalized explicit resident/foreign pricing in all sectors of its economy – even our guest house openly listed pricing differentials, albeit modest, for residents/foreigners.