One of the Zanzibar's most important industries is spice production, and one of the most highly recommended things to do while visiting there is tour a spice plantation. As enthusiastic fans of spices, a spice tour was on our must-do list.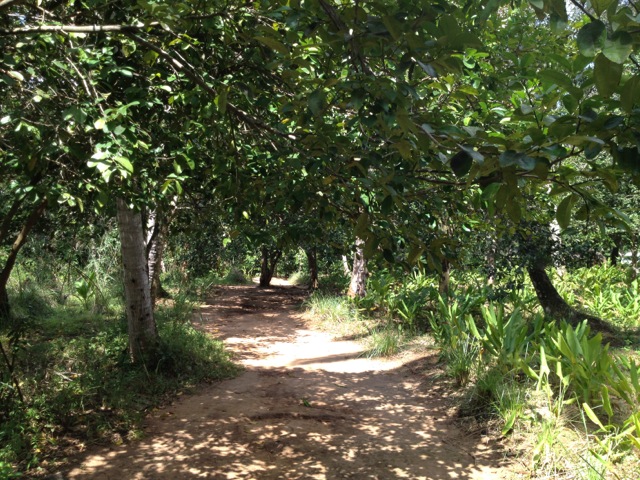 Plenty of people (tour operators, your hotel, random folks on the street) will sell you a spice tour. We chose to go on an inexpensive, full-day group tour organized by Mr. Mitu, a tour operator recommended by our guidebook. We paid for the tour in his office in Stone Town one afternoon, and he gave us a receipt with his phone number on it and told us that someone would pick us up at our hotel the next morning between 9:00 and 9:30 a.m.
The next morning, we headed downstairs to the lobby of our hotel just before 9:00 a.m. The receptionist asked us if we were waiting to go on a boat tour around the island, and we told her that we were waiting to be picked up for a spice tour. She nodded and went back about her business.
A few minutes later, a woman entered the hotel, spoke briefly to the receptionist, and then addressed us: "Spice tour?" We nodded, and she led us out of the hotel and down a few short alleys before reaching an empty minivan parked outside of a tour operator's office. In retrospect, that should have been our first clue that something was wrong, as we had signed up for a group tour. Nonetheless, we figured that we were just the first stop on the driver's list of pickups for Mr. Mitu's tour.
The driver of the minivan looked confused when we asked about the other guests, but he didn't speak English very well, so we just shrugged it off. We became suspicious when he started driving out of Stone Town without picking up anyone else, and, when he stopped for petrol, we showed him our receipt and asked him again if we were in the right place. "Yes, is right," he told us.
As you might have already guessed, it was not right.
Shortly after the petrol stop, our driver received a phone call that resulted in him pulling over to the side of the road, glancing back at us, and clearly saying the name of our hotel. At that point, we were positive that we had been mistakenly picked up by a rogue tour operator. (From what we could surmise, this was likely set into motion by the receptionist at our hotel, whom we suspect misinterpreted our statement about waiting to be picked up for a spice tour as a request to for her arrange an independent spice tour for us on the spot – something which the hotel has previously told us they could do if we were interested.) We tried to ask our driver what was going on, but we got nowhere with the English-Swahili language barrier.
He then drove us to a small spice farm and tried to coax us out of the minivan. The staff at this other spice farm kept trying to convince us to take their tour, basically asking us what the big deal was. We expressed that we had already paid for a group tour, and we wanted to take the tour that we had chosen. We weren't interested in paying again to take a sub-par tour on our own.
We showed the receipt with Mr. Mitu's phone number on it to the driver and demanded that he call Mr. Mitu's office to sort out the mess. After that phone call, the driver then drove us another kilometer farther down the road, in the direction of the larger spice plantation that our group was intended to visit, before turning off on a smaller dirt road and idling by a corner. A throng of independent spice tour guides then surrounded the minivan, vying for our business. We told them that we had already paid for a tour; they responded that our actual driver was "still far away" and since we were already there, we should just hire them. Showing our receipt finally seemed to dissuade them, and we waited for our real driver to come and collect us from our accidental kidnapper.
Once we were in the right vehicle (or vehicles – there were two minibuses full of tourists, including our Kiwi friends and a contingent of women from New York), we greatly enjoyed Mr. Mitu's spice tour. The tour took us through a group of example trees, to show us what was grown on the plantation.
Our tour started with sampling jackfruit – not a spice, but delightful nonetheless. It had been a long time since we had had any jackfruit. If you're not familiar with jackfruit, it is a large, somewhat spiny fruit that has flesh that is often compared to a banana-pineapple flavor.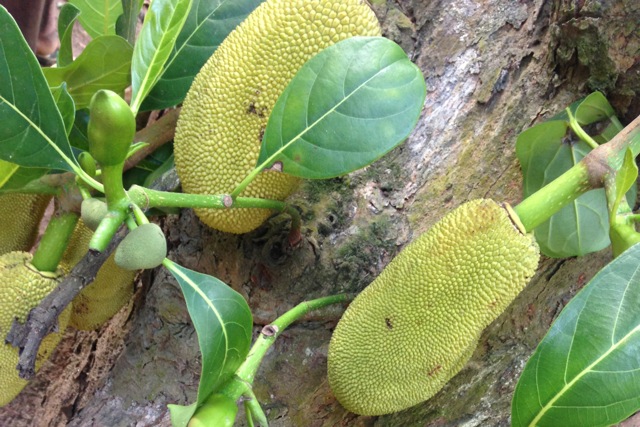 One of the highlights of the tour was seeing Zanzibar's cash crop – cloves – in its various forms. In the picture below, the guide is holding cloves in three different stages.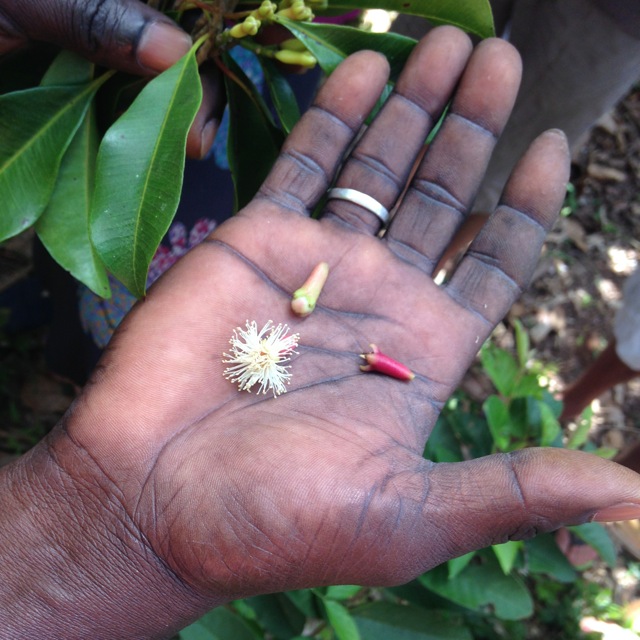 One of the more interesting things we saw were the seeds of the achiote trees, something that was previously unknown to us. They are used to make annato, a type of red food coloring.
We really enjoyed seeing familiar spices in their natural forms – like turmeric as a brightly colored root, and ginger just poking above the ground.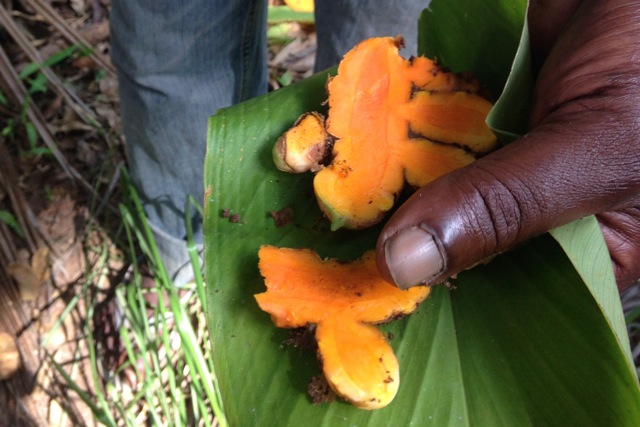 Did you know what nutmeg looks like in the shell?
Or what chocolate looks like before it is chocolate?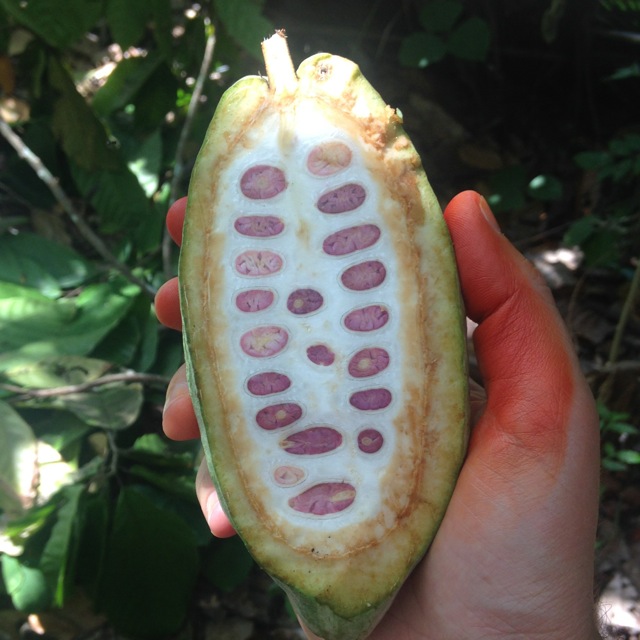 We concluded our tour of the spice plantation with coconut water from fresh coconuts that someone dramatically retrieved for us from the top of a tree.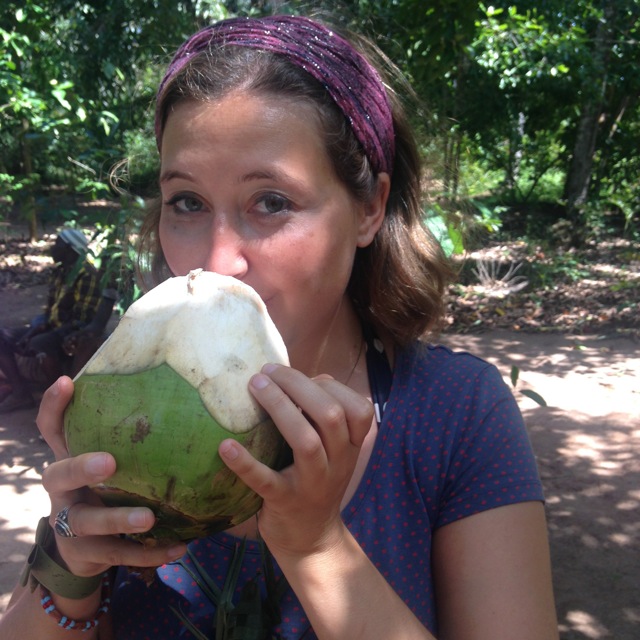 We really enjoyed the tour – and the formalwear that our guides made for us.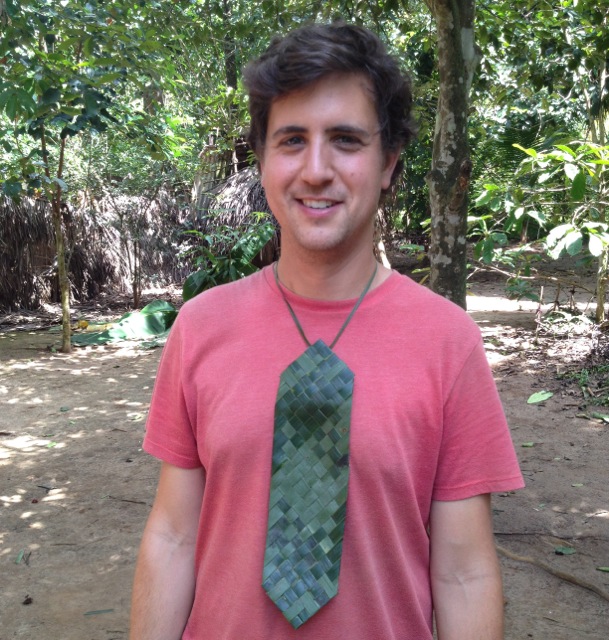 After the end of the tour around the spice plantation, we stopped for a "local lunch." With the other members of our group, we sat on the floor and shared from large bowls of incredible spiced rice, spinach, flatbreads, and a delicious sauce made from tomatoes and some green tomato-like vegetables that we didn't recognize.
Our day concluded with a stop on a beach, where we frolicked in the Indian Ocean for an hour before returning to Stone Town in the late afternoon.

The spice tour was a lot of fun… and, I have to imagine, much better than the tour of the small farm for which we were almost, accidentally kidnapped.