Although you might not know it from our previous posts, there is more to Zanzibar than Stone Town and spice plantations – including a fascinating forest and a series of gorgeous beaches. When our Kiwi friends suggested renting a car and road-tripping across Unguja (Zanzibar's main island) to take in the forest and several beaches, we decided to join them!
Jozani National Park
Jozani National Park, located about 35 kilometers from Stone Town, is the largest remaining area of mature forest in Zanzibar. Most notably, it is home to the Zanzibar red colobus monkey, a rare rain forest species that lives only in Zanzibar.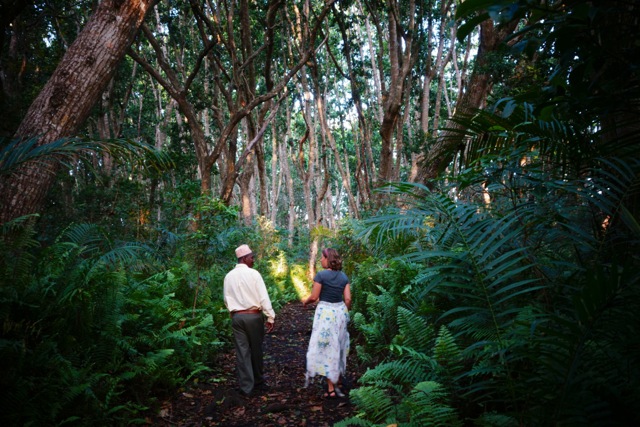 Because of some contradiction in what we read about Jozani's opening hours, we arrived just after the park had closed. We looked sad and were able to negotiate an overtime rate for one of the guides, who took us through the forest to explain some of the vegetation and then track the red colobus monkeys.
First, we came across some black-and-white colobus monkeys. These little guys are much more common than their red counterparts, but they were new to us. After months of seeing trouble-making vervets and intimidating baboons, the colobus monkeys were a nice change!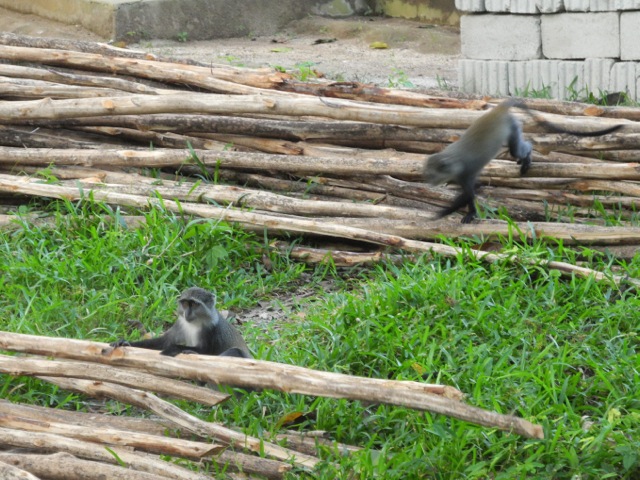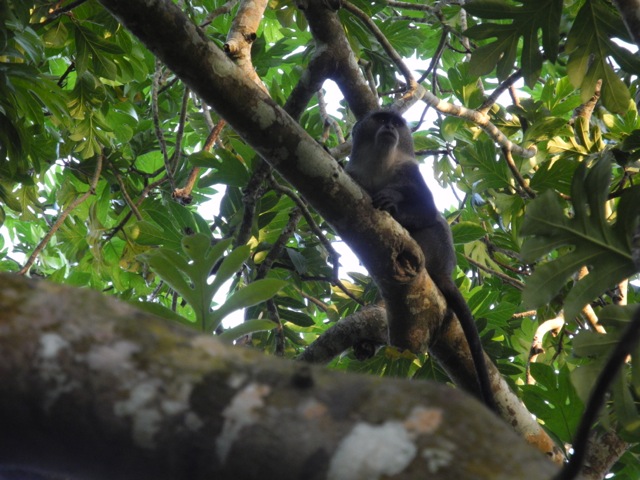 After a bit more trekking through the forest, we came upon the Zanzibar red colobus monkeys, which were truly like nothing we had ever seen.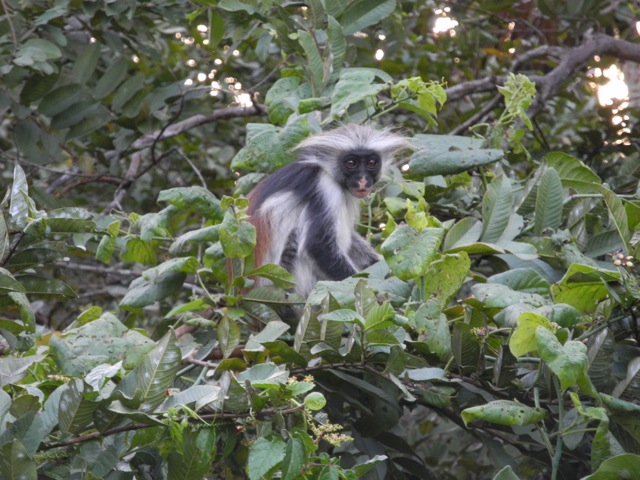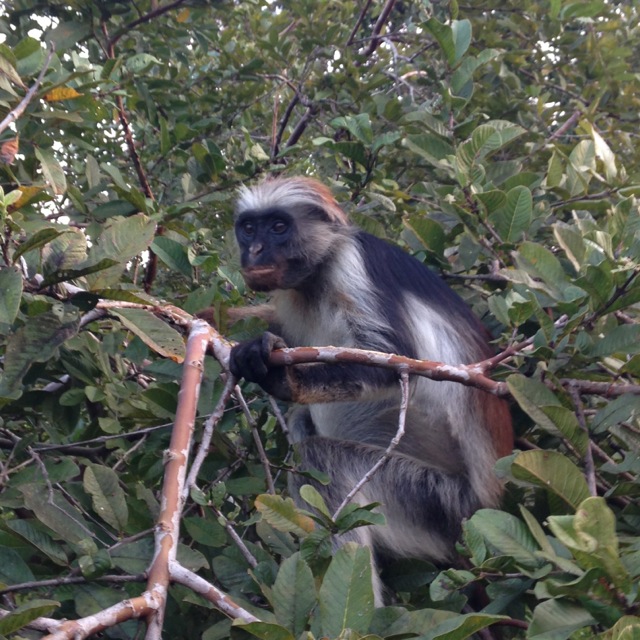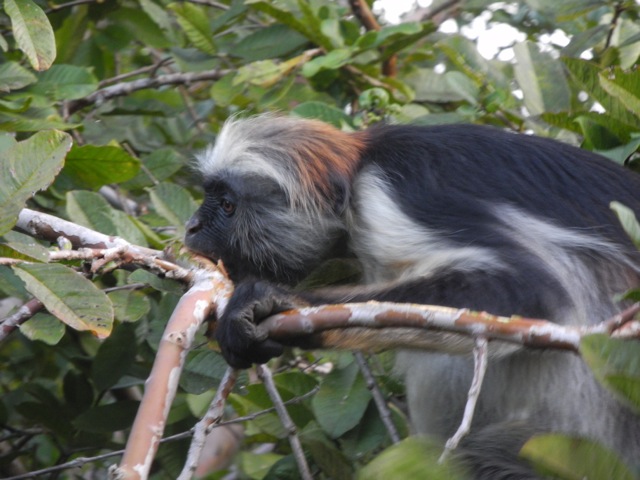 After watching the red colobus monkeys munch on branches, we concluded our tour of Jozani with a walk through the mangrove swamp. It was eerily beautiful and wildly different from anything we had seen thus far in Africa.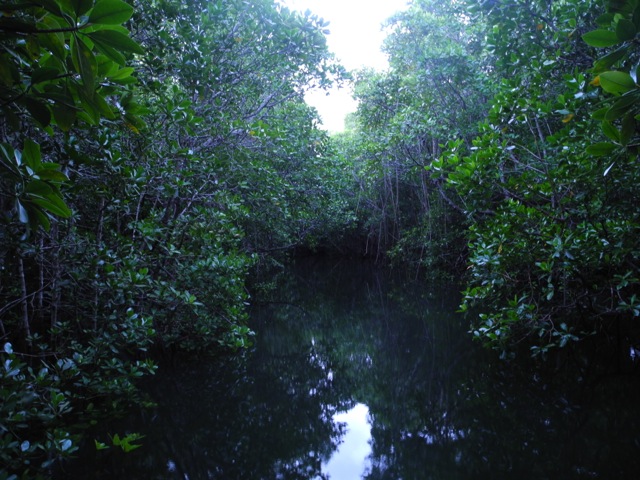 Unguja Beaches
Zanzibar is famous for its beaches, and we had been looking forward to visiting them. Unless you have your own wheels, the manners of reaching the beaches from Stone Town are undesirable: a slow, crowded minibus; an early morning shared taxi; or an expensive private taxi. Accordingly, many travelers choose one beach for their visit.
We spent hours scrutinizing our guidebook's description of the beaches, trying to determine from the text which beach was best for us. We wanted a beautiful beach, but we didn't want one that was overcrowded with other tourists or was a "party" beach. Our friends' idea to rent a car seemed to us the perfect solution: we could visit some more remote parts of the island and inspect the beaches before having to make up our minds!
One Saturday morning, we set off for the northern part of the island. Our first stop was the small village of Mkokotoni, where we saw a bunch of fishing boats. The tide was out (but on its way back in), and we wandered around the exposed beach, admiring small crabs and chatting with the young fishermen.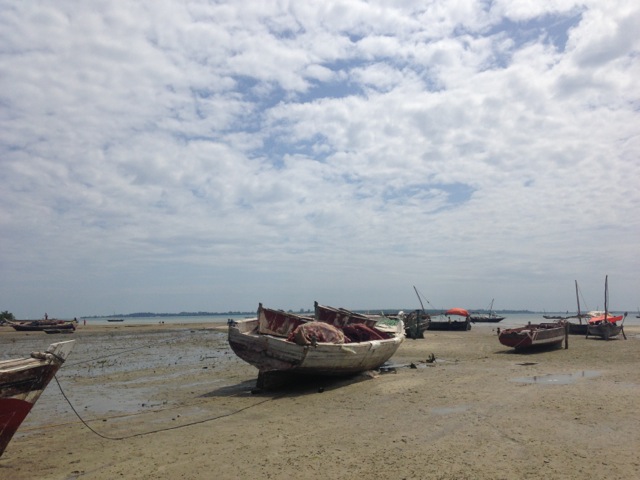 We then headed further up north to Nungwi, where, over an extremely slow lunch, we admired the beautiful beach.
Next, we headed to Kendwa. The beach there was beautiful, but it was dominated by enormous package-resort style hotels, and crowded by twentysomethings ready for that night's full moon party.
We concluded our tour of northern beaches with Matemwe and Pongwe. Our visit coincided with the high tide that afternoon, which left little to no beach to explore, as the waves came all the way up to the palm trees that fringed Matemwe and Pongwe.
We set out the following morning to tackle the southern part of the island. We started with in Fumba, a remote area in the southwestern part of the island. The tide was out so we walked around the tidal pools, admiring the small ocean creatures.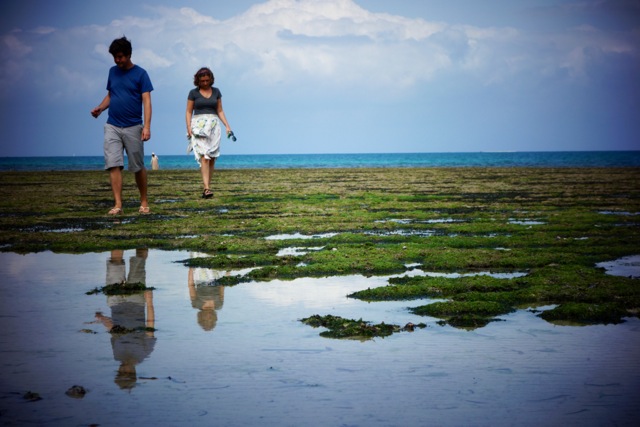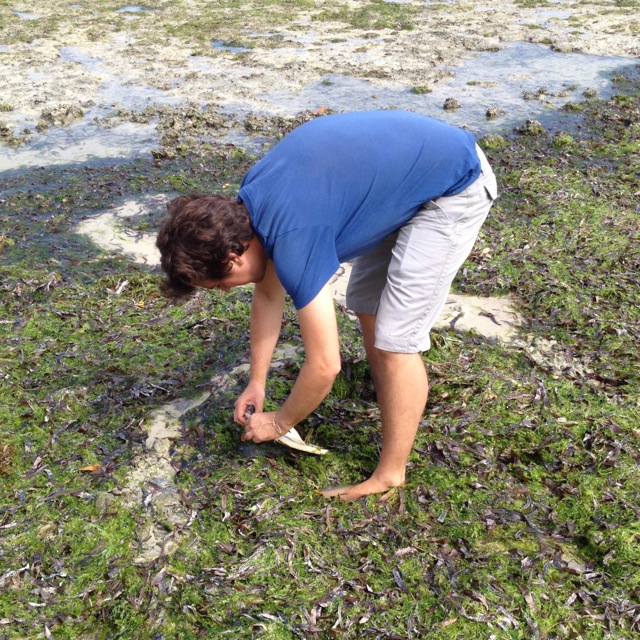 We then moved onto Paje, on the southeastern part of the island, where we were mesmerized by the blue water and proliferation of kite surfers.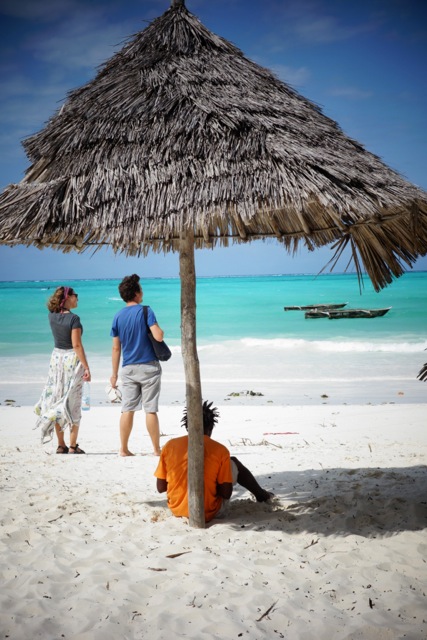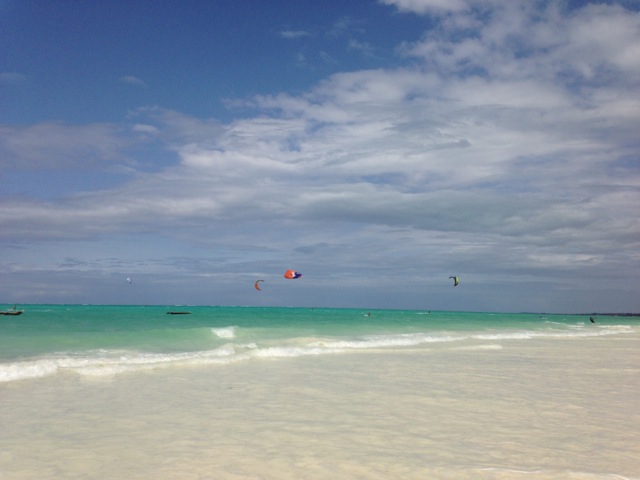 We also checked out the adjacent beaches of Jamianai and Bwejuu, before concluding our trip with visiting Jozani National Park (discussed supra).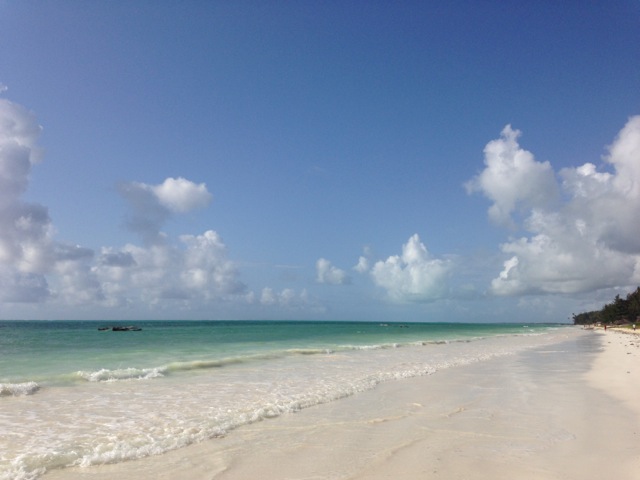 After our whirlwind tour of the beaches, we decided to throw our lot in with Bwejuu. We thought it had a nice mix of idyllic location and quiet. Our friends that we had met in Zimbabwe/Malawi had been staying at another hotel in Bwejuu, and they moved to the same hotel as us – the Sahari Zanzibar – after our arrival … and brought their frisbee, leading to some fun times on the beach.
Many of the beaches on the east coast of the island – Bwejuu included – are extremely tidal, with the water retreating by up to a kilometer at low tide, only allowing for swimming at the hours surrounding high tide. Unfortunately, the timing of the tide during our trip wasn't ideal: the tide was high and best for swimming in the very early morning and then not again until after sunset – but we enjoying frolicking in the Indian Ocean each evening. One of these times, as we were splashing around in the water, we noticed some cows (that's not the weird part; it was fairly normal to see cows waltzing down the beach) sparring in the water, with a third cow literally jumping around on the beach by them. If only we had our camera! The cow fight was broken up when some other people ran over with their cameras.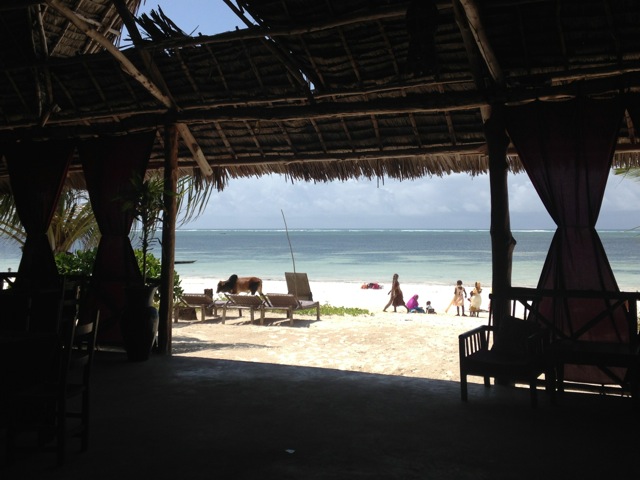 Where We Stayed:
☆ Sahari Zanzibar. Five goats. This hotel was fairly new (it has only been open since late 2013), and it was very nice – lively enough during the day and quiet in the evenings. We found it to be a great value – especially given that accommodation on the island's beaches can be pricey – that provided us with some welcome affordable luxury. We enjoyed our meals there, and our room was comfortable with a great bed and a small terrace.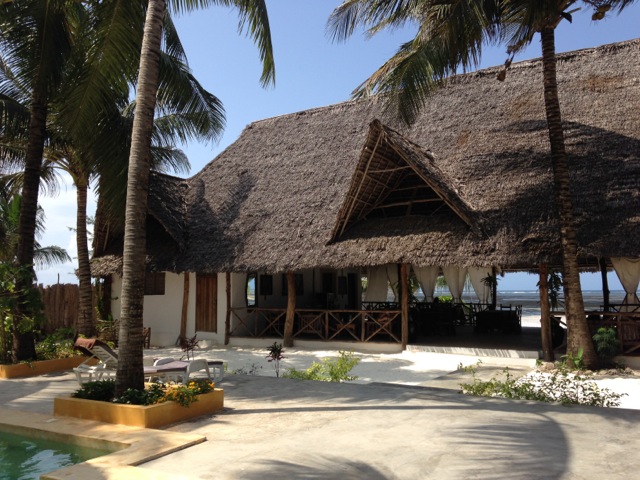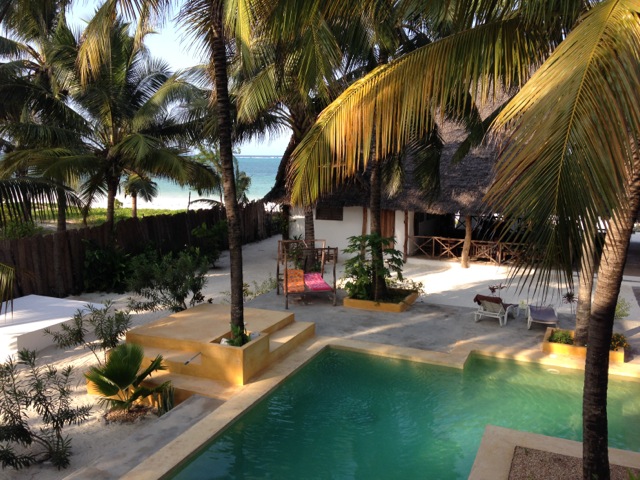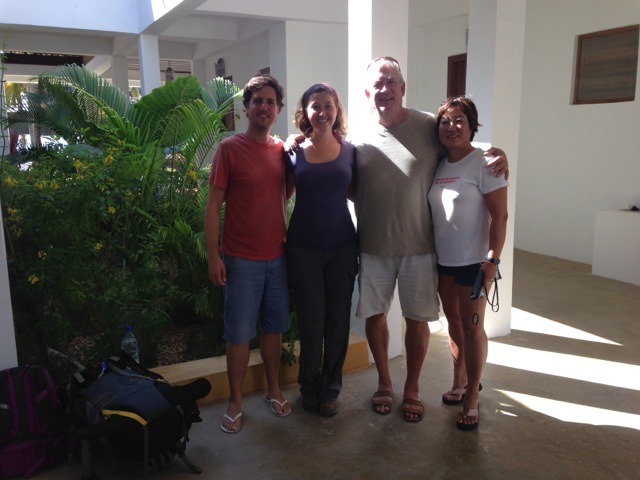 Where We Ate:
☆ Chola's, Nungwi. Lunch here was so, so incredibly slow. The beautiful on-the-beach location made up for it, though.
☆ Paje by Night, Paje. Lunch here was nice – we especially liked the salads, and I had a good vegetarian wrap.