Luxor is the second-most visited location in Egypt. Its reputation as one of the world's greatest open-air museums is well-deserved: Luxor is home to the ruins of the sprawling Karnak temple complex and the multi-layered Luxor Temple, not to mention the incredible Theban Necropolis just across the Nile.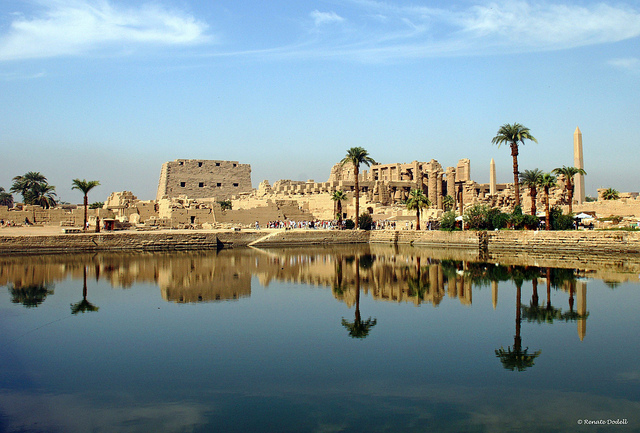 Karnak was our first stop. As the second largest ancient religious site in the world,1 Karnak is one of those surreal places that must almost be seen to be believed. (Here's hoping that the pictures will help you out!)
The temple complex consists of three parts: the Precinct of Amun, the Precinct of Mut, and the Precinct of Montu. In a fantastic quote, our guidebook noted that "Karnak's magnitude and complexity is due to 1,300 years of aggrandizement."2 This, in my opinion, is one of the more interesting aspects of the complex – because the temples were constructed over such a lengthy time period, the ruins reflect not only different artistic styles, but changes in power. For example, a wall of reliefs constructed by Queen Hatshepsut were hidden behind another wall constructed by her successor Tuthmosis III.
Only the Precinct of Amun, the largest of the temple complex's precincts, is accessible to tourists.3 This is more than enough, however, to occupy a day's worth of sightseeing – the main temple alone covers more than 24 hectares (over 60 acres).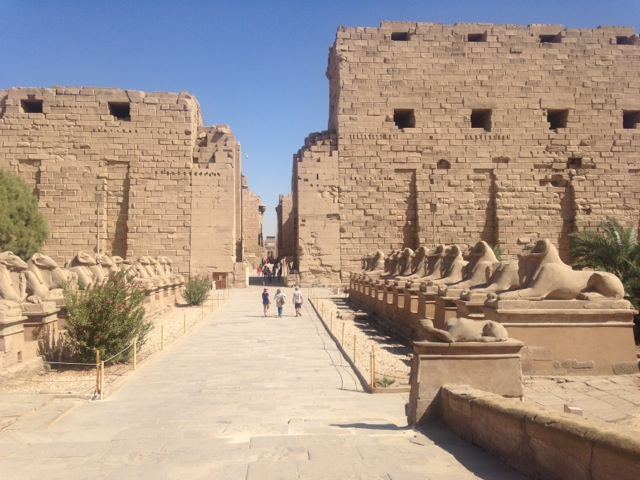 The approach to the Temple of Amun's First Pylon is lined with ram-headed sphinxes. Such sphinxes once lined the entire road connecting the Temple of Amun and the Temple of Luxor, approximately three kilometers (nearly two miles) away.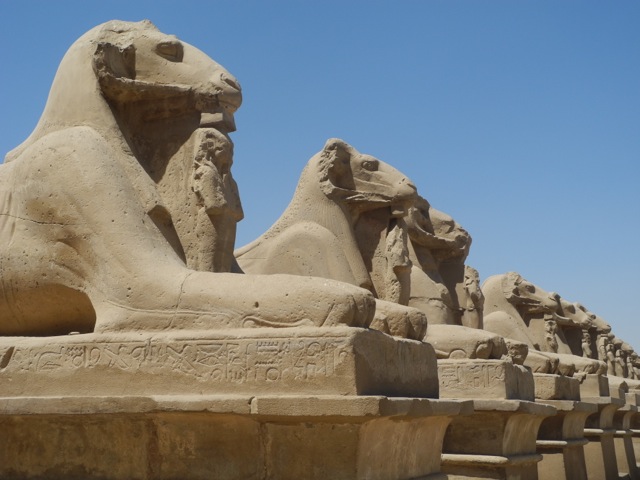 Just on the other side of the First Pylon (which remained unfinished), you can see the remains of ancient mud brick scaffolding used in construction.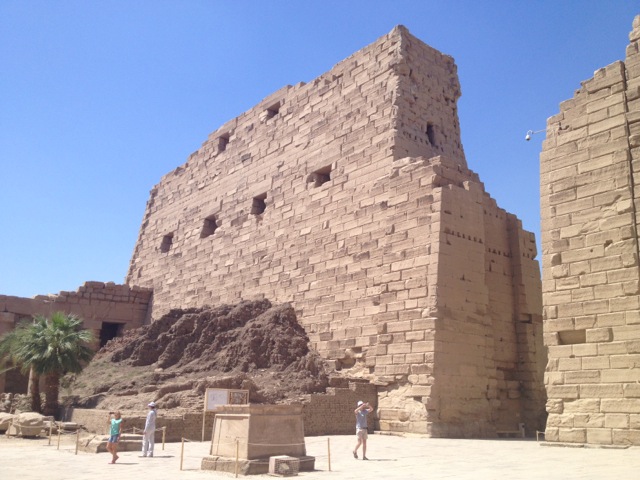 One of the highlights of the Temple of Amun is the Great Hypostyle Hall, a collection of columns that were originally the support for a ceilinged room covering an area over 5,000 square meters (in excess of 50,000 square feet) – large enough to contain both St. Peter's Cathedral in Rome and St. Paul's Cathedral in London. Although the hall's ceiling collapsed long ago, nearly all of its 134 original support columns remain.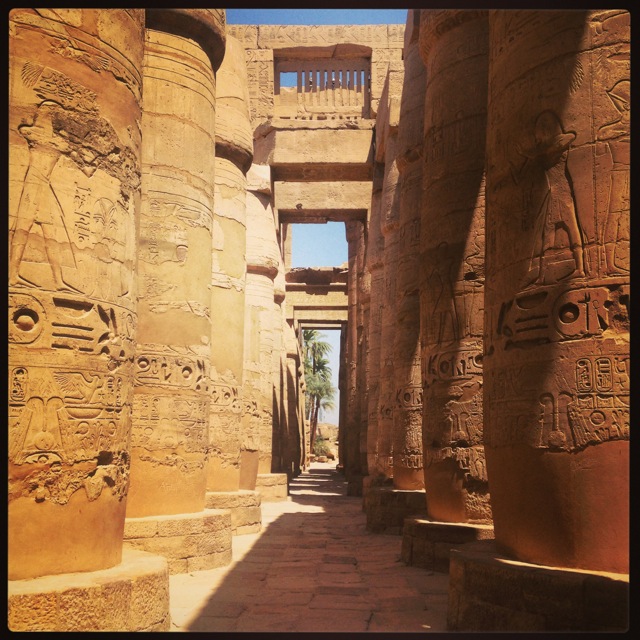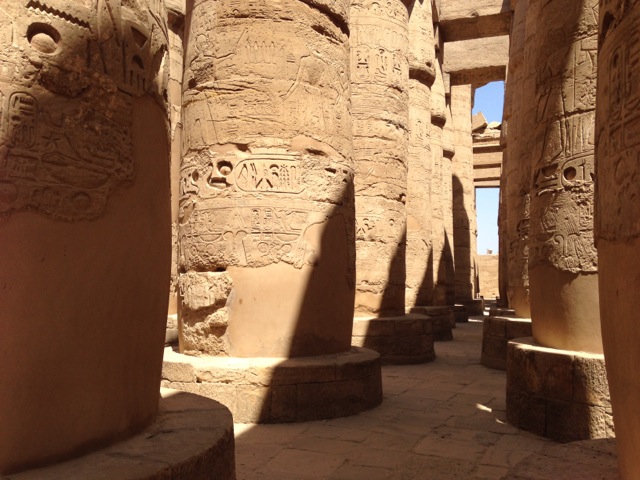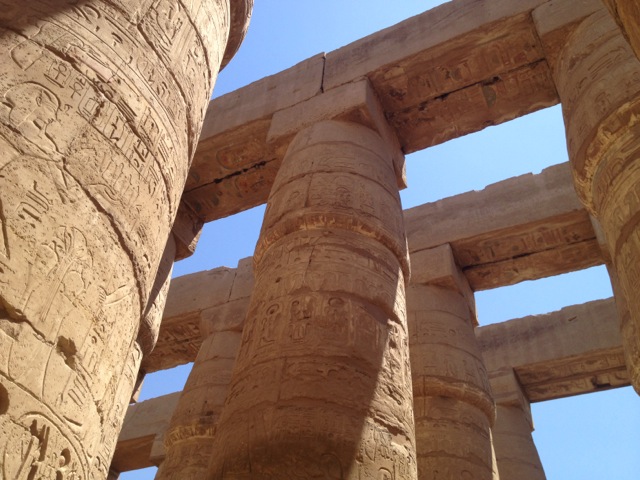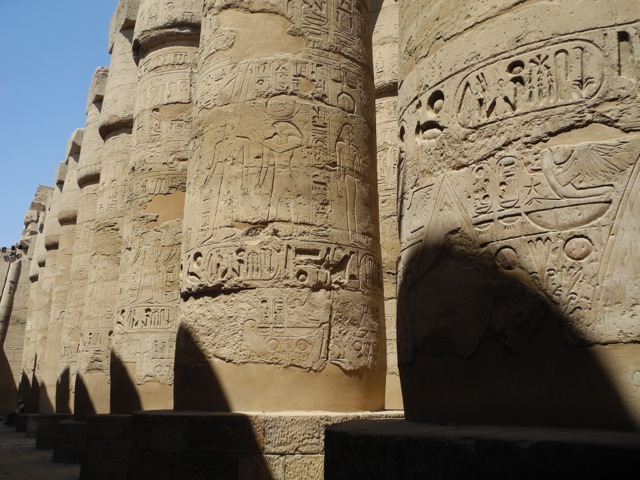 The carvings on the columns are amazing, as are the carvings on the walls. The carvings were remarkable for both their grand scale (some of the walls featured images of humans and humanoid gods that are many, many times larger than life-size) and their detail (the larger murals are littered with tiny details, like hair on the prisoners).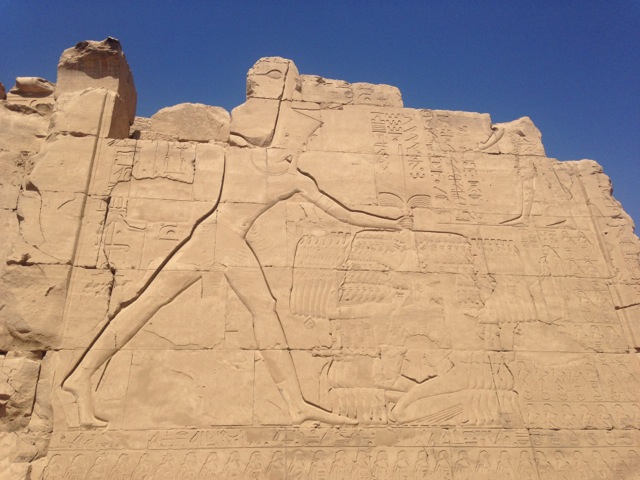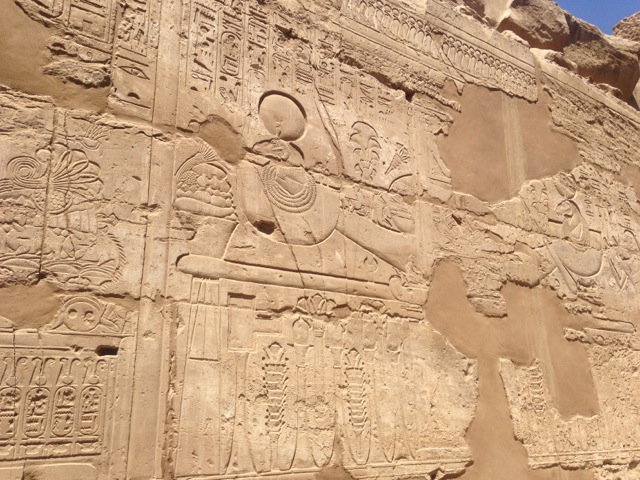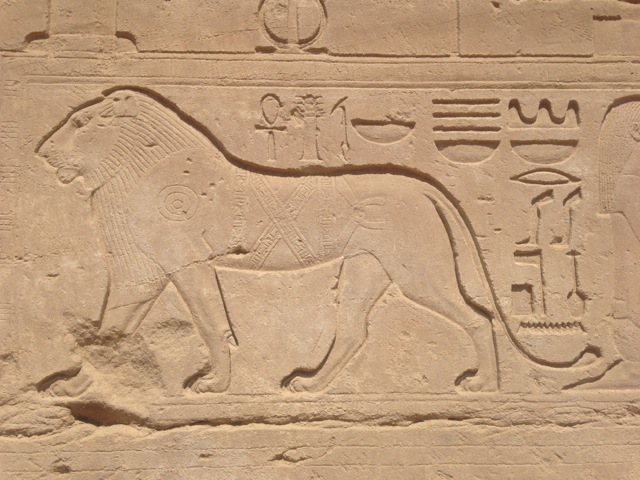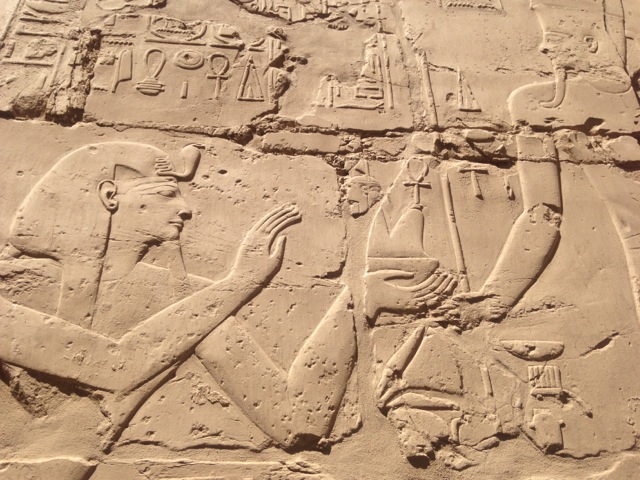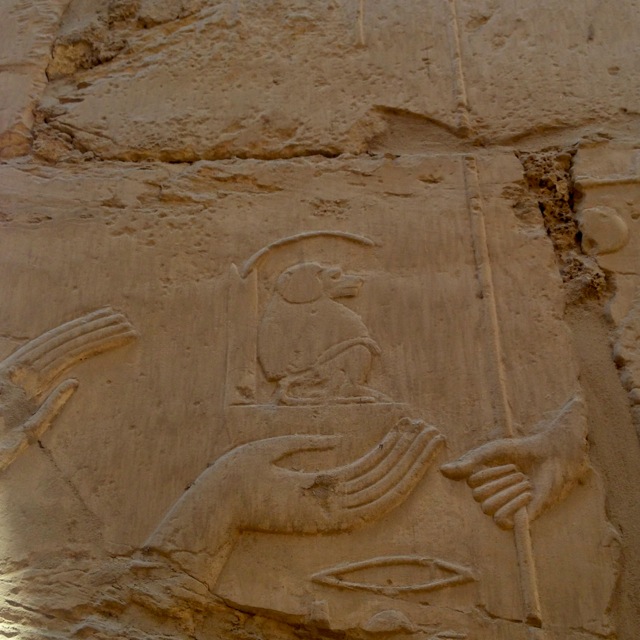 I am impressed that the carvings have survived for so many thousands of years, but what really blows my mind is that some of the paint is still intact.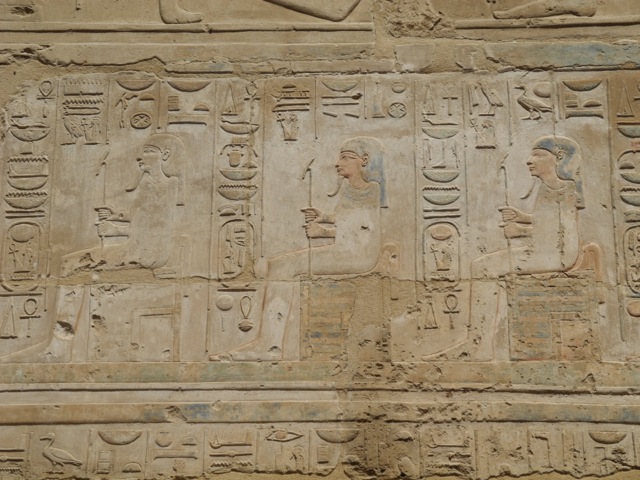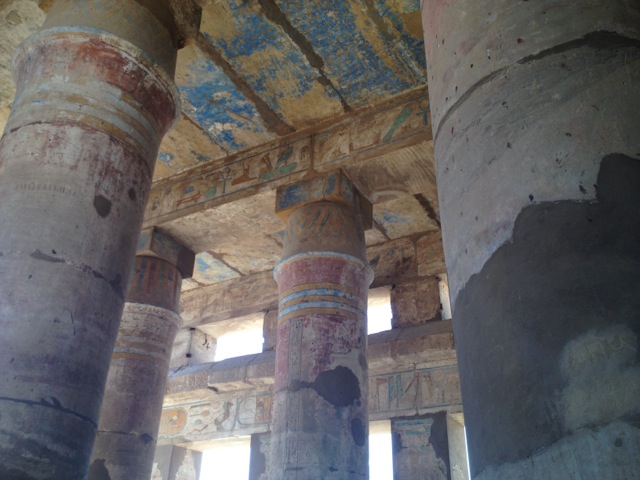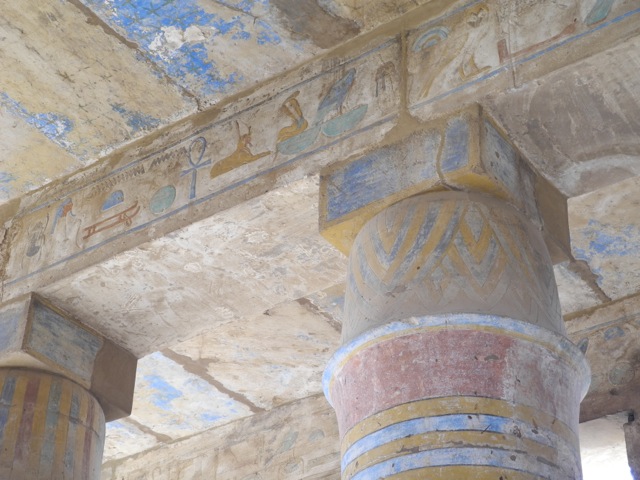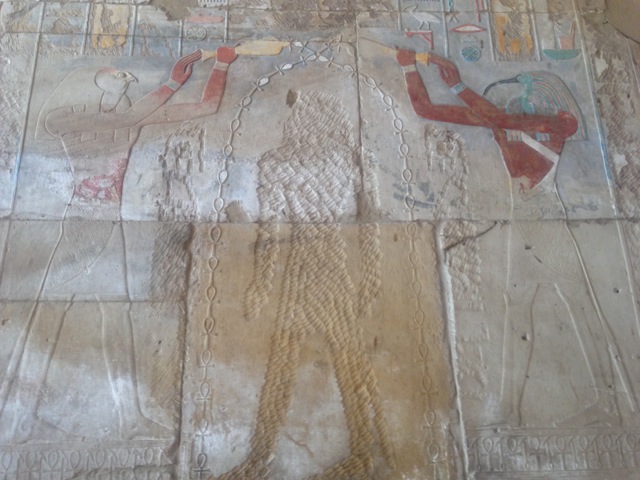 Other highlights include the statuary: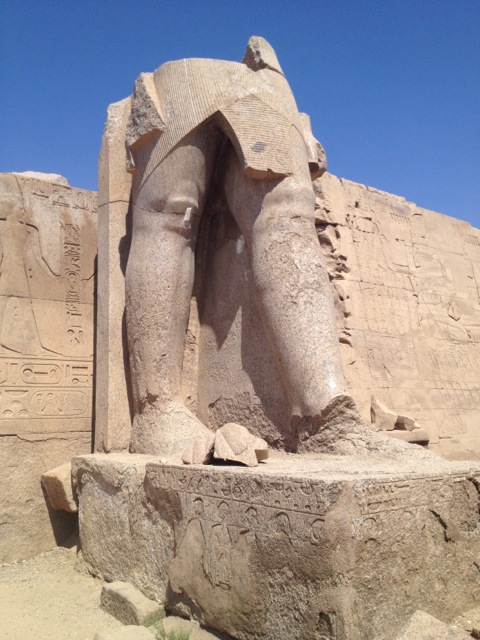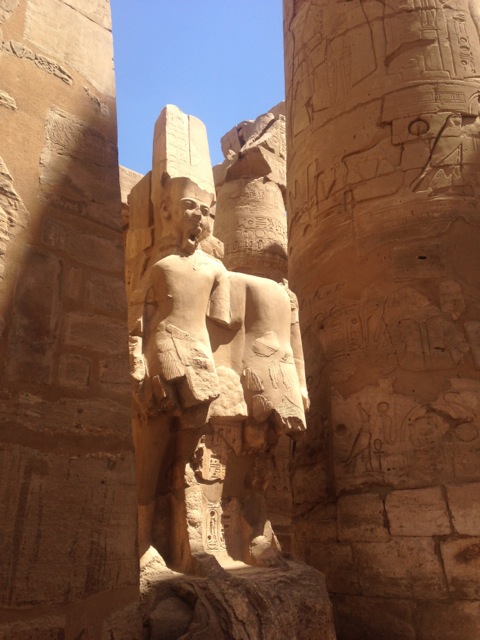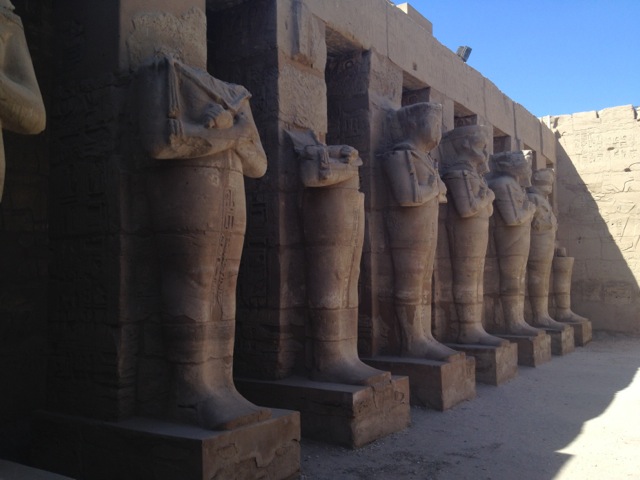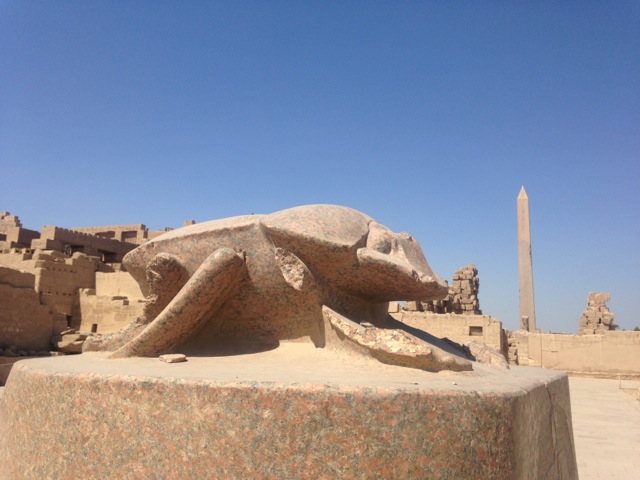 And the obelisks: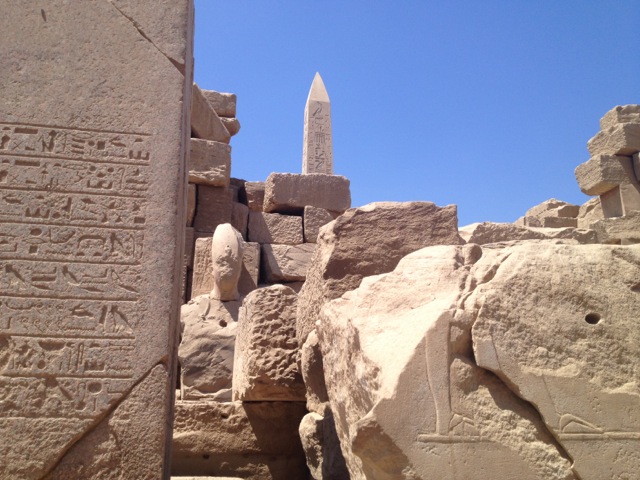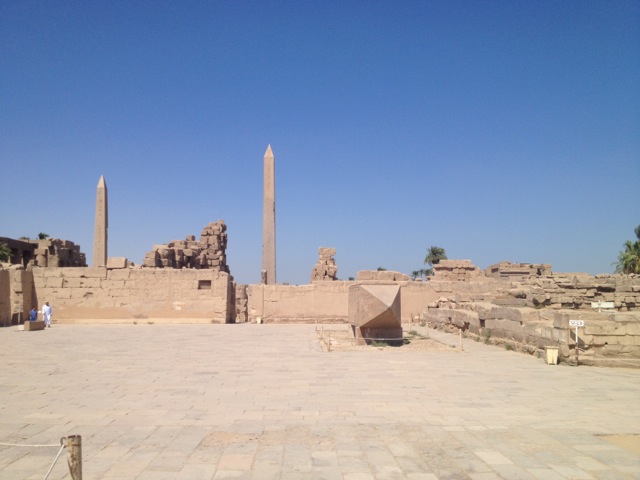 There is just so much to see at Karnak. We did a fairly good jobs of showing ourselves around with our guidebooks,4 notwithstanding the twenty solid minutes we spent looking for some chariot carving that simply could not be found. (I don't care what the book said, it doesn't exist.)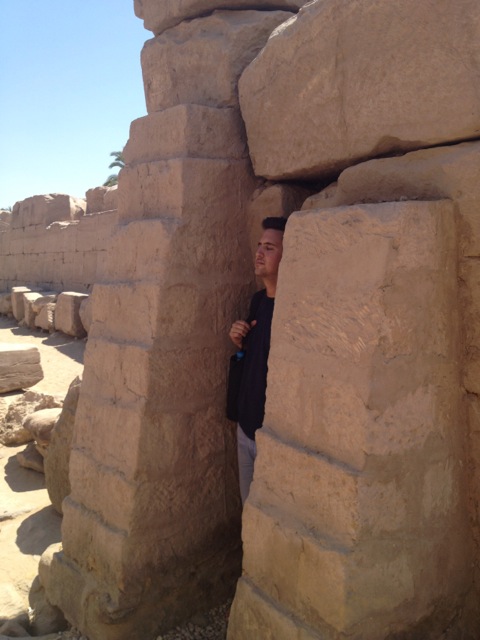 Karnak is amazing, definitely one of my favorite places that I have ever visited. I found it just as magical on my second visit.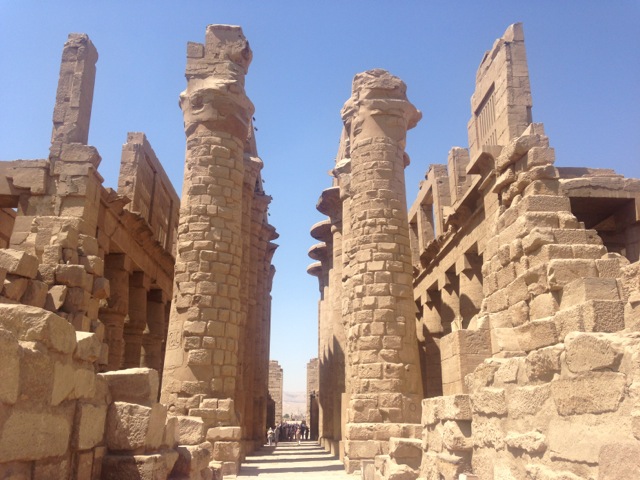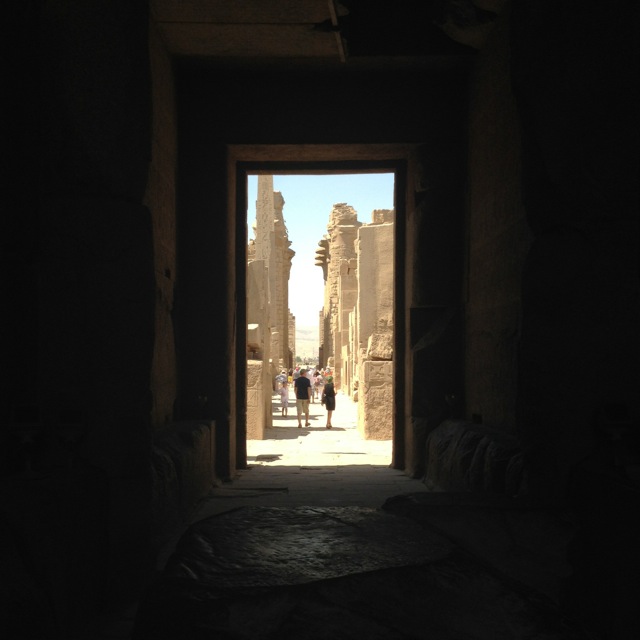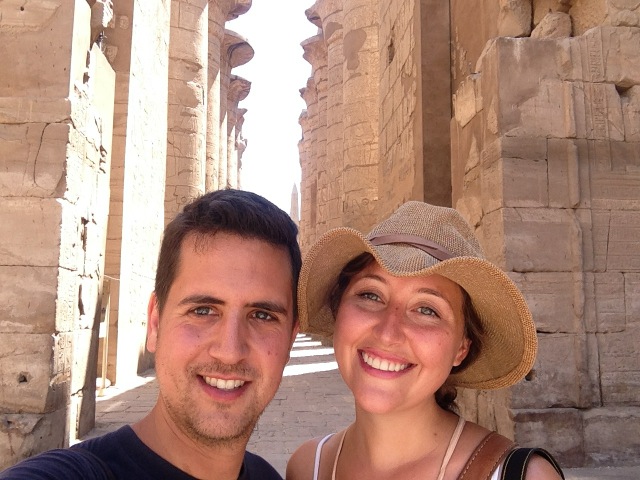 The other major attraction inside Luxor town is Luxor Temple. Although we walked around the temple's perimeter several times, due to the fact that it is directly in the center of town, we never actually made it inside.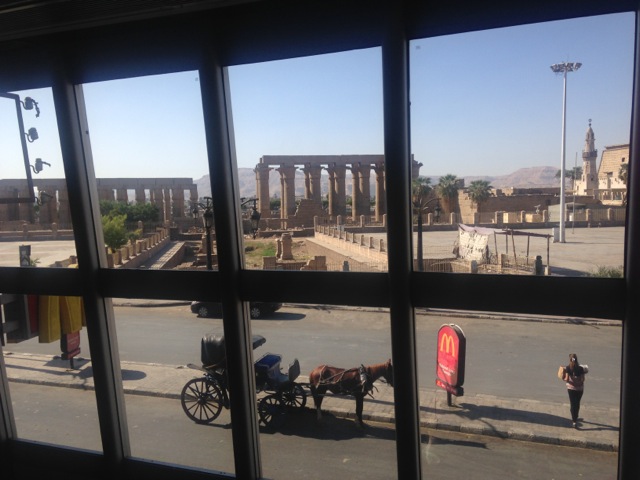 Here's a picture of Luxor Temple from my visit in 2007 :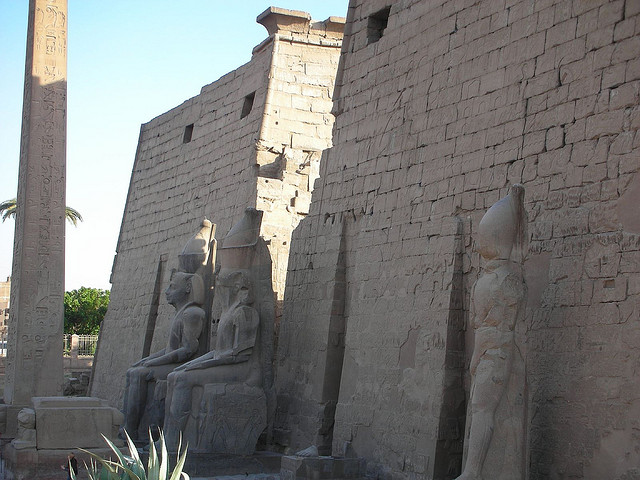 Finally, a word about touts in Luxor. According to our guidebook, "In a town where tourism accounts for 85 percent of the economy, it's hardly surprising that you can't move without being importuned to step inside a shop or rent a calèche, but once you get to know a few characters and begin to understand the score Luxor becomes a funky soap opera with a cast of thousands."5 I have to admit, I did not find the touts in Luxor endearing in the slightest. It was really exhausting to have to explain over and over that no, I didn't need a taxi, and no, I didn't want a boat ride. I understand that they are trying to make a living and that this is much harder for them during the off-season (especially since tourism has been down generally since the Revolution), but their aggressive behavior was incredibly off-putting. We were followed down the street by a man in a horse-drawn carriage who repeatedly demanded that we explain why we didn't want a ride. (To that man's credit, when we crossed paths with him later in the day, he apologized for his behavior.) The pushy touts certainly didn't ruin our trip to Luxor, but they did make it difficult to enjoy a simple stroll down the street.
Where We Ate:
☆ Sofra. We had a late lunch here after sightseeing at Karnak. We had delicious fresh juices (guava for me, lemon for Marc), plus dips, bread, and (my favorite) ta'amiya.
☆ A Taste of India. Because we had a late lunch, we ended up having a late dinner not far from our hotel. We always like Indian food, and it was pretty tasty.
---
1 According to Wikipedia, Cambodia's Angkor Wat temple complex, which we visited in 2008, is the world's largest.
2 Citation: The Rough Guide to Egypt, Ninth Edition (February 2013).
3 Our guidebook said that the Precinct of Mut was scheduled to open for visitors in 2013, but it was not open at the time of our visit in September 2014.
4 We used both the Rough Guide and the Lonely Planet guides to Egypt. I always find the Rough Guides to be superior in situations (like this one) where you want to get more historical background and descriptions of art.
5 Citation: The Rough Guide to Egypt, Ninth Edition (February 2013).