From Luxor, we planned to head south to Aswan so that we could make the journey to the Abu Simbel temples. Most tourists travel this route by boat, stopping at some lesser-known temples along the way. That idea interested us, but the first two days on the boat are generally spent seeing the sites in Luxor while the boat is moored in town.
Having just spent the past three days exploring the Luxor area, a packaged tour taking in the same sights did not seem very appealing.1 Instead, we decided to hire a driver to transport us the 200-some kilometers from Luxor to Aswan so that we could stop along the way to visit the intriguing sites of Edfu and Kom Ombo.2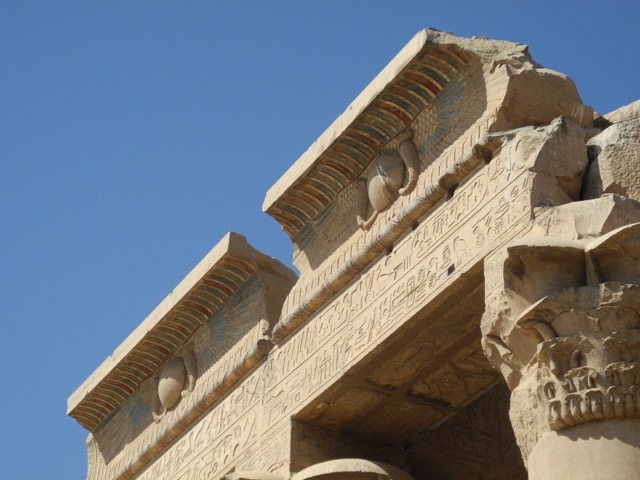 Edfu
Our first stop was Edfu. Its giant temple dedicated to Horus, the falcon-headed sun god. The temple is remarkable because it is the "most complete and best-preserved temple in Egypt."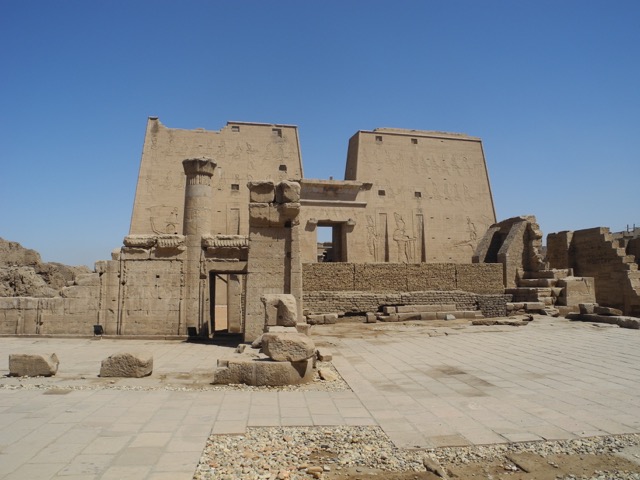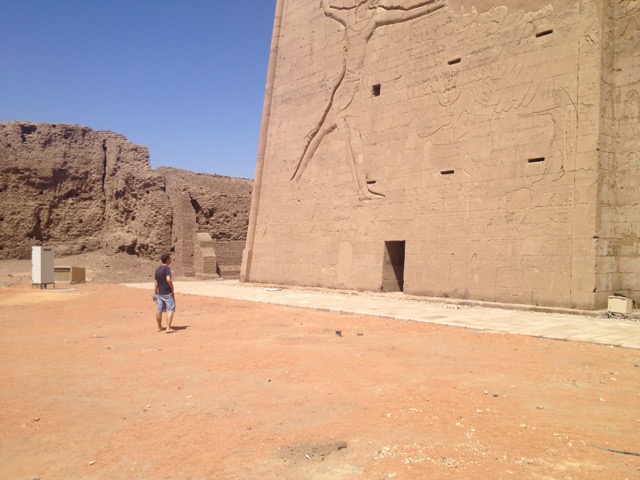 During our visit, we had the temple almost completely to ourselves. There were a few guards napping in the shade of the roofed hypostyle hall, but, other than that, it was just us… and the bats.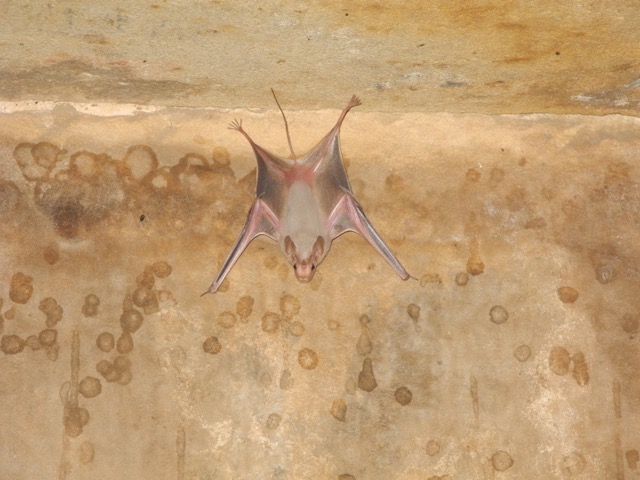 The temple has a large courtyard surrounded by columns that holds a pair of large granite statues of Horus.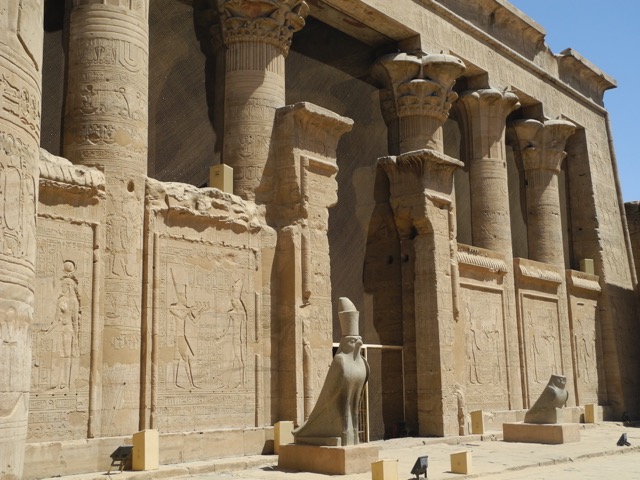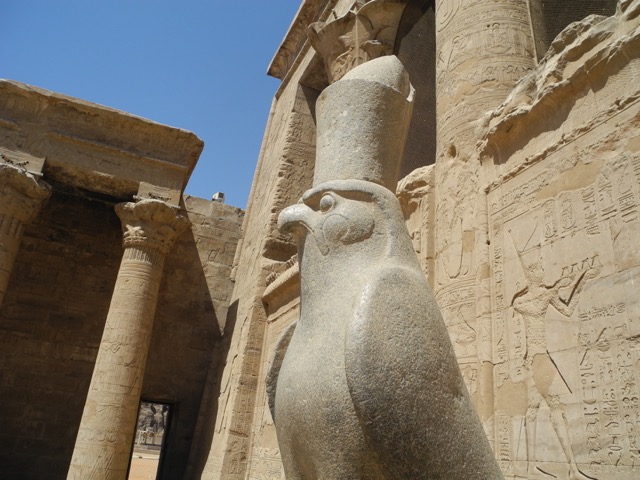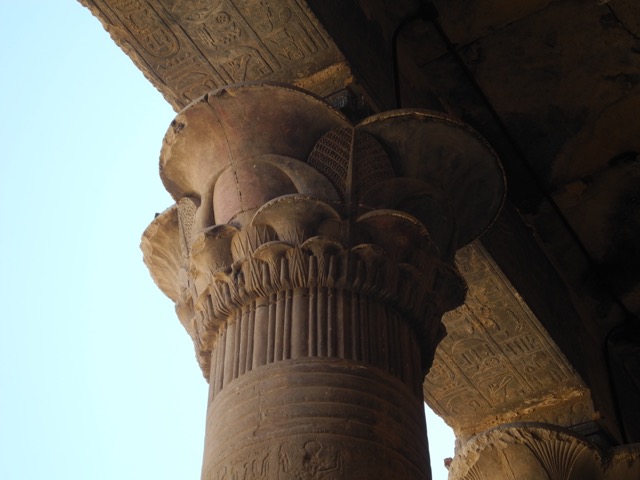 Notably, this was the first and only freestanding temple with an intact roof that we visited in Egypt. Although this might sound like minor detail, it meant it was the first temple we saw that was truly dark inside. This gave the temple a much more dignified, subdued mood than the temples in Luxor, which no longer have roofs. We felt adventurous as we climbed through narrow hallways and up creepy, unlit stairways.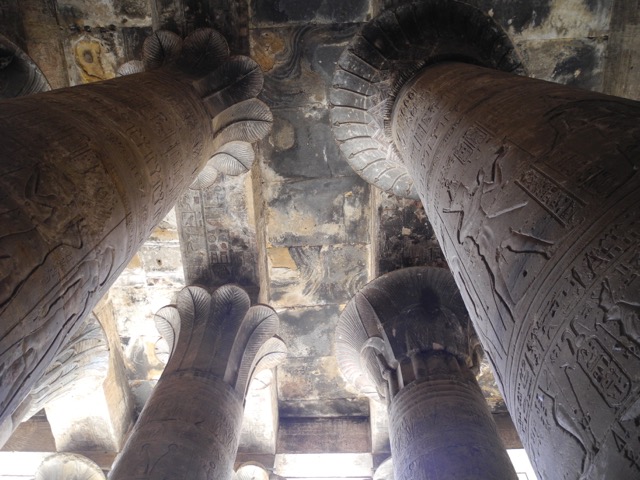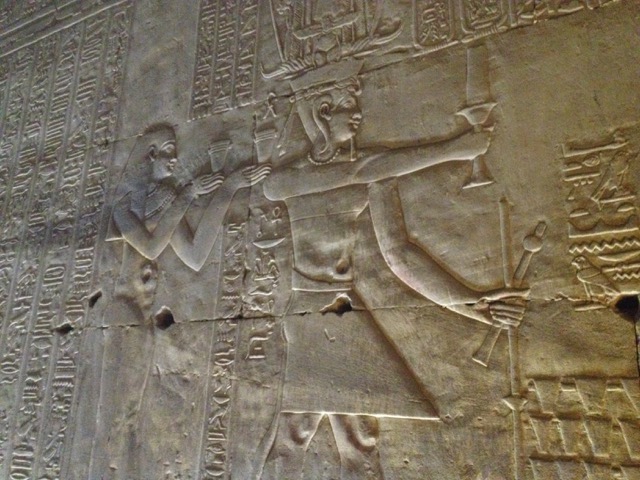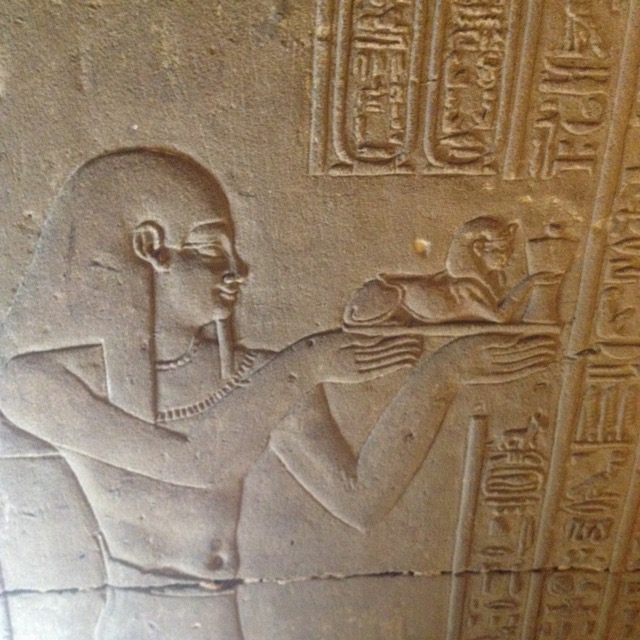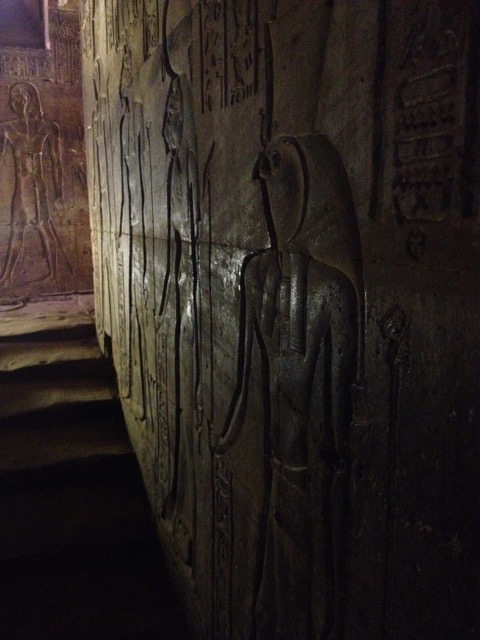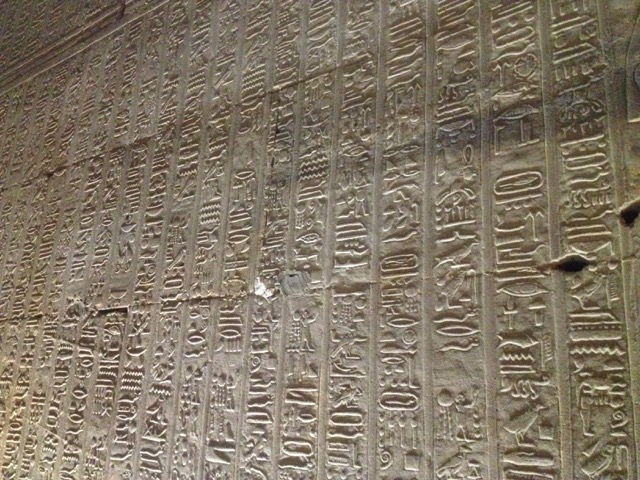 The outside walls of the temple were covered in carvings as well, most of them on a grand scale.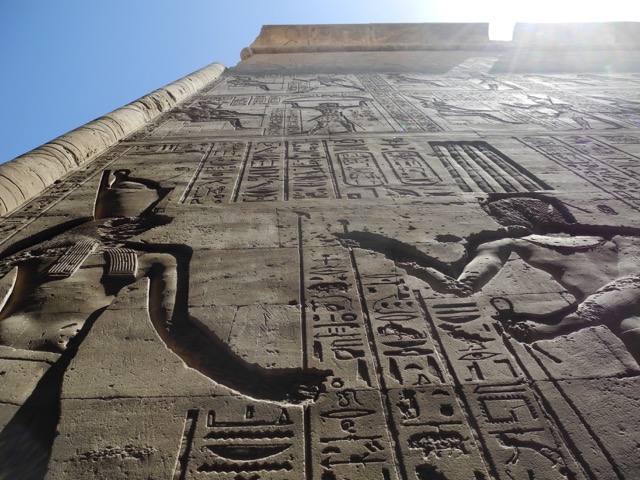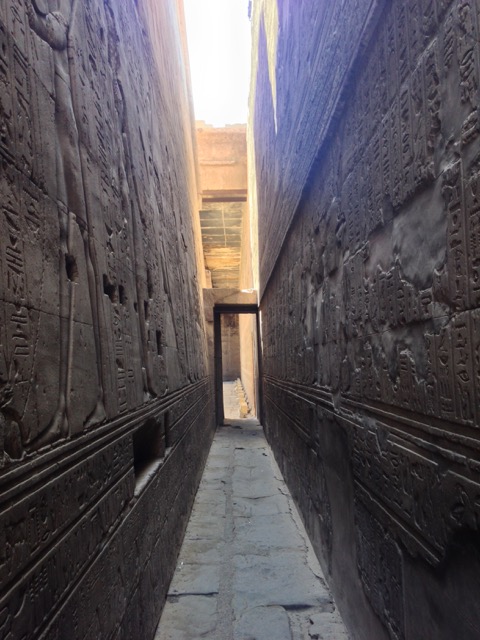 Our guidebook told us to keep an eye out on a certain wall for the depiction of Set, the god of disorder and violence, as a small hippo. It felt like a big Where's Waldo as we scoured a wall crammed full of carvings …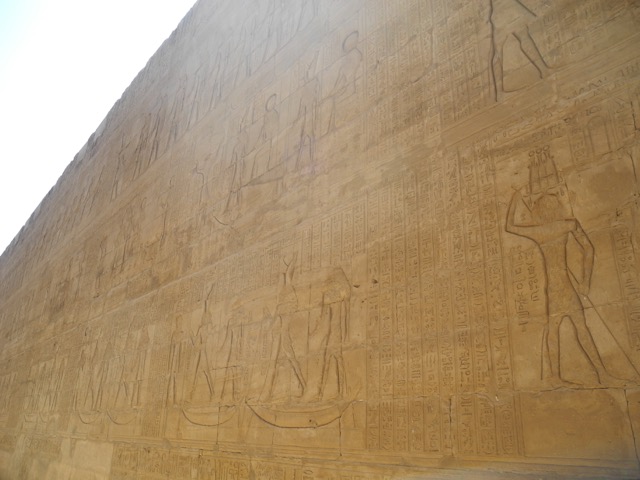 … until we found him!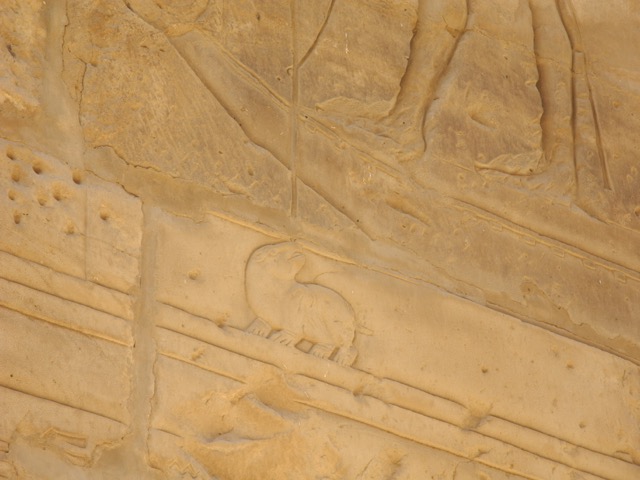 Kom Ombo
Our next stop was Kom Ombo, which houses a temple dedicated to Haroeris, a version of Horus, and Sobek, a crocodile-headed god. The temple is divided in two: one side is devoted to Haroeris and the other to Sobek.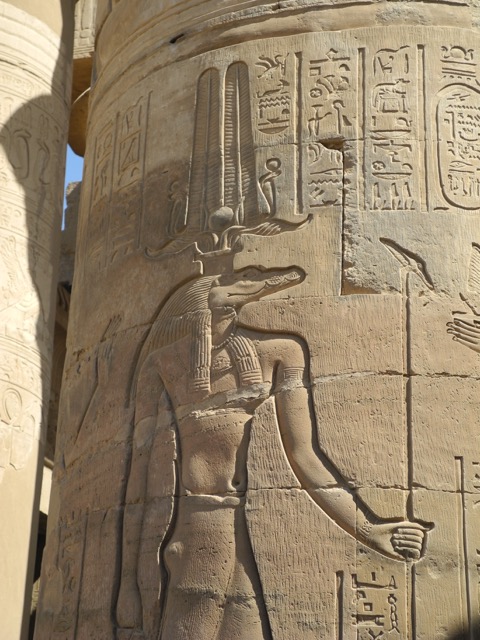 This temple is also interesting because, unlike others, it still stands alongside the Nile. This placement makes the temple popular with cruise ship tourists – but, on the day of our visit, we were the only ones there, save a few radio-playing guards.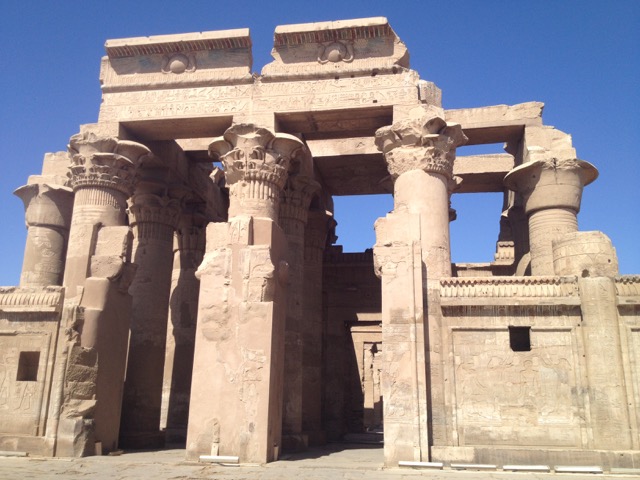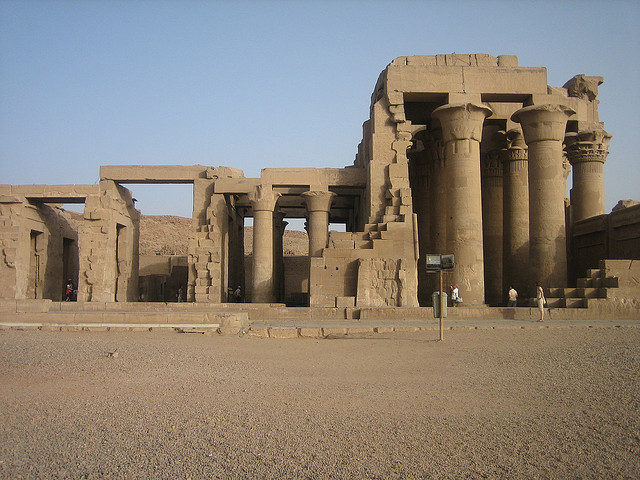 The temple is not nearly as intact as the Temple of Edfu, but it has some remarkable carvings (many depicting figures wearing unique hats):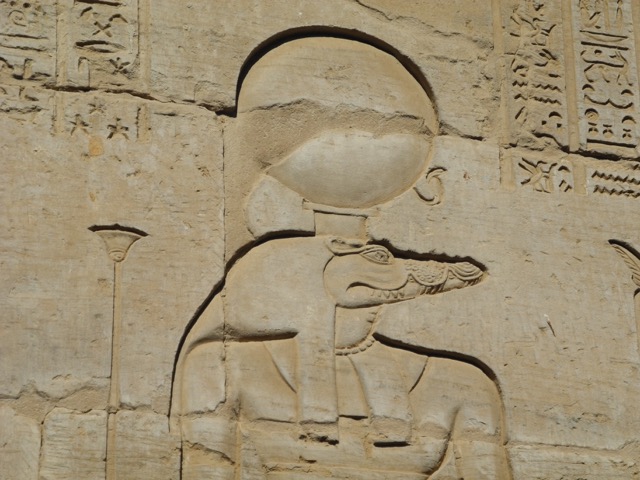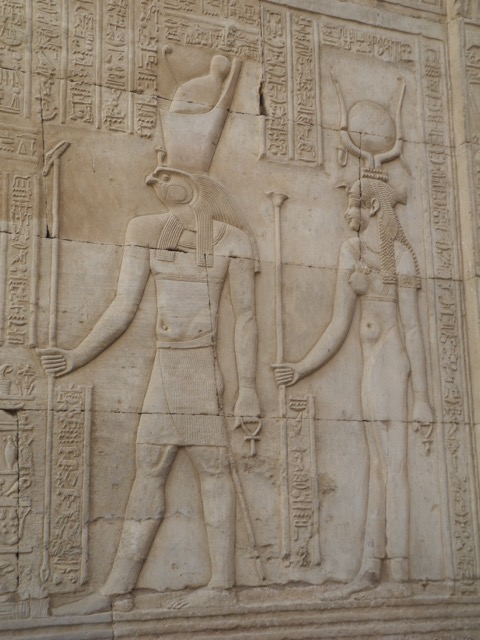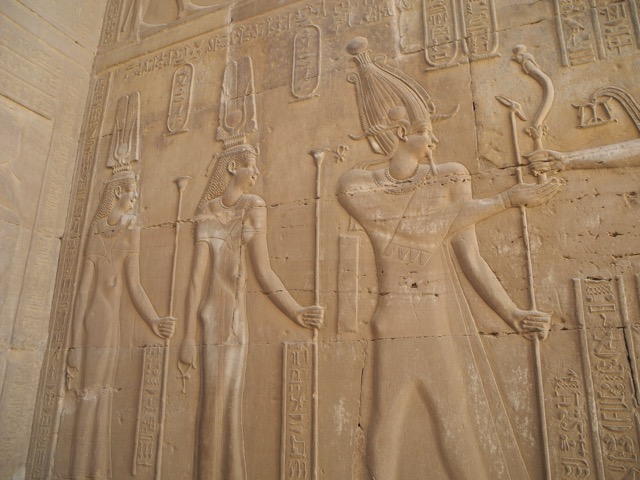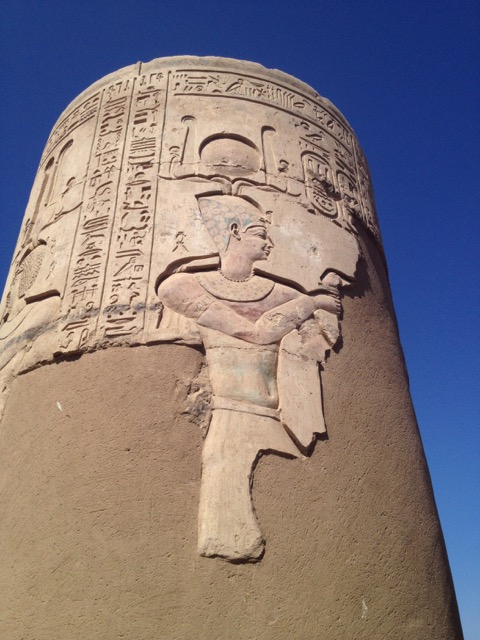 Our guidebook promised that a museum of mummified crocodiles had been constructed at the temple site. I doubted that it was going to be open since we were clearly the only ones around (we had even had trouble scaring up someone to sell us entrance tickets), but Marc insisted that we try to have a look anyway. To our surprise, we found it open and ready for visitors.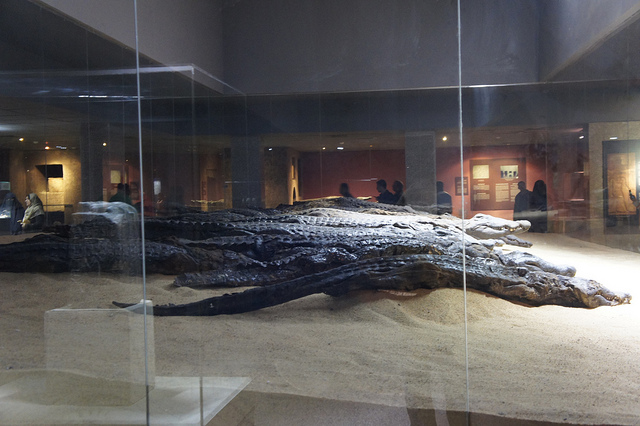 It was one of the stranger things we've seen, but also turned out to be one of the day's highlights. Although small, the museum is a fairly recent addition, with nice signage and an interesting set of crocodile artifacts on display.
Aswan
We arrived in Aswan before dinner. I have little nice to say about Aswan. It was blazingly hot (not Aswan's fault, but certainly not helping anything), and everything was a hassle. There weren't many other tourists (a combination of the low season and the fact that tourism in Egypt is still recovering post-Revolution), and so we seemed to receive 100% of the attention of every tout in town. Heaven help us if we wanted to walk along the Nile – the felucca captains and restaurant touts were unrelenting. Moreover, Aswan appeared more conservative than Cairo or Luxor, and the heckling and ogling that I received as a woman reached an all-time high. It was really not my favorite place. But Aswan has one major thing to recommend it: its proximity to the temples in Abu Simbel …
Where We Stayed:
☆ Philae Hotel. Five goats. Despite my negative feelings about Aswan in general, I liked this place so much that I immediately wrote the following Trip Advisor recommendation for it: "This place is a breath of fresh air in Aswan. Our room was charming and comfortable with a nice bed, a/c, and a balcony (although it was too hot to enjoy it), and a hot shower (although, because of the aforementioned heat, cold showers were the way to go). The staff was so friendly and helpful. They helped us arrange a trip to Abu Simbel and an early morning taxi to the airport, and made us to-go breakfasts for both. We really enjoyed our stay, and would highly recommend the hotel."
Where We Ate:
☆ Makka. Nice, low-key little place. Our mains came with a huge spread of mezze.
☆ Al Masry. This was so similar to Makka that it may as well have been the same place. Delicious mezze!
* I'm not mentioning the meals at McDonald's and KFC … *
---
1
For a helpful listing of the various ways to travel between Luxor and Aswan, check out this great post on
Solo Backpacker
.
2
Practical note: We arranged our driver through Aladin Tours in the Nefertiti Hotel in Luxor. We popped into a few different travel agencies and found that they were all generally similarly priced. Because we liked the guy that we met at Aladin Tours – and appreciated the fact that he tried to find additional travelers for us to share the cost of the journey with – we decided to go with them. Our journey was as described and comfortable, and we would recommend them.