Before we began researching potential destinations for our trip, I had never heard of Wadi Rum. I came across it on a travel blog that I like while reading up on Petra, and immediately filed it both on Pinterest and in my brain. Later, while traveling through Namibia, we were admiring the view of the stars from our campsite near Aus, one of traveling companions commented that he thought the best stargazing was in Wadi Rum – an opinion that reaffirmed my desire to visit.
Months later, when we decided that we would be traveling to Jordan, a trip to Wadi Rum became one of our non-negotiable items.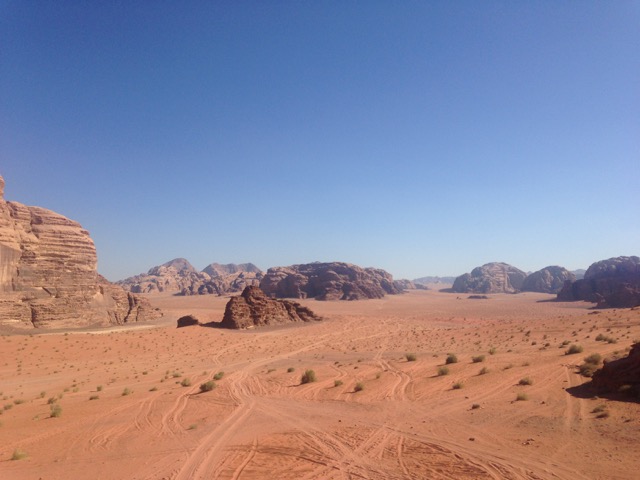 We began researching tour companies that could take us around the Wadi Rum Protected Area, and settled on Bedouin Directions.1 Our tour operator connected us with another pair of travelers who wanted to tour Wadi Rum on the same day, and we planned for them to meet us at our hotel in Aqaba on the morning of our tour, where a pre-arranged driver would take all four of us to Wadi Rum together.
Remember how we crossed the Israeli-Jordanian border at Eliat the day before Yom Kippur? Our traveling companions were planning to make that same crossing the following day. Because the border was closing at noon for the holiday (which begins at sunset), they found themselves in an hours-deep queue trying to exit Israel, and they were not going to be able to meet us in Aqaba at the pre-arranged time. After almost an hour of waiting for them and a couple of static-filled calls to check on their status, they eventually told us to go on to Wadi Rum without them.
Once we reached Wadi Rum, our tour operator welcomed us into his home. We drank sweetened tea while we awaited further word from our traveling companions. Eventually, we decided to begin the tour without them.
Our first stop was Ain Ash-Shallelah, also known as Lawrence's Spring after T.E. Lawrence (Lawrence of Arabia).
As this was the first stop on our tour, we were a bit confused as to what to expect. We peered up at the spring for a while, and then began hiking up the rocks – which is when the fun began.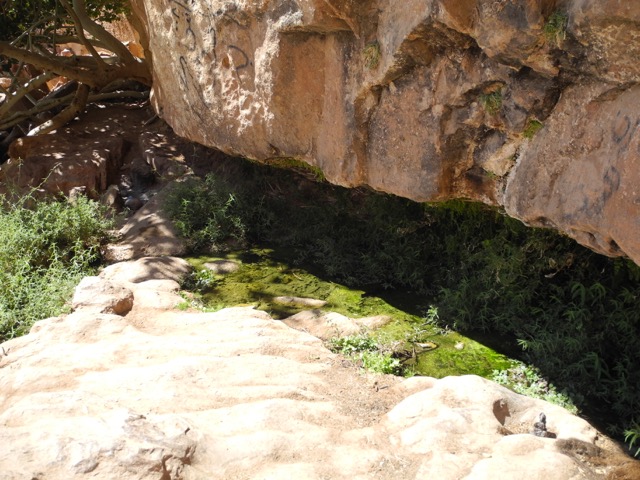 The view from the top of the spring was fantastic … but little did we know that even more outstanding views were to come!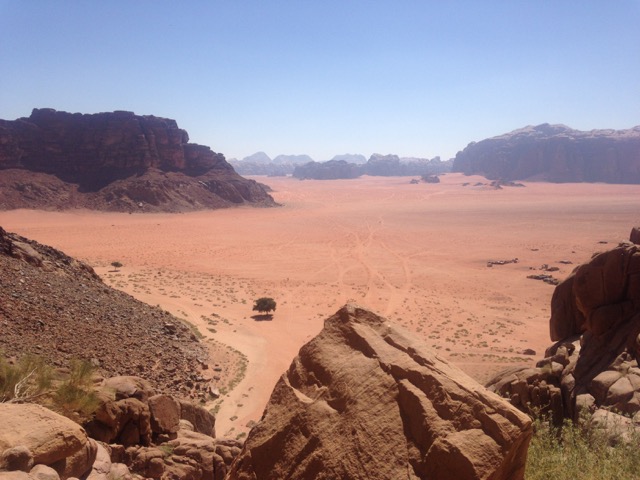 Next, we stopped at Jebel Khazali, a narrow canyon that we scrambled through, admiring the bright colors and interesting formations on the sandstone walls.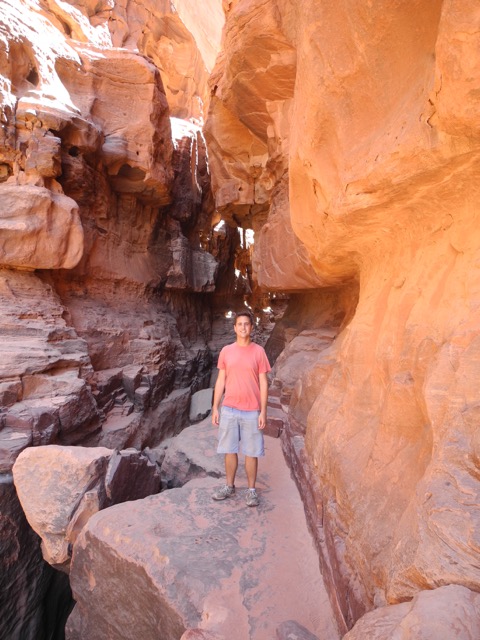 Then we climbed the red sand dunes at Al-Hasany Dunes. These dunes weren't as impressive as the red sand dunes at Sossusvlei (what could be?), but they were still gorgeous and a much more manageable climb.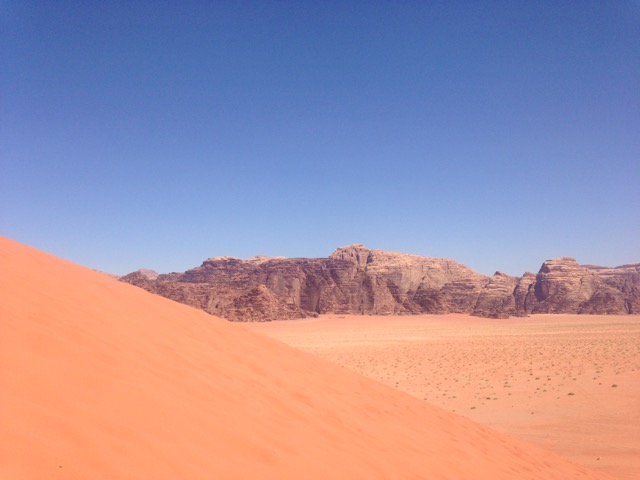 The midday sun made the sand so hot that it was burning my sandaled feet, so I climbed most of the sand dune in the relative shade of its side where it met a rock.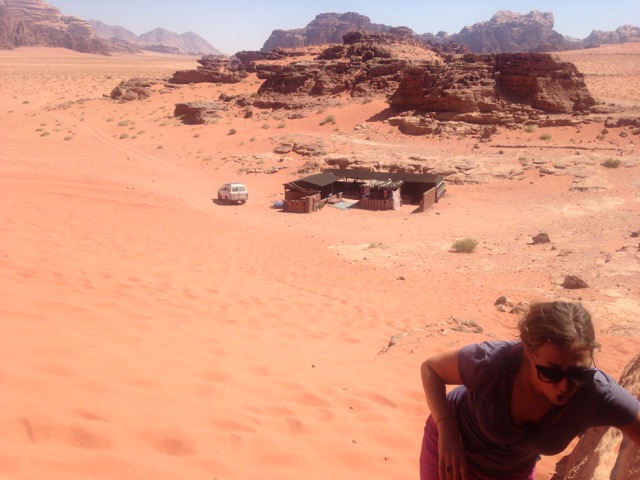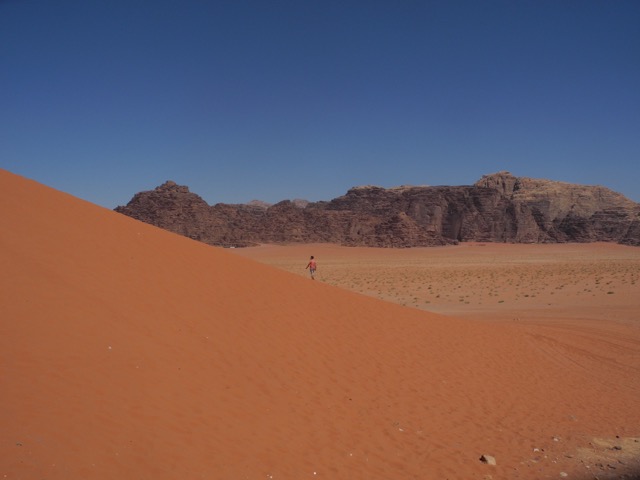 While we were admiring the view from the top of the sand dune, we saw our delayed traveling companions being ferried out to meet us.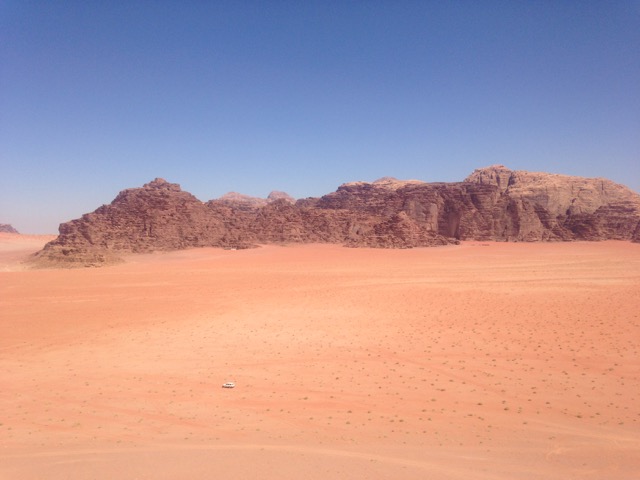 Next, we saw the Alameleh Inscriptions: carvings on the sandstone that depict, among other things, camel caravans and a woman saving a baby from a snake. These are some of the best preserved inscriptions in the area.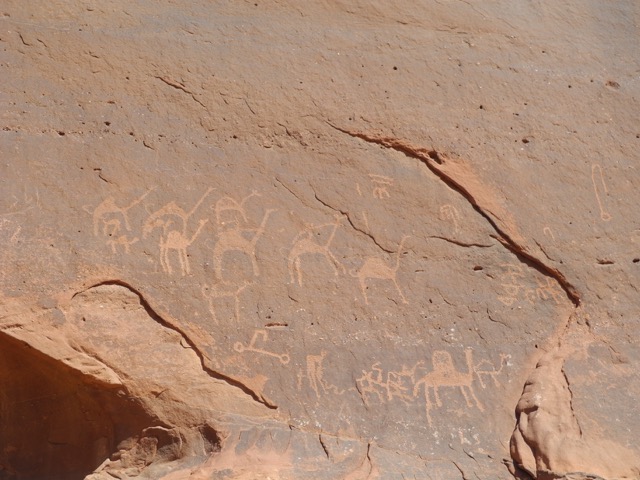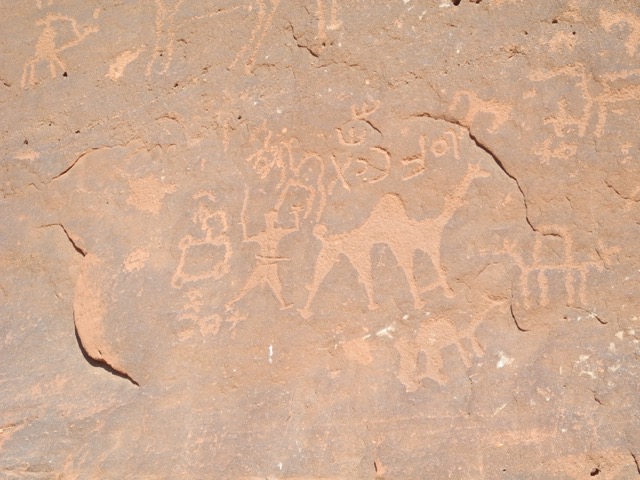 We were pretty hungry by this point, so we were glad to stop for lunch. While our guide started a small fire and began preparing lunch, he set out some "appetizers" of packaged "Hi Hi" snack cakes. We tore into them, and then into our lunch of pita, baba ghanouj dip, tomato-tuna-yogurt salad, and some sort of stew made of vegetables and ground meat. The meal wasn't my favorite, but it was impressive for something that was prepared in the middle of the desert and cooked over an open campfire.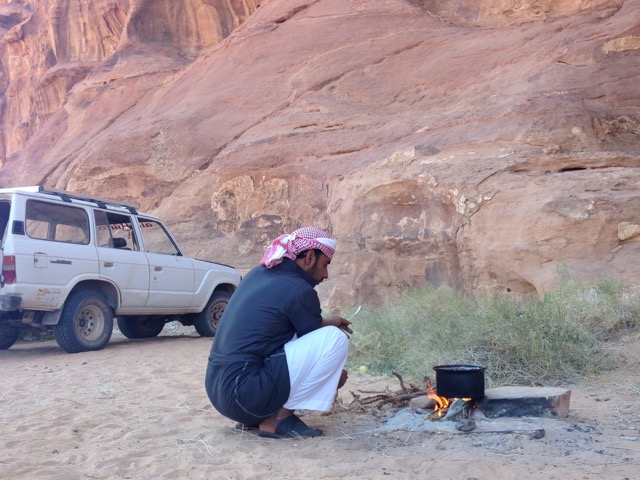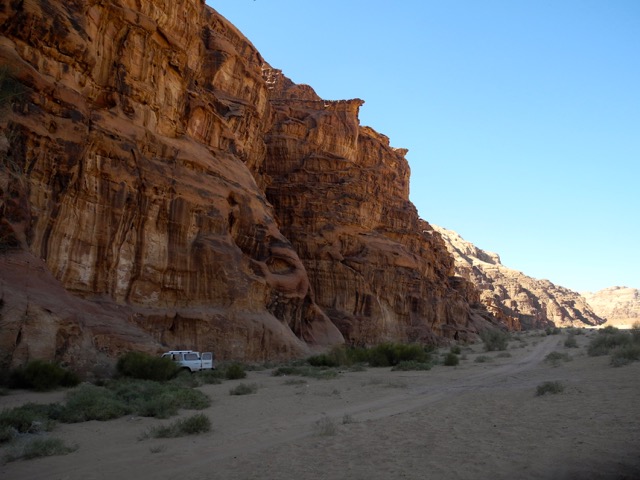 After lunch, we stopped at Al-Qsair, or Lawrence's House. The crumbled remains of the house itself aren't that interesting, but the view from the top of the nearby rocks is amazing.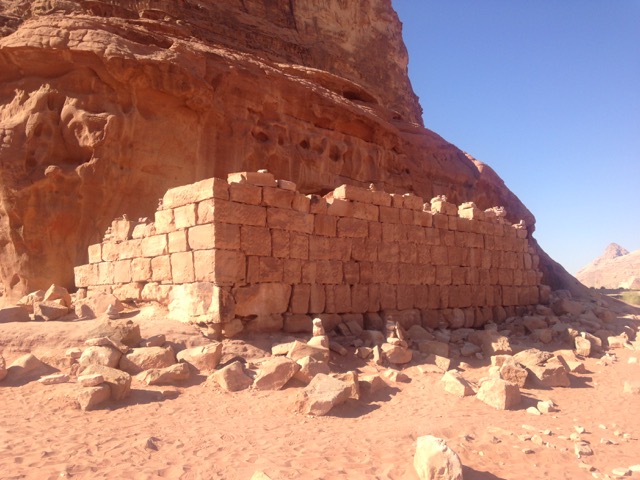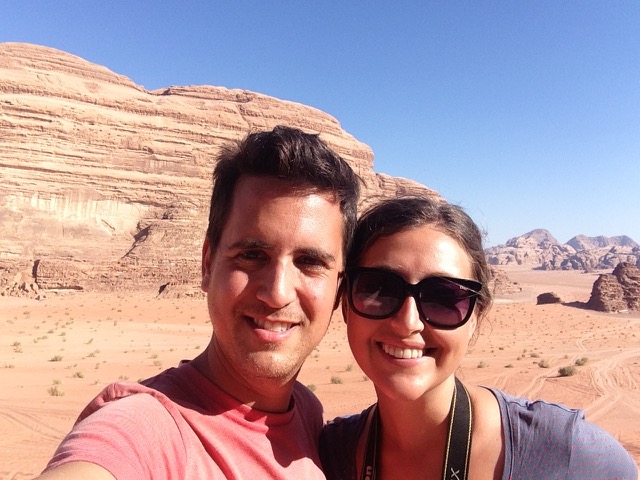 Then our guide dropped us off on one end of a canyon called Siq Umm Tawaqi, and we walked through to meet him on the other side. This canyon was much larger than the canyon we had explored earlier in the day, and the walk was incredible. At one point, we had to climb up rocks to make it through the canyon, lending a feeling of adventure to our walk.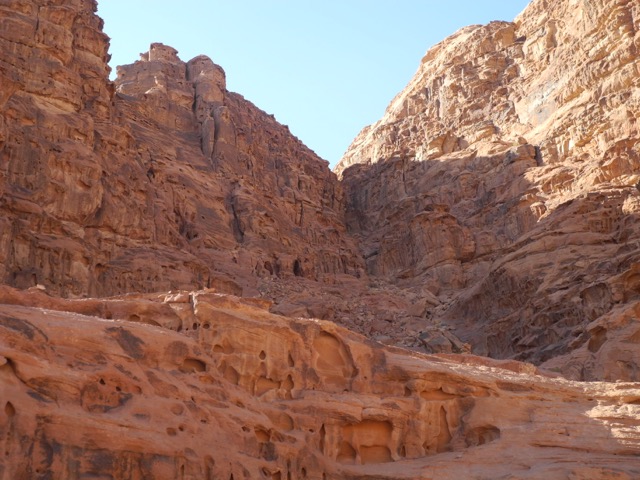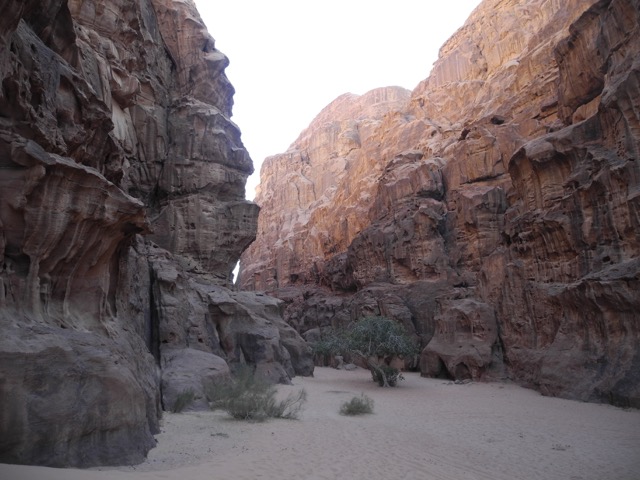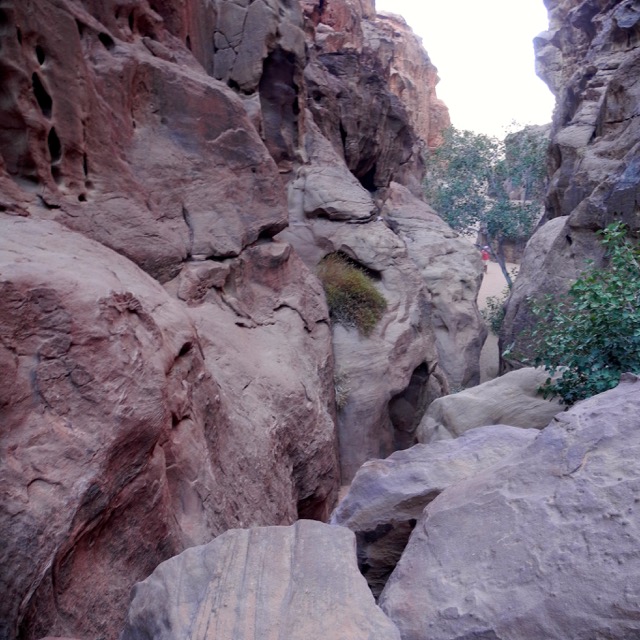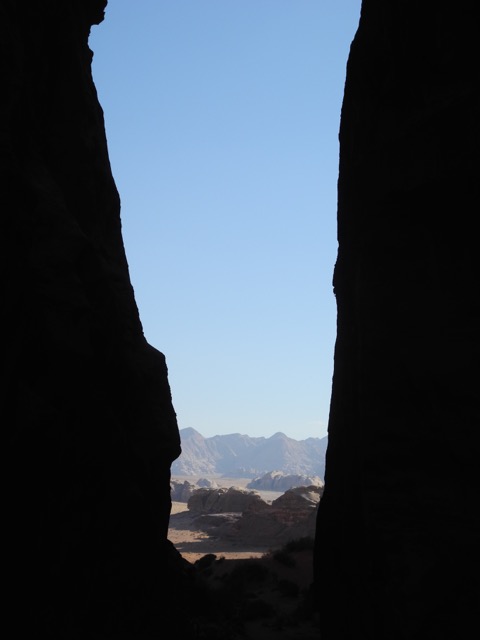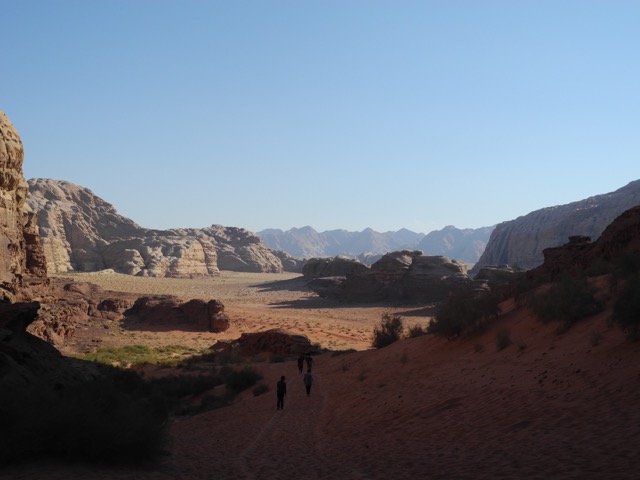 Next, we stopped at the Um Frouth rock bridge, where we scrambled up the side and posed for pictures atop the natural stone arch. I am not a massive fan of heights, but we went quickly enough that I didn't have a chance to be scared until the most difficult part was over.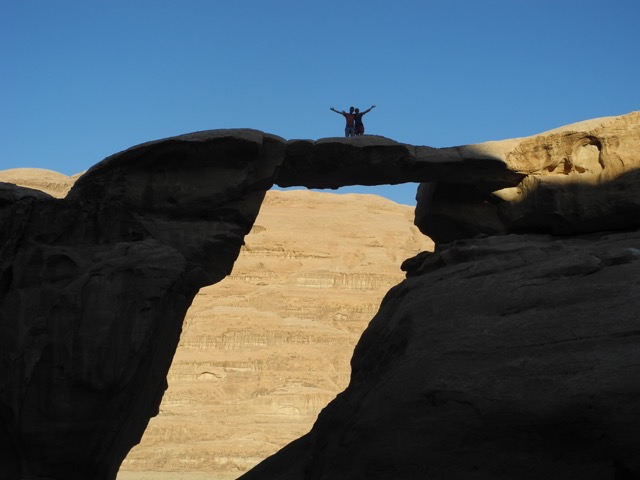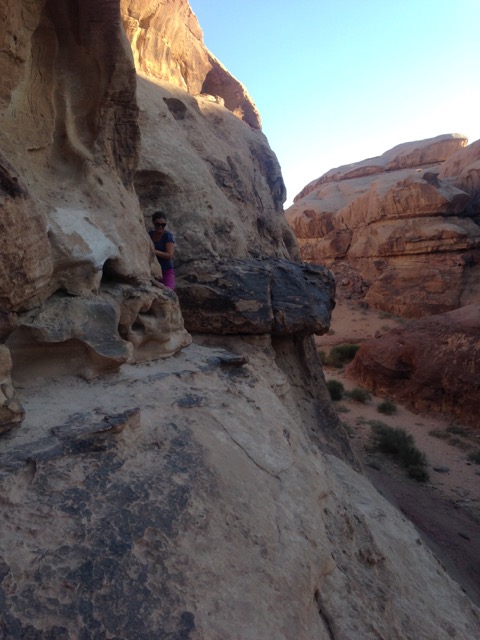 We then drove near a spot in the desert where the red and white sands meet. We wandered around with a couple of other small groups and listened to our guides play some music before we headed to another viewpoint to watch the sun set over the desert.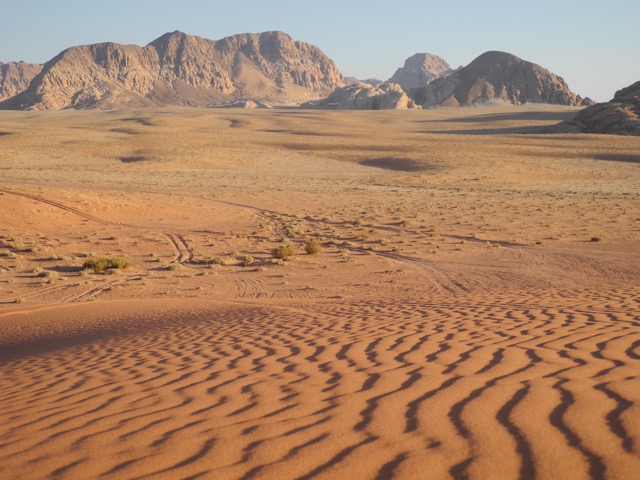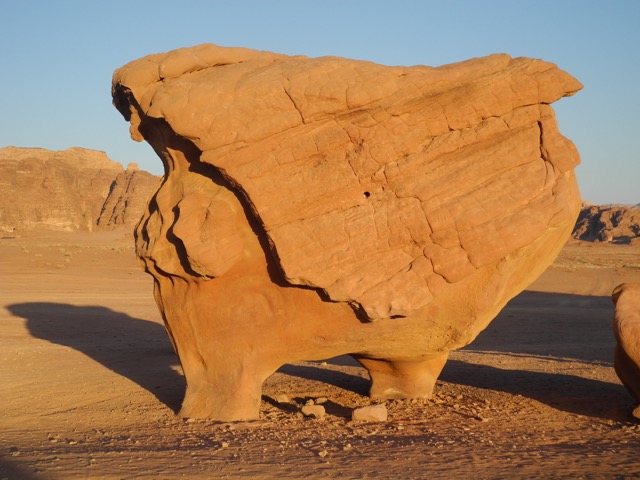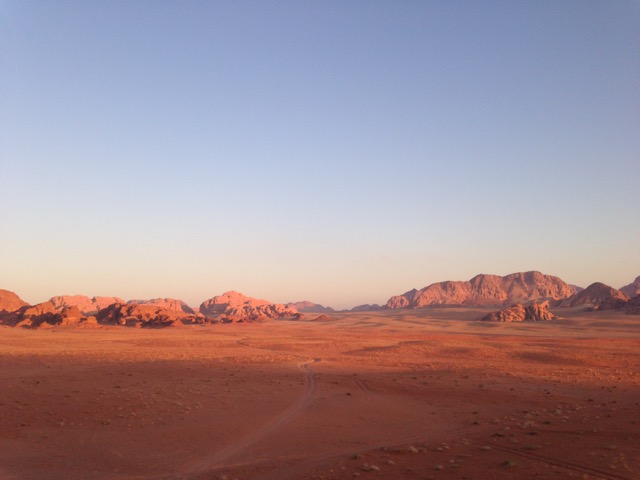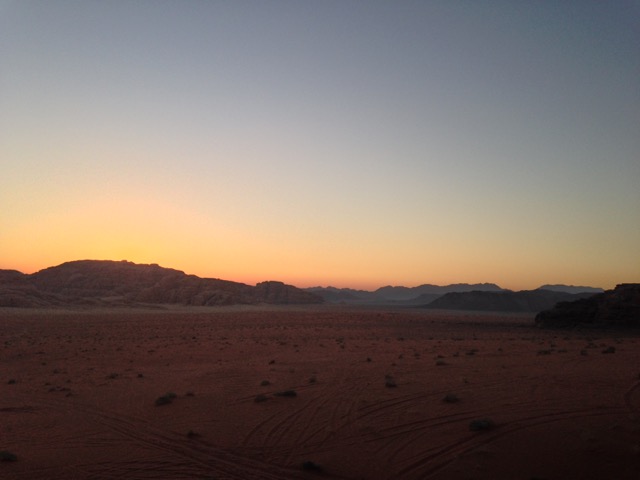 After the sun had set, we headed to our camp, which was nestled among some giant sandstone formations.2 Along with a handful of other people also traveling through different parts of the Wadi Rum Protected Area with Bedouin Directions, we sat around the fire and drank tea while our guides played music and sang.
Our dinner was simple, yet still a feast. In addition to the expected pita bread and various dips, chicken and various root vegetables had been roasted in an underground barbecue.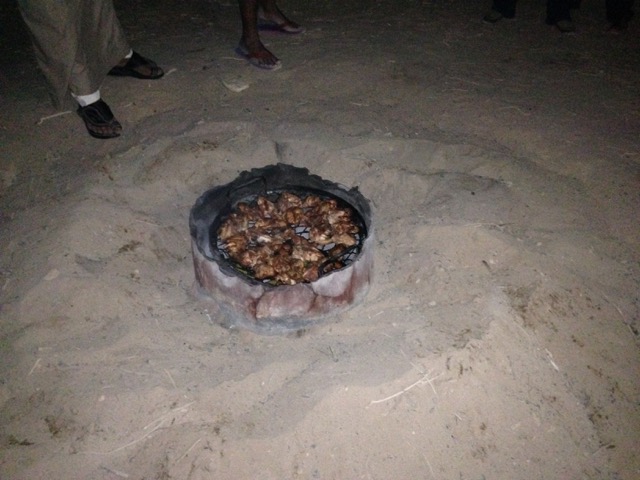 After dinner, Marc and I took a walk. Once we left the immediate area of the camp, we marveled at the quiet. Such complete and utter silence – no vehicles, no insects, not even any wind – is almost unfathomable. We were a little disappointed that we couldn't see many stars, but that was only because the moon was so bright that it completely obliterated them – which was an amazing thing to see all on its own.
In the morning, after a simple breakfast, we joined up with another pair of travelers at the camp (two African girls – one South African, one Zimbabwean – now living in London) and shared a taxi to Petra. Petra is amazing (of course, and you'll see the pictures in the next post), but our trip to Wadi Rum remains one of my favorite experiences from our journey.
---
1 Many of the tour operators seemed to offer similar one-day, one-night tours and had similar glowing reviews on TripAdvisor. What tipped us over to Bedouin Directions was their special pricing for budget and long-term travelers, as well as their willingness to add other travelers to our group to lower our costs.
2 I found a picture on Flickr of the camp, but it's not available in the Creative Commons, so you will need to click here to see it.