Bulawayo nearly broke me. I very much wanted to make a beeline for the rumored warm tranquility of Lake Malawi, but we couldn't leave Zimbabwe without first seeing ruins at Great Zimbabwe. Alas, when we began looking at traveling to Masvingo (the closest town to Great Zimbabwe), we realized that things were going to get worse before they got better…
The minibus to Masvingo that we boarded in Bulawayo was crowded and blasting exceptionally loud music, but not unreasonably uncomfortable, and so we began the journey feeling cautiously optimistic.
This feeling was short-lived. Before long, our minibus was getting stopped at police roadblocks every ten kilometers and had received at least one (possibly more) ticket. About three hours into the journey, our minibus pulled off the road into a dusty parking lot with some other vehicles and food vendors. Bedlam erupted around us.
There was a great deal of shouting going on, with our driver and his assistant on one side and the rest of our fellow minibus passengers on the other side. None of the argument was being carried out in English, and we couldn't tell what was happening. We were pretty well lodged in the back of the minibus, so we had no choice but to stay put and wait it out.
At one point, I heard someone open the back door to the minivan – where our bags were stored – and I lifted out of my chair to turn around and investigate. One of the women in the row behind us (who were being the most vocal in the shouting match) clamped a hand on my shoulder and told us, "Sit down. We're not going anywhere. They're trying to take advantage of us!"
She explained the driver was trying to transfer us to a small minivan on the theory that it would attract less police attention (and, accordingly, tickets). She and the other passengers didn't want to make the switch not only because the new vehicle was much smaller and therefore less comfortable for all of us to cram into, but also because it had a less powerful motor and would not be able to travel as quickly.
The argument continued to rage around us as the driver demanded we leave the vehicle and everyone refused to exit, shouting that they had paid for the larger, faster minibus and shouldn't be switched to the lesser minivan. Eventually, a compromise was reached: we would switch to a similarly sized, but more nondescript (white instead of red, and without a trailer) minibus that would take us the remaining three hours to Masvingo.
We eventually arrived in Masvingo without further excitement. (Thank God.) It is worth noting, however, that this journey of less 280 kilometers (under 175 miles) took us nearly seven hours in total. The only budget accommodation in Masvingo is this place called Backpackers Rest, a strange little warren of rooms located above some commercial space on the main street in town. The internet has literally nothing good to say about it (e.g., " Noisy, Dirty and unfriendly" and " Not a good idea but it seems that you have no choice"), but it was our only option and so we trudged over. (Here, I'll put something nice about it on the internet: it's conveniently located near the bus stop.)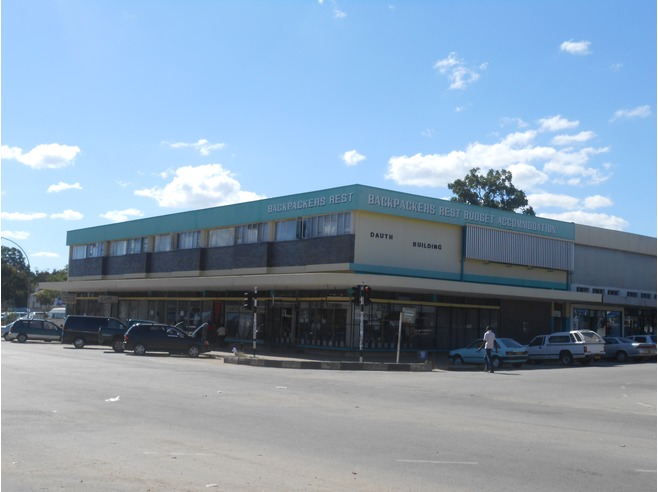 Upon arrival, we found it not as grim as anticipated, and booked one night. As we settled in, we asked where the bathroom was. With a friendly smile, she told us there wouldn't be running water until the next morning. Oh. The double bed was constructed of two sagging twin beds pushed together, the pillows encased in sequin-studded pillowcases of questionable cleanliness, and our dark room lacked any exterior windows. The worst part, though, was that our room was separated from the living quarters of the people who ran the place by only a thin wall (a thin, mostly glass wall, which was covered by a curtain in our side of the glass wall) and that those people enjoyed watching television all night at top volume.
Masvingo lacked any options for dinner beyond a couple of fried chicken places, so we ended up picking up a sad little dinner of prepared chicken stew and pre-washed bagged lettuce from the grocery store across the street, which we ate in our room on the beds, staring at each other in mutual horror and wondering (once again) just what the hell we were doing there.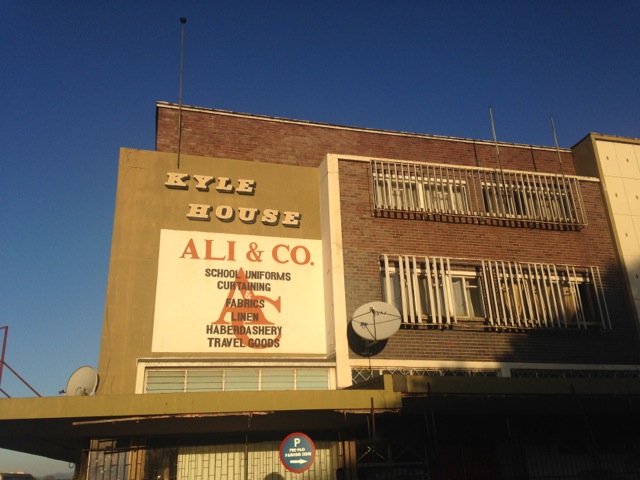 Don't worry, things start looking up for us before too long…
Where We Stayed:
☆ Backpackers Rest. One goat for its proximity to Great Zimbabwe. Otherwise, please see the title of this post.