What's that you say? You want to travel overland from Mwanza, Tanzania to Kigali, Rwanda but you're having trouble finding information on the journey? Look no farther: Here is how to get from Mwanza to Kigali in 14 (not-so-easy) steps.1
Step 1. Start off feeling good because you don't have to go all the way to the Nyegezi Bus Station, located nine inconvenient kilometers from downtown Mwanza, to purchase your tickets. Instead, visit Mwanza's former bus station to find the ticket vendors. Ask around about direct buses to Kigali; feel disappointed that (despite your guidebook's suggestion otherwise) none exist but heartened that no one attempts to sell you a ticket for a phony bus. Purchase a ticket for a bus to the tiny town / former refugee camp of Benaco.
Step 2. Arise at the ungodly hour of 4:00 a.m. to leave your hotel in Mwanza. Have a cab drive you to the Nyegezi Bus Station at 4:15 a.m.
Step 3. Board Nyunge Express (a bus name which will forever conjure discomfort in your head) at 4:30 a.m. Despite arriving the prescribed half hour prior to the scheduled 5:00 a.m. departure time, find nowhere to store your luggage as all of the storage space underneath the bus has been taken up by sacks of grain. Finally convince bus employees to store your luggage, along with everyone else's, inside at the front of the bus, in the aisle.2 Test each of the remaining open seats to determine if they are all wet, or if it is just the ones to which you were assigned. (Resign yourself to sitting in wet seats; they are all wet.) Wonder why they are blasting music at top volume at this early hour.
Step 4. Breathe a sigh of relief when the bus departs at 5:15 a.m. Look around in bewilderment at your fellow passengers, wondering why no one else seems affected by the music: loud, thumping rap on a CD that is clearly scratched, so it's just the first twenty seconds of the same song repeating over and over and over and OVER again.3 Speculate whether this will make you insane.
Step 5. Grit your teeth as the bus drives right past the hotel in Mwanza you left over an hour ago on its way to the ferry. Console yourself with the knowledge that, even if you had boarded the bus in Mwanza at a more desirable hour, rather than at the bus station much earlier, there would have been absolutely nowhere for your luggage.
Step 6. Queue up with the other passengers to purchase ferry tickets. Realize that, of course, it is less a queue, more of a mob. Obtain ferry tickets. Stand between running buses on ferry as it chugs across Lake Victoria in total darkness. Contemplate mortality. Rush back aboard bus while still crossing the lake to vigorously defend overhead seat space when new passengers try to fill it up with bags of grain.
Step 7. Return to bus before it sets off down a rutted dirt road. When bus stops along the way and moonlights as a school bus for a brief interlude, wonder if these children take the Nyunge Express every morning. Marvel at how many people, bags of grain, babies, and chickens can fit in the aisle of this bus as it continues its path.
Step 8. Arrive in Benaco, Tanzania, near the Rwanda border. Almost immediately, find shared taxi to the border, a mid-size sedan in which seven passengers are meant to be crammed. Stand around awkwardly while the woman in the front seat pretends not to see you and the driver keeps telling you to just sit in the seat with her. Squeeze in the back with some friendlier folks instead.
Step 9. In compliance with Rwanda's ban on plastic bags, dispose of any remaining visible plastic bags. Cross your fingers that no one searches your luggage and finds the Ziplock bags you have hidden amongst your extra clothing.
Step 10. Walk to Tanzanian border post. Obtain exit stamp.
Step 11. Begin kilometer or so walk into Rwanda. Pause on bridge to admire Rusomo Falls and pose for pictures. Pass Swahili test issued in jest by friendly Rwandan border patrol officer. (Jambo!) Obtain free Rwandan visa.4 Feel vaguely surprised that no one searched your things for illicit plastic bags.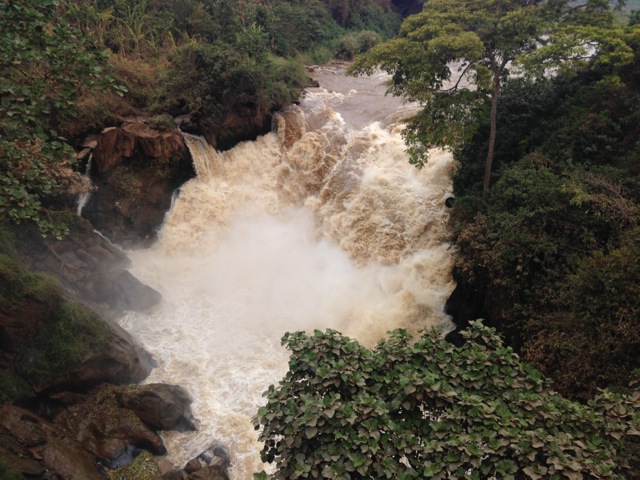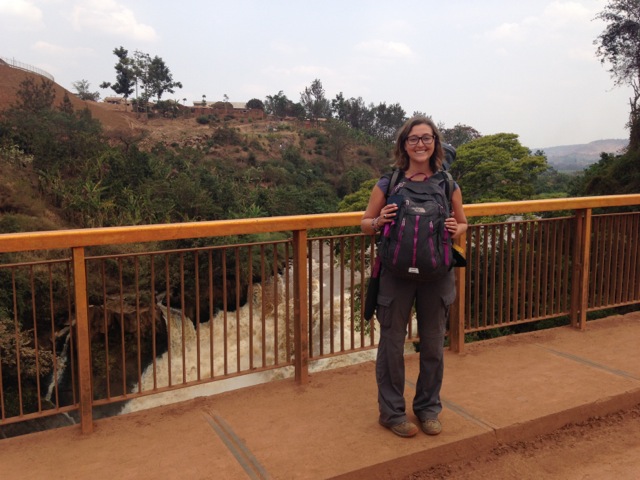 Step 12. Board minibus to Kigali. Rejoice because, unlike in other parts of Africa, there is only one passenger per seat. Remember what it is like to be in a vehicle driving on the right side of the road. Marvel at the impeccable countryside along the way. Think that Rwanda has the right idea outlawing plastic bags. Catch adorable little boy next to you playing with your hair.
Step 13. Disembark minibus in Kigali. Enlist friendly strangers to show you where to pick up a taxi.
Step 14. Shout at taxi driver who refuses to continue driving down the street to where your Airbnb rental is located. Wring your hands in frustration as he insists on polling the entire neighborhood about its location. (Wonder where one neighbor got her delicious-looking smoothie.5) Threaten to get out and walk the rest of the way. Breathe a sigh of relief when he finally consents and you arrive at your rented home.
---
1 All joking aside, the Mwanza-Kigali journey is actually done in three fairly straightforward stages. We found this helpful advice, posted two years ago on Lonely Planet's Thorn Tree forums, to still be surprisingly current/accurate.
2 Pro tip: Unless you want to be claustrophobically hemmed in by an aisle mountain of suitcases, do not select the first few rows of the Nyunge Express when buying your tickets.
3 No, really. During the many hours we spent on the Nyunge Express, the CD player made it through less than 10 songs.
4 Americans are issued free, 90-day visas on arrival.
5 Spoiler alert: it came from Hero Shop.