We briefly debated spending a third day in Petra but ultimately decided that it was time to move on to Amman, the capital of Jordan. Amman claims to be one of the oldest continuously inhabited cities in the world, with the first recorded evidence of civilization at its site dating to 7,500 BC. Since that time, several civilizations have called the spot home, including the Nabataeans and Romans.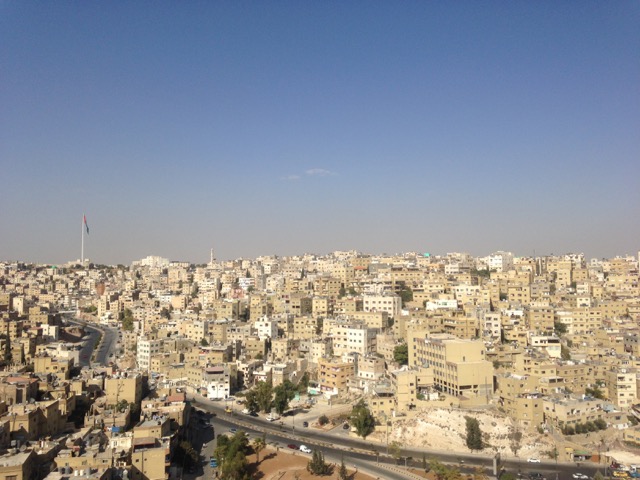 It may not be surprising, therefore, that Amman's two major tourist attractions – the Roman Theater and Citadel – are remnants from ancient civilizations.
Roman Theater
Technically, we didn't actually visit the Roman Theater. It was conveniently located almost directly across the street from our hotel, and we discovered that we had a fantastic view of it from both our room and the comfort of lounge chairs on the hotel roof. Our legs were sore from our hike around and above Petra – on top of still being sore from our adventures around Wadi Rum – and so we absolutely appreciated being able to take in this site with minimal exertion.
Should we have descended to street level, paid the admission fee, and marched ourselves around it? Perhaps. But I'll argue that the theater, which dates to the second century AD and was built to accommodate almost 6,000 people, is so large and impressive that it is best taken in from a distance.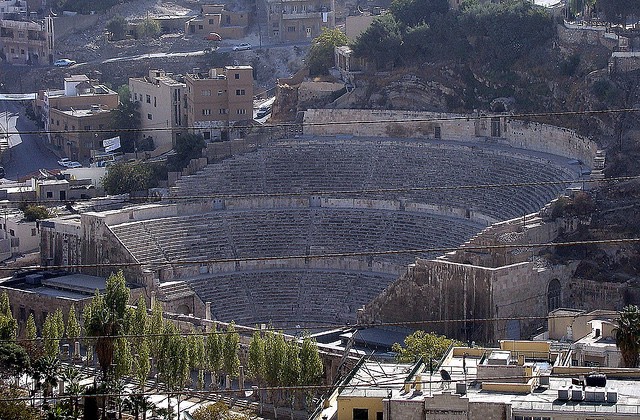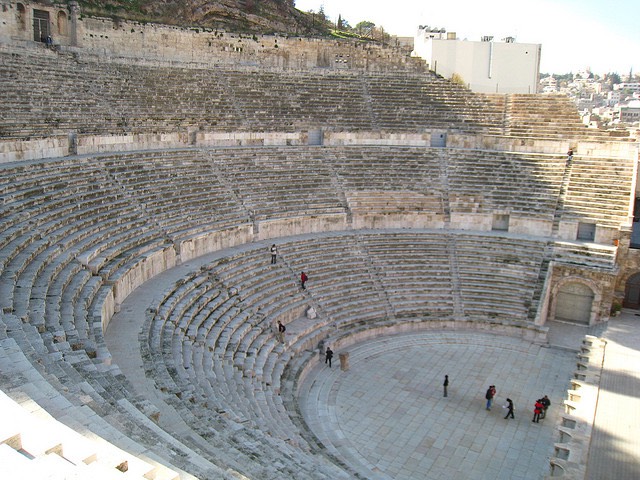 We heard that the Roman Theater is, to this day, still occasionally used as a theater. During our visit to Amman, which happened to coincide with Eid al-Adha,1 we saw some festivities (including a puppet show) taking place on the plaza directly in front of the theater.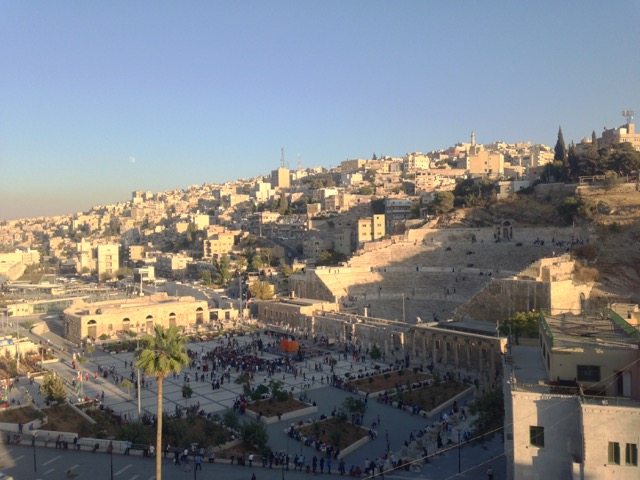 The Citadel
We were much less lazy when it came to visiting the Citadel – probably because our hotel did not afford us a view of it (although, interestingly, the Citadel afforded us a view of our hotel).
Located at the top of a hill overlooking Amman, the Citadel site has been occupied by different groups over the years, including the Romans, Byzantines, and Umayyads. Perhaps the months of travel were beginning to wear on me, but the Citadel ruins (and I'm normally a ruins junkie) pretty much looked like a bunch of rubble to me.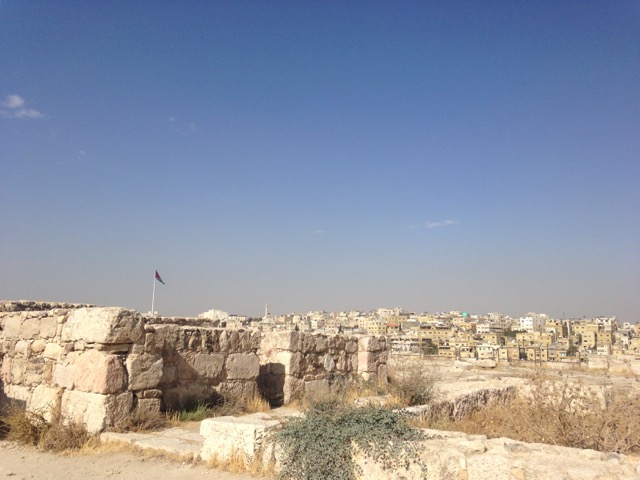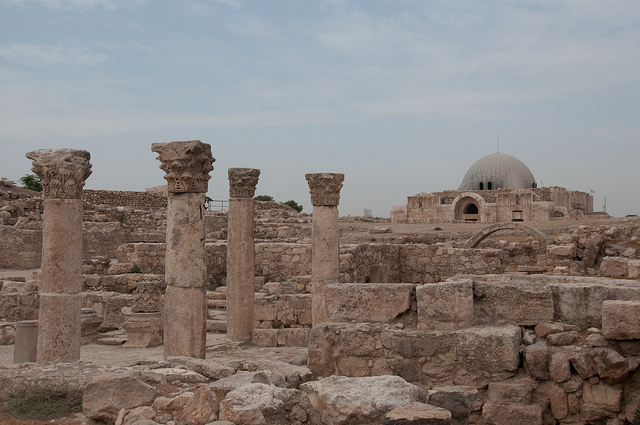 A certain amount of the rubble belongs to the Umayyad Palace, which dates to the period between 661-750 AD. The domed entrance hall, which has been restored, is really something to see.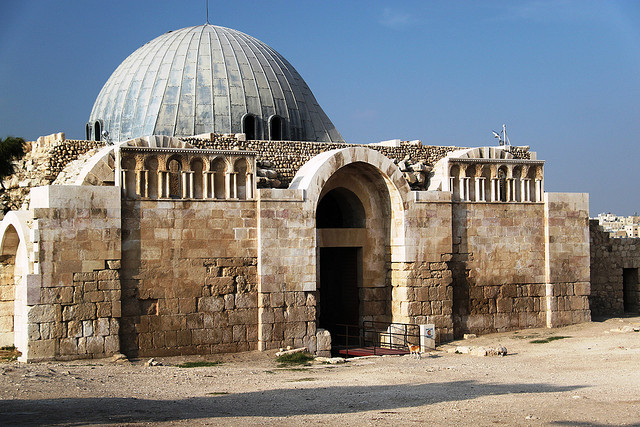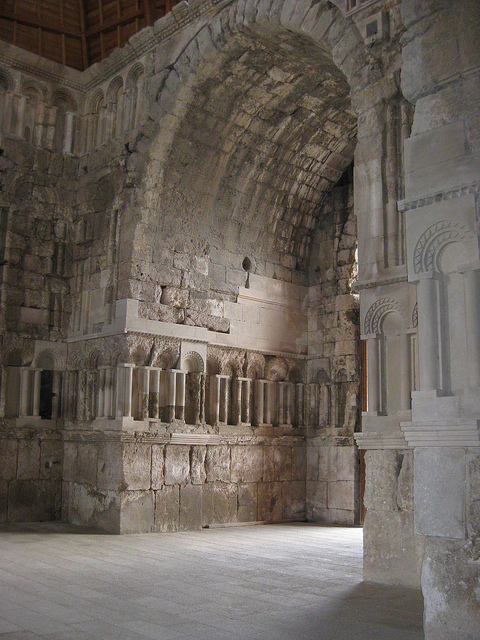 I was intrigued by the transparency in the restoration process. Restored portions of the dome deliberately clash with ancient portions – echoing the original architecture without attempting to masquerade as it. Placards containing information about the restoration work were placed inside the building, including some detailing the debate over whether the original structure was topped with a dome (as it is now), and how the restoration team ultimately reached the decision to place a dome atop the building.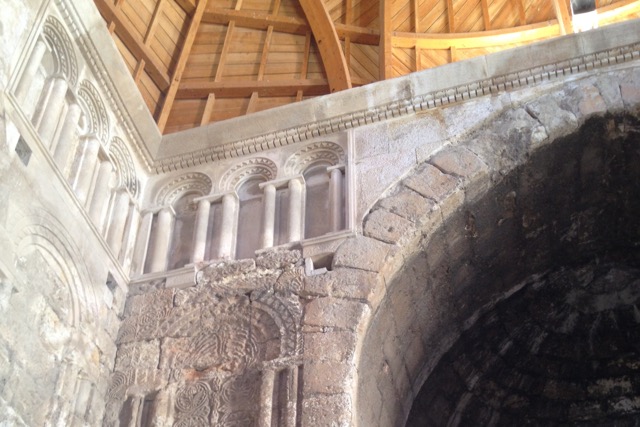 Another highlight of the Citadel is the Temple of Hercules, dating to the second century AD.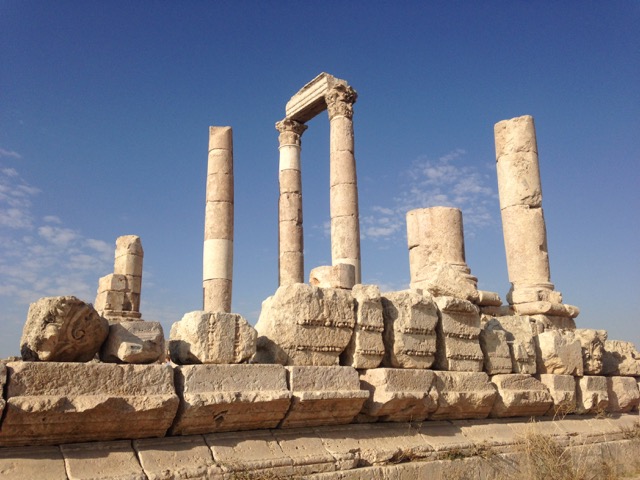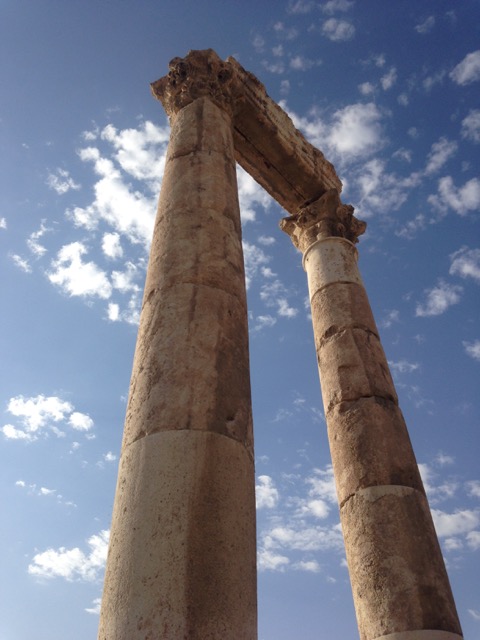 Near the Temple of Hercules rests a disembodied hand, probably the remainder of a colossal statue of Hercules.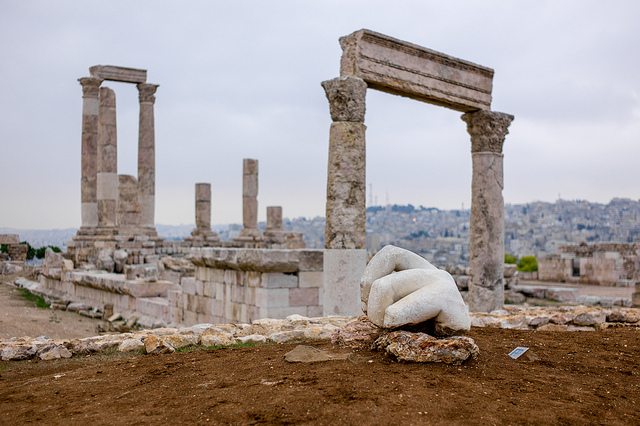 Also, I was pleasantly surprised by the Citadel's on-site museum. It contained some interesting artifacts, including the Ain Ghazal statues, which are some of the oldest human-form statues of their size ever discovered.
In a room labeled "Petra," one corner was dominated by a large terra cotta lion head, its open mouth plainly indicating it used to be part of a fountain. Could this be the missing head from the Lion Fountain that we spotted on our hike the previous day? Alas, the piece was unlabeled, and so I could only speculate.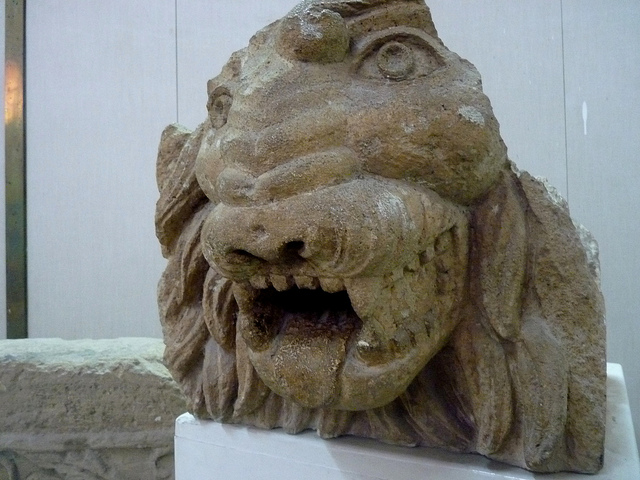 Falafel & Kanafeh
The Roman Theater and the Citadel might have been impressive monuments that spoke to the layered past of Amman's previous civilizations, but the thing that got us really excited about the city was the food.
First, there was this great falafel place called Hashem. It was recommended to us by guidebooks, the internet, and people we met, and it deserved all of its praise. Tucked inside a small, mostly outdoor space stretching between two large buildings, Hashem was consistently packed – making waiting for a table (read: hovering around other diners, trying to judge when they will be leaving) part of the experience.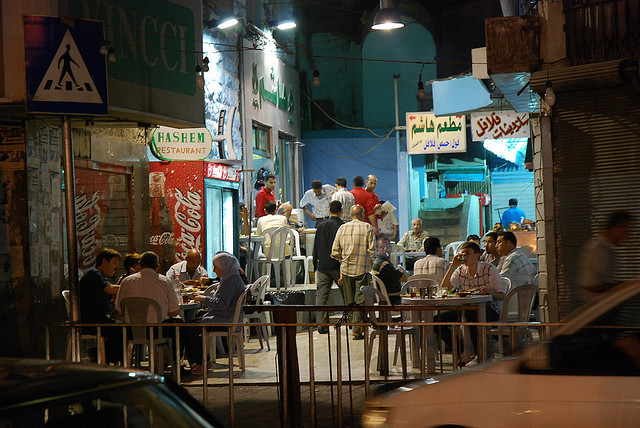 I don't know if there is a menu. We certainly never saw one. We simply ordered what everyone else was ordering: a spread of falafel, pita, hummus, and a bean dip, served with fresh tomatoes, onions, and mint, and with some sweet mint tea on the side.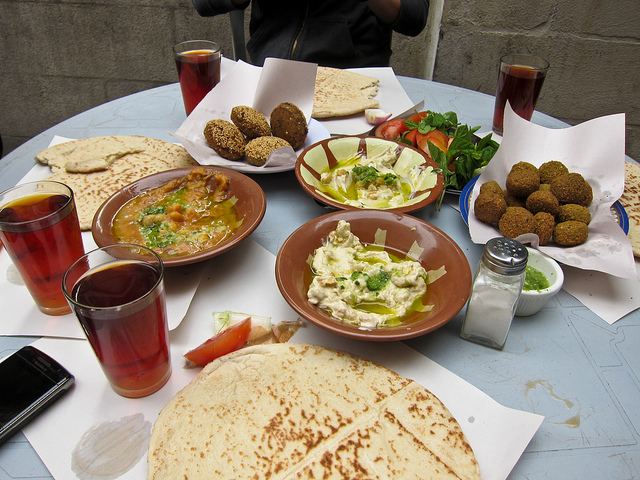 Everything was so good. We returned there a couple of times – including the day where I ate falafel for breakfast, lunch, and dinner.
We also discovered kanafeh,3 an indulgent dessert composed of cheese pastry soaked in a sweet syrup, often topped with pistachios. We saw tons of pastry shops and people eating off styrofoam plates in front of them, so we popped inside to see what all the fuss was about.
Once we had a plate of our own, we more than understood what all the fuss was about. It was so good. We were still longing for it weeks later.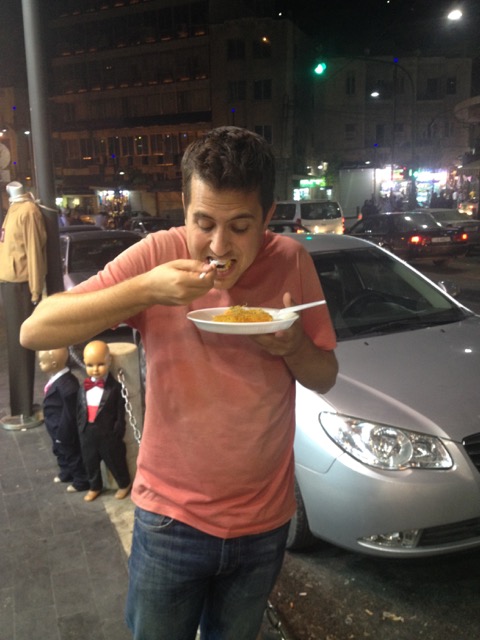 Where We Stayed:
☆ Amman Pasha Hotel. Three-and-a-half goats. Our room was comfortable and had a view of the Roman Theater – but the wifi was practically nonexistent in our room, which was disappointing. The owner of the hotel was pleasant and interesting to visit with, and he encouraged visitors to write on the hallways walls because otherwise the walls were "boring." We enjoyed the roof and made good use of the space.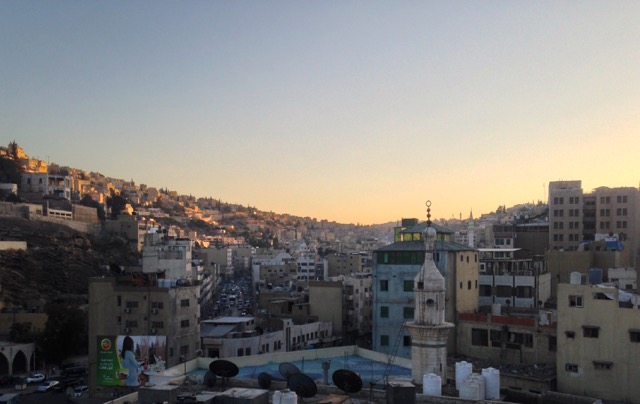 Where We Ate:
☆ Pizza Roma Cafe. Attached to the Amman Pasha Hotel (and, in fact, where the included breakfast is located), this is a place to grab a low-key, functional meal. It's not a destination restaurant, but I had a couple of falafel sandwiches here. (Falafel sandwiches which were curiously served on bread rolls, that is.)
☆ Al-Qudi/Jerusalem Restaurant. This place was recommended by our guidebooks, but we couldn't get anyone to give us a menu, take our order, or let us pay for our meal. If we were ranking restaurants, this place would get negative goats.
☆ Hashem. See above. This is the place to go for delicious falafel.
☆ Books@Cafe. For something different, we headed to this place for some non-Middle Eastern food. Seated outside under the stars, we ordered pizza and salad and splashed out for a pitcher of beer (which, this being Jordan, alone cost us the equivalent of $22).
☆ Habibah. This is where we kept getting our kanafeh fix. Highly recommended.
---
1 Eid al-Adha marks the end of the Hajj, something which would come into play several days later when crossing from Jordan back into Israel.
2 Also spelled knafeh, kunafeh, knafeh, or kunafah.